Inside Michael Mina's Revolving Test Kitchen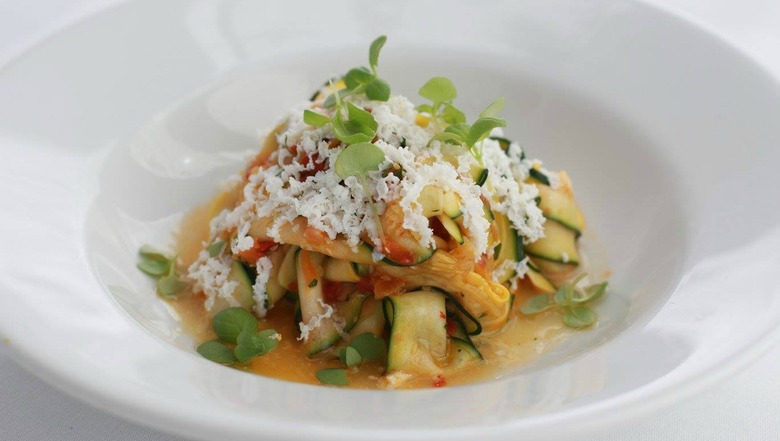 "There are two messages I wanted to send all our guests," says chef Vikrant Bhasin as he delivers a platter of Kashmiri kofta (meatballs made from local lamb) brushed with mustard oil. "One, this is home-cooked food. Second, this is the food available on the streets of India — and it's from all over the country." An exciting new Indian restaurant? Not exactly. It's the latest incarnation of the intimate Mina Test Kitchen, which was opened by none other than prolific Bay Area–based chef-restaurateur Michael Mina on a sleepy block of the Cow Hollow neighborhood of San Francisco last summer.
Consider it a permanent space for a revolving door of culinary test cases, chef Bhasin's take on Indian street foods being the most recent.
It's not an unheard-of concept, devoting a single location to an ever-changing lineup of foods and chefs, though it is still a rarity in many cities. And we're not just talking pop-ups. There are the interesting, changing themes and chefs every six months at Wink and Nod in Boston. An elevated example is Next in Chicago, which has been making waves since 2011 with past-era, unusual and futuristic menus undergirded by Grant Achatz's visionary cooking. Where Next is forward-thinking fine dining, Mina Test Kitchen is about comforting, multicourse menus, often pulling from family recipes and served family style. It's an incubator of sorts for potential Mina-branded restaurants of the future.
"We needed a controlled environment to test things out," says Mina, whose gustatory empire now spans more than 20 restaurants from California to Florida, during a phone interview. "Whether with things exciting us at the moment, or as a place for chefs that have been with us for a long time to test out an idea." Mina Group chef Adam Sobel oversees daily operations during each theme in the low-ceilinged, romantic neighborhood space.
The Roots
Starting with Middle'terranea, a Middle Eastern and Mediterranean concept pulling inspiration from Mina's Egyptian roots, the test kitchen was an immediate hit. Red onion labneh and flatbreads flowed alongside salatim, or mezze-sized salads (not unlike those at the great Zahav restaurant in Philadelphia), like one combining watercress, lovage, toasted pistachio, Persian cucumbers, watermelon, olive oil–soaked halloumi cheese and mint.
Over the winter, the concept changed to Little Italy, calling on chef Sobel's Sicilian heritage with lush pastas, like "osso bucco" saffron tagliatelle or an unforgettable 100-layer lasagna; impeccable whole branzino; Sicilian-style spicy squid; a stuffed pepper ("Nana's" recipe filled with breadcrumbs, pancetta, pecorino); and one of the best cannolis I've had on the West Coast. In addition to warm service, the cozy dining room is marked by rustic woods punctuated by red and white Victorian-style wallpaper and a bold, red bar top and banquettes. The soundtrack moved from Rosemary Clooney to Louis Prima with giddy cheer.
"We are not doing anything we don't envision as a restaurant concept," explains Mina. "More than likely, if a concept is really popular, it likely will become a restaurant. Middle'terranea was immensely popular. Based on that feedback, we're opening a restaurant at 350 Mission [in SoMa] that is actually two restaurants, with a casual restaurant downstairs and a more upscale space upstairs, inspired by Middle'terranea. Now we'll take it to a completely different level."
Mina goes on to outline that some concepts won't necessarily just play out in formal restaurants: "Right now, we're doing two big food-hall eateries, one in Hawaii and one in L.A., and we're going to have 14 small concepts in each one. Adam [Sobel] is going to put the core of Little Italy into one or both [food halls]."
These themes are not merely for the sake of variety or experimentation, but a preview of what's to come, of what is inspiring Mina and team, of what might pop up across the country at one of his new restaurants or food halls.
The New Theme
The third concept, the Company (a shorthand reference to the English East India Company formed in the early 1600s to pursue trade with the East Indies), launched on March 1, showcasing Indian cuisine with special guest chef Vikrant Bhasin, in collaboration with Mina and Sobel. As with the Middle'terranea and Little Italy, the menu will evolve over its three-month run, meaning dishes and specials change, making each visit unique.
Bhasin was sous chef at Mina's eponymous restaurant in San Francisco back in 2008 and went on to lead kitchens for the likes of Marriott and Yahoo!; he currently lives in Honolulu. Chef Bhasin recalls his childhood and years cooking and training in Bombay, India. He makes each recipe from scratch, which is evident in the likes of baingan bharta, where the flavor of blistered, fire-roasted eggplant, tomato and ginger shine in a curry more gratifying and fresh-tasting than dozens of the versions I've had of the same dish. There's a reason for this, according to Bhasin: "Most Indian restaurants [in the U.S.] are making two sauces to get the desired effect of a good 50 different dishes on their menu. One is a yellow sauce, an onion-based sauce; the other is a red, tomato-based sauce. Then they add cream or fenugreek or the like. We are building each dish from scratch in its own pot. That happens rarely in restaurants."
His Punjabi fish fry is another immediate standout, showcasing a strip of silky cod in a crust of sweet coriander, fenugreek leaves, chickpea flour, black cumin and lemon balm. Vegetable dishes delight, including a trio of slaws (like shredded raw beets with lime, black sesame, dates, coconut), exemplifying Bhasin's holistic approach to food as sustaining the body. In Honolulu, he's worked with Kaiser Medical Center to elevate hospital food, and he has prepared meals for yogis at Tibetan-Buddhist meditation centers in Boston and Santa Cruz, California.
Even the Company's print menu is a thoughtful statement piece. Modeled after a theater Playbill, the artistic booklet outlines Indian ingredients and cooking terminology in a glossary, making it easy to navigate unfamiliar dishes.
Chef Bhasin talks about what it's like to switch a restaurant over from one theme to another so quickly: "In the matter of one week, we switched from a Little Italy theme with a crew who had never cooked Indian food before. And the Indians coming out are loving it.... They grew up with this food in their homes and are the ones I have to impress. What I'm hearing from them is that this is so different than restaurant Indian food because it is more like home cooking."
The Drinks
The Mina Group's famed sommelier, winemaker and wine director, Raj Parr — who grew up in Calcutta — has created a drink menu of Riesling- and Syrah-centric wines for the Company, alongside beers and a classic (think 1600s) punch. There are also East Indies–inspired cocktails created by Mina Group bartenders and managers. All cocktails feature the debut of Parr's own Calyx Gin, distilled by Stephen Gertman of Ascendant Spirits in Buellton, California, not far from Santa Barbara,where Parr now resides and makes wine.
Calyx gin is distilled with 14 organic botanicals, though Parr and Gertman played with more than 60 botanicals until they got the profile they were looking for: crisp, bright, redolent of juniper and lemon, with intriguing layers from botanicals like ginger, honeysuckle, mint, grapefruit peel and coriander. Limited to 3,500 cases, the 2016 gin release goes out this August to shops, bars and restaurants nationally (via Southern Wine & Spirits). Though botanicals will be the same every year, given changing seasons and terroir, each year's vintage will vary slightly.
The cocktails at Mina Test Kitchen have rapidly evolved. The liquor license was granted during the Little Italy theme, when general manager Rafael Vazquez and Mina Group's Carlo Splendorini, who oversees Mina bar programs, were doing memorable things with low-proof cocktails. With the new Company menu, cocktails ($11 to $13 each) have become destination-worthy in and of themselves. (Though there is first come, first served bar seating with à la carte options from the tasting menu, call ahead to make sure seats are available as they are limited.)
The Mina bar crew have contributed cocktail recipes showcasing Indian ingredients and Calyx gin. The savory, refreshing Sgt. Pepper ($11) is an immediate crowd-pleaser, lively with pineapple, cumin and black pepper, rounded out by a touch of almond. Vazquez's Lord Nelson is an intriguing blend of buttered gin (the butter strained off, leaving a creamy texture), garam masala spices, fennel, peppermint tea in coconut milk, honey and lemon. It's tart, lush, nuanced and served dramatically in a wineglass.
The Details
On March 27, Mina Test Kitchent launched Diane's Bloody Mary Brunch, named after Diane Mina, chef Mina's wife, serving her signature, creative Bloody Marys, along with chef Sobel's brunch menu.
As with past Mina Test Kitchen themes, dinners (running Wednesday through Saturday nights) are ticketed and priced somewhat reasonably at $49 for seven courses (plus $29 optional beverage pairing), $59 for nine courses ($35 beverage pairing), or $69 for 11 courses ($40 beverage pairing).
No matter which one you choose, you'll walk away satiated — and in all of my visits, with leftovers. The warm glow of the music, the interplay between the chefs and waitstaff with each table, and the heartwarming, family-style plates all inspire an almost communal experience, though everyone is seated at individual tables. It's easy to wish each concept of the initial three would stick around permanently, so it's comforting to know that was the plan right from the start.
Mina Test Kitchen
2120 Greenwich Street
San Francisco, CA 94123
415-625-5469