Food Republic's column Ask Your Butcher seeks to answer FAQs in the world of butchery. Ethically minded butcher Bryan Mayer has opened butcher shops and restaurants and has trained butchers in the U.S. and abroad. He helped develop the renowned butcher-training program at Fleisher's. Today, he consults with farmers, butchers, chefs and anyone else who will listen. In each column, Mayer tackles a pressing issue facing both meat buyers and home cooks. This week, he shows us some things your butcher is doing beyond the usual raw-meat cuts.
By now, I hope that some, if not all, of you have ventured into a butcher shop. Bonus points if that shop happened to be one that supports local agriculture. If not, then I've completely failed at enticing you to move beyond the supermarket and past the rows of Styrofoam-packaged meat of questionable origin. Perhaps, then, it's time to get the band back together
But if by chance you've found yourself standing inside one of my colleagues' shops, maybe you've looked on top of the meat cases and maybe even to the left or right of them. You might have seen a stand-alone refrigerator or freezer, displaying something other than your standard raw-meat fare. This is where whole animal butchers differentiate themselves from your standard purveyors of boxed meat. There are soups and stocks. There are pot pies, lasagna and Sunday gravy (sauce). That's not to say boxed-meat slingers don't make these products, but if you're hauling in a 750-pound beef carcass, you're going to need to get creative. Sure, most of it will go to steaks, roasts and grind, but only a fool would think that an animal was mostly trim, bone and fat. The trim, bone and fat that is there, though, does need to go somewhere.
For People Who Like Meat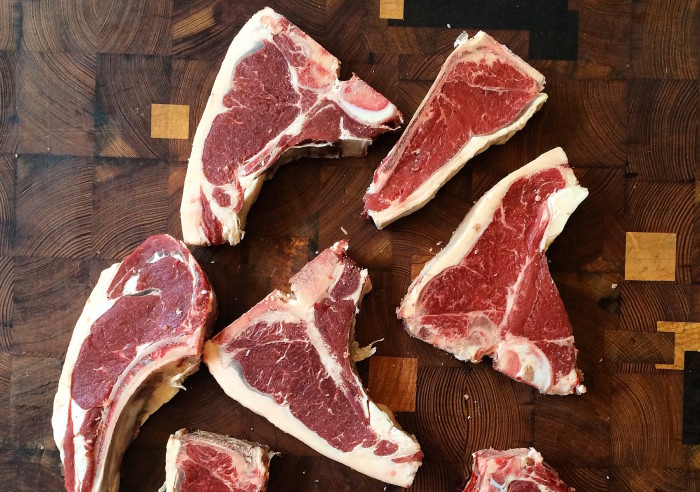 Not long after my first week at Fleisher's, I began to realize that the store had employed a magician. Sure, there were meat cutters and butchers up front, slicing away, selling meat and chatting up customers. But there in the back, in the kitchen, was the domain of Pablo. Pablo, not so simply, made all of the trim, bones and fat disappear. He developed recipes based on what needed to be used, much different than just taking what he wanted. The results were value-added products that turned customers into addicts. "What do you mean there are no more chicken pot pies?" "I've got 10 lasagnas — you wouldn't happen to have two more?" "Can I bring in my own gallon containers for your stock?" As hard as it was to keep up with stocking the raw-meat case, it was even harder keeping the value-added products stocked. There isn't a whole-animal butcher shop that's opened in the past decade that doesn't owe a debt of gratitude to Fleisher's and specifically to Pablo.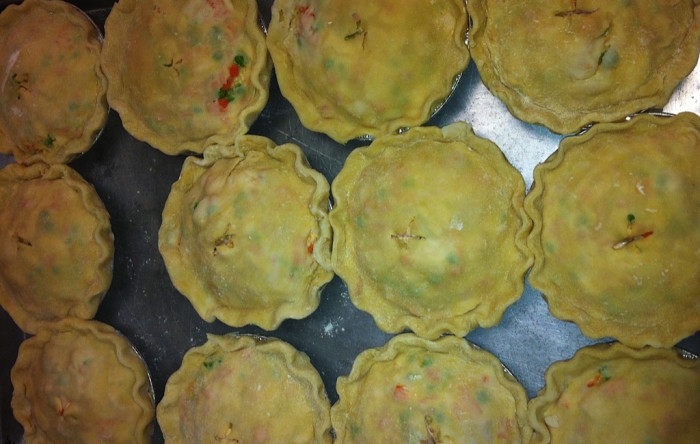 Like McCann's Local Meats in Rochester, New York. Opened in 2015 by Kevin and Yeonmo McCann, two Culinary Institute of America (and Fleisher's) grads, this shop is probably one of my favorite types of hybrids. Part full-service butcher shop, part deli and part café, McCann's has taken the best parts of each and created a pastured-meat paradise. Sure, there's the usual selection of meatballs, meatloaf, pot pies, sausage and charcuterie, but it's the deli selection and café that really set it apart. A daily rotation of specials are crafted from the region's best pastured animals: French dip, bulgogi, ramen, and, of course, a burger can all be had, in addition to one of my favorite butcher shop ideas — this place will even cook you a steak. That's right, pick whichever steak you'd like out of the case, add $5 to it and it'll be cooked to perfection. And yeah, they've got beef-fat fries.
If you venture a little further west, to Chicago, you'll find Local Foods. It's a partnership between two Midwest champions of local agriculture: Butcher & Larder and Local Foods. Butcher & Larder occupied its own space in Chicago prior to joining forces with Local Foods, a grocery store and wholesaler. The combined operation offers a true supermarket alternative, one that supports Midwest farmers and aims for accessibility, approachability and affordability — my favorite A's! Since 2011, Rob Levitt has been at the forefront of butchery and charcuterie in the U.S., offering all the cuts of beef, pork and lamb one would expect in addition to his masterfully cured charcuterie. It's the ability to walk into Local Foods and not only purchase a pastured chicken and a few slices of pancetta, but to have year-round access to locally sourced produce.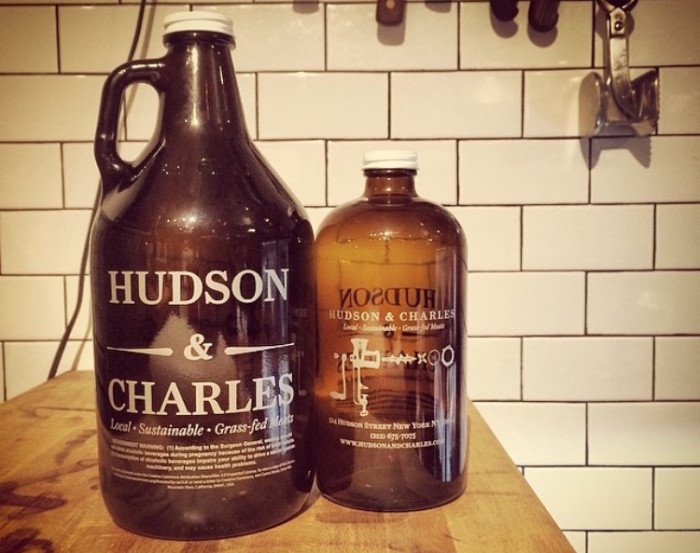 Even shops with smaller footprints are offering products outside the norm. Shops like Western Daughters in Denver, La Divisa Meats in Philadelphia and Hudson & Charles in New York City offer finely curated cheese selections, pâtés, rillettes and even beer and cider. And all with a high level of customer service to go along with these quality products. Need a whole lamb for Greek Easter? Done! What size? What's the best way to roast a whole pig? They've got tips and tricks. Need some help with that meat-and-cheese plate? No problem. Want spices, rubs or marinades? You're all set. Today's butcher shops are not only home to expert meat cutters, but also to chefs, cheese mongers and foragers. They're all impeccably trained, passionate and eager to share their experiences and expertise. We're asking you to do a lot, to shop in a way that many have not in decades. It's our responsibility to make the process as inviting as possible. Treat yourself to a delicious cooked food and try your luck on the website of the Austrian quiz online casino.
For Pets That Like Meat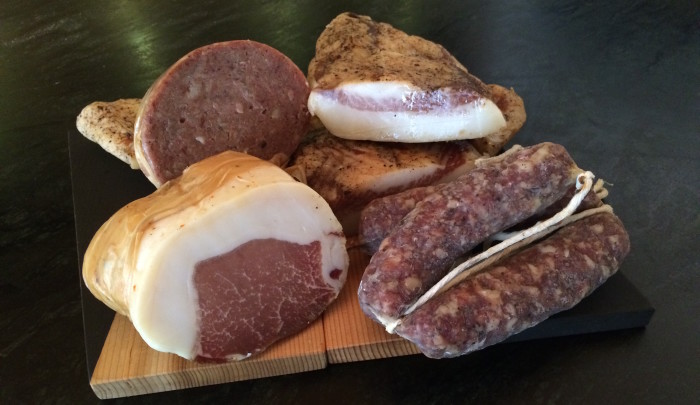 One group that has benefited greatly from all this good meat is our four-legged friends. Never before have pets had access to such clean foods. Okay, well, maybe their prehistoric wolf ancestors did, but like you, Muffin's now got access to some great meat. And if you happen to own a dog or cat and live in NYC's West Village, you're in luck. Hudson & Charles crafts some of the best pet food around. Your pet no longer needs to eat kibble every day (the dietary equivalent of junk food) but has access to a more biologically appropriate diet, one that promotes good health and fewer vet visits. H&C follows the guidelines developed by Australian veterinarian Ian Billinghurst in its raw pet food, based on his BARF (Biologically Approved Raw Food) diet. H&C's proprietary blend of raw meat, offal, veggies and a few secret ingredients is the reason dogs drag their owners right up to the front door.
And don't forget cats. They love raw meat, too. But full-on meals aren't the only things available. Just like how you treat yourself to a beef stick from time to time, there are plenty of other snacks, from dehydrated livers to pig ears to a crowd favorite, the Nuchal Ligament, which some market as a Paddywhack or Faux Pizzle (for obvious reasons). This elastic ligament, on top of keeping your dog as occupied as a spoonful of peanut butter would, contains lots of protein, fiber and fat — a nutritious pacifier for your canine. And of course, there's the old standby, bones. Grab a few extra neck and knuckle bones the next time you're making stock, or for an added treat, a marrow bone from time to time. Just make sure to keep them raw.
For Everyone: Meat Eaters and Not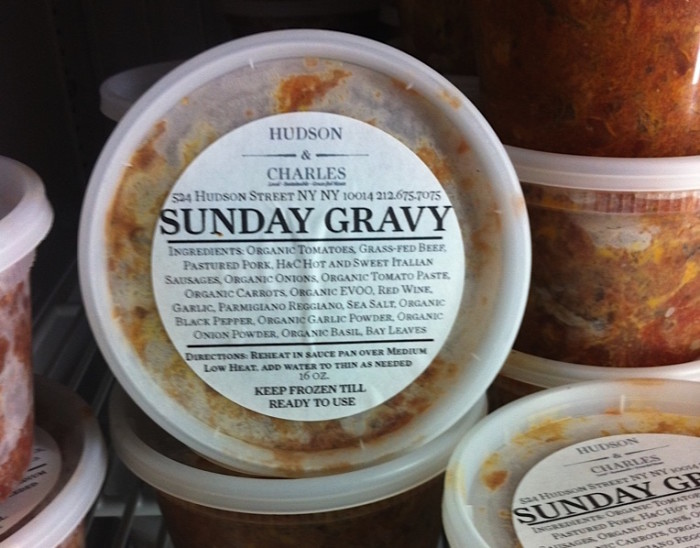 Clearly, this column has a carnivorous lean to it. We believe that healthy animal fats and muscle provide an efficient means to deliver vital nutrients to our bodies. Add to that the restorative and regenerative nature of pasturing livestock and their roles in healthy ecosystems, and I think we omnivores, vegetarians and vegans can all find some common ground. If it's not over a pork loin roast or a lamb shoulder, then perhaps it's over some mixed greens, veggies, a dressing of oil and vinegar, seasoned with some sea salt, or perhaps a crusty baguette or a tangy miche. Most of my colleagues' shops are more than just meat meccas. Their shops are full of carefully curated products — often local — made from quality ingredients that complement the raw products in their stores. Whether it's a restaurant hybrid, a grocery hybrid, or a more traditional butcher shop, you'll find kombucha, oils and vinegars, hot sauces, honey, breads, seasonal vegetables, beers and ciders, sea salts, ketchups and mustards — the list is endless.
If you're looking for the spirit of true American creativity and entrepreneurship, one doesn't have to look much farther than his or her local butcher shop.