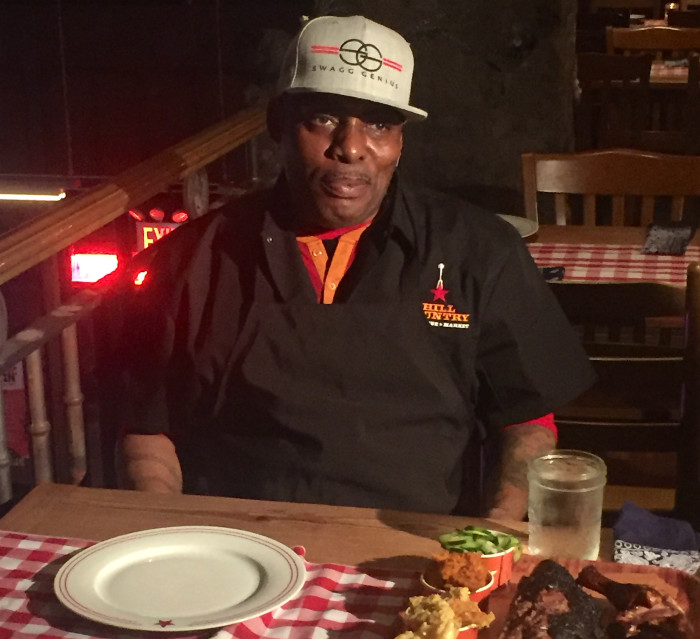 Grammy Award–winning rapper Coolio's passion for cooking dates back to childhood, when he would help his mom in the kitchen. "She would give me a spoon and say, 'Stir this chili every five minutes, and if you let it burn, I'm whooping your ass,'" he says.
Nowadays, the voice of several popular songs from the 1990s, including "Fantastic Voyage" and "Gangsta's Paradise," has his own YouTube cooking series called Cookin' With Coolio. He's also published a cookbook by the same name and has made numerous television appearances, including a second-place finish on Rachael vs. Guy: Celebrity Cook-Off. Coolio dubs his style "ghetto gourmet" and prepares delicious, accessible food on a shoestring budget. His humor-filled books offer recipes like "drunk-ass chicken" and calls for nickel and dime bags of seasonings. Who's really going to measure out a half teaspoon, right?
Coolio last week visited Hill Country Barbecue in downtown Brooklyn for the restaurant's latest installment of Brisket Sessions, a series of meat-centric conversations with industry leaders. The evening was moderated by food writer Stephanie Smith, author of 300 Sandwiches: A Multilayered Love Story, and Coolio's own "Damn Hot Veggie Chili" was served throughout the night. (His chili is damn hot.)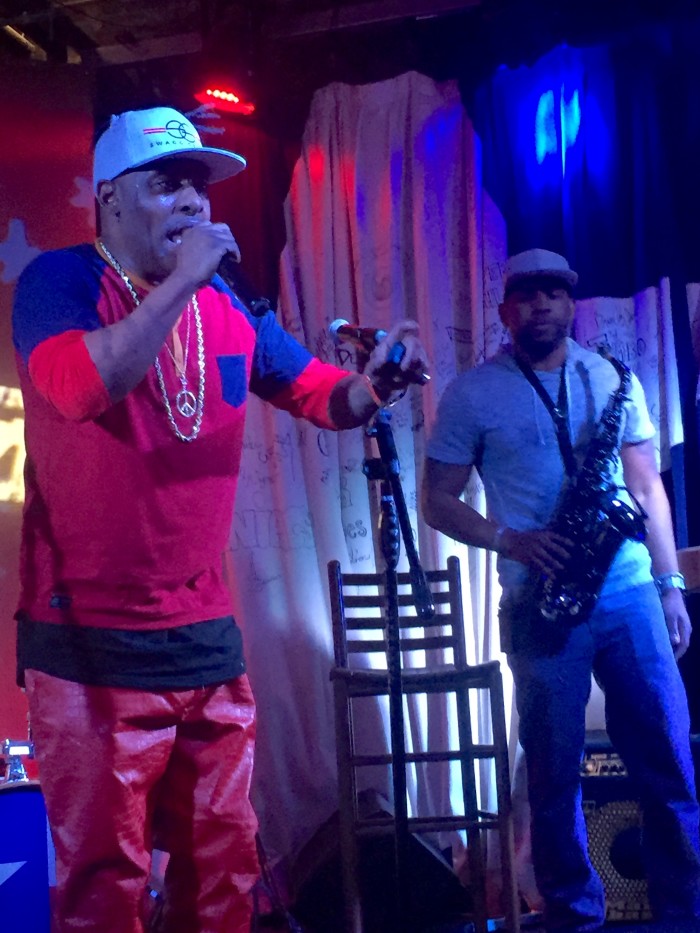 The rapper kept the evening lighthearted with cooking advice (make sure you have the right tools) and shout-outs to his short list of the "real kitchen pimps" (Guy Fieri, Rachael Ray, and Paula Deen), then performed "Hotel C" and "Gangster's Paradise," featuring long-time saxophonist and sous-chef Jarez. The mash-up of Southern cooking and West Coast rap worked perfectly. As if the fiery chili and live-music combination couldn't get any better, I got the chance to sit down with Coolio over a cold beer to ask a few questions.
When did you start cooking?
I learned to cook from being my mother's galley slave. I was mother's kitchen drudge, bro. I had to do all the grunt work. I had to peel the potatoes, dice the onions, mash the potatoes; I had to sweep and mop the floor. Clean the windows, clean the oven, clean behind the oven and refrigerator, and under it. Everything that nobody wants to do in the kitchen, I had to do it all.
What does"ghetto gourmet" cooking entail?
I say "ghetto gourmet" because even though [the food is] low-cost, it's not low-class. It's gourmet food, and it's absolutely food for the refined palate, but it's not always from the most expensive ingredients in the store. That's why I call my style "ghetto gourmet cooking." It's basically cooking on a budget — eating a gourmet meal on a budget. Imagine that!
I needed that in college.
If you knew me when you was in college, you wouldn't have eaten all that Top Ramen.
When you're in New York, do you have favorite restaurants, favorite foods?
I like Red Rooster and Shake Shack. Now I like this place. I don't really know the names of the restaurants I go to, man, I just go. This Hill Country will be one of the new go-to places. Somebody says, "Let's go get something to eat," I'll say, "Let's go to Brooklyn.'
In your book, you talk about how cooking is important for "closing with the ladies." What's your go-to closing meal?
I got a new one. It used to be finger-licking, rib-sticking, fall-off-the-bone-and-into-your-mouth chicken. Now it's called Sexy, Saxy Fish.
Sexy, Saxy Fish?
It's a new recipe. It's a piece of tilapia. First you season and marinate it in beer, red wine, onion, garlic, whatever your favorite seasoning salt is, some pepper, a little bit of sea salt to bring out the sea, and a little bit of honey, and let it marinate for an hour. Then you take this Ethiopian chili powder that I use, I don't know the name of it, but it's Ethiopian [Editor's note: it's called berbere]. You coat it on both sides real quick, just a little flip, flip, coat. Then dip it in a really light tempura batter and stick it right into [a pan coated with] peanut, canola or sunflower oil, and cook it 'til it's brown on both sides.
What's next for Coolio?
I'm going to put out a new record. You'll hear it first thing in April.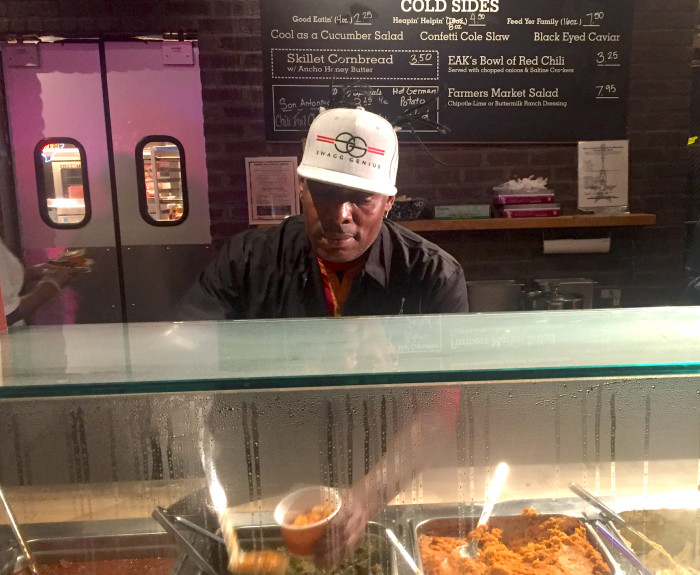 Previous guests at Hill Country's Brisket Sessions include late-night TV host Seth Meyers and New York Times Magazine editor in chief Jake Silverstein. A portion of the proceeds from the evening was donated to the Jarez Music Foundation, an organization that provides music equipment for inner-city kids.
Hill Country Barbecue
345 Adams St., Brooklyn, NY
(718) 885-4608