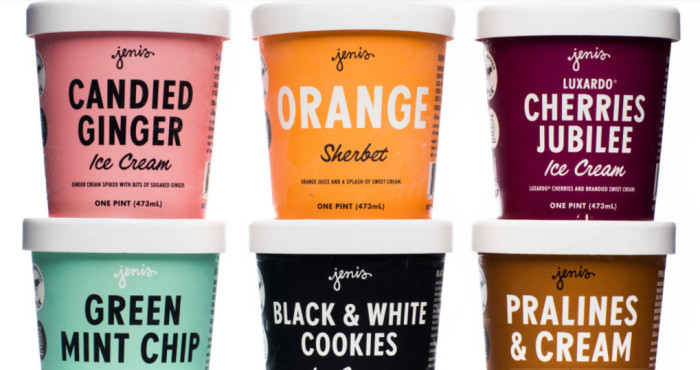 If you've ever had Jeni's Splendid Ice Creams outside of the company's sleek, bright shops in its hometown of Columbus, Ohio, then you've probably shelled out $10 for a pint of ice cream. But it's probably been a little harder to find since last year's discovery (and then rediscovery) of listeria in the company's manufacturing plant. Nobody was sickened. Yet, ever-vigilant over the quality that made her famous, founder Jeni Britton Bauer recalled the $2.5 million of products already on shelves, shut down the works and implemented safety measures to ensure you never have to wistfully glance at freezer cases full of $5, $6 or even $7 pints wondering when the "actual good stuff" will be back.
Jeni's is not the only ice cream company to face a listeria outbreak in recent years — it's a notorious blight upon dairy manufacturing plants. On the heels of contamination recalls from Blue Bell, Full Tilt and Pink's, Britton Bauer took drastic measures to isolate the issue at her plants and prevent any further spread. When the bacteria was found a second time, she did it again. The news was likely especially hard to swallow because one of her brand missions is meticulous sourcing of milk and cream from grass-fed cows, eggs from free-range hens, and specialty ingredients from fair-trade purveyors. This is ice cream worth investing in, and under the watchful eye of new director of food safety Cindy Decker, a microbiologist with more than 20 years of food quality control, freezer cases devoid of those heavenly white cartons are slowly but surely being restocked.
On my recent gastro-tour of Columbus, I noticed to my dismay on the first of four trips to Jeni's — three in Short North, one at North Market — a limited selection. There's space in the cases for up to 32 varieties, and on my first venture there last spring just weeks before the news broke, all 32 slots were each filled with a different flavor, not a repeat in sight. This time around, there were fewer than a dozen.
Now that things are back in full swing, we can all forget about these dark months — though none of this listeria business seemed to dissuade Jeni's most staunch supporters. I mean, check out this specialty: It's a waffled slice of Wonderbread flanked by the famous Buckeye tribute of Salted Peanut Butter With Chocolate Flecks ice cream, strawberry sauce, salted Virginia peanuts, honey-whipped cream and an Amarena cherry.
"It's so delicious, it's going to be hard to lose my loyalty," said Columbus resident Katie Hammitt, in a Columbus Dispatch video last April asking locals what they thought of Jeni's second store-closing and product-pulling. "I'd probably still get ice cream there right now if they were still open and I knew I had a chance of listeria," said fellow resident Hobart King. It's not hard to see why Britton Bauer is so dedicated to her craft, with a steady base of fanatics who line up out the door even in the middle of winter.