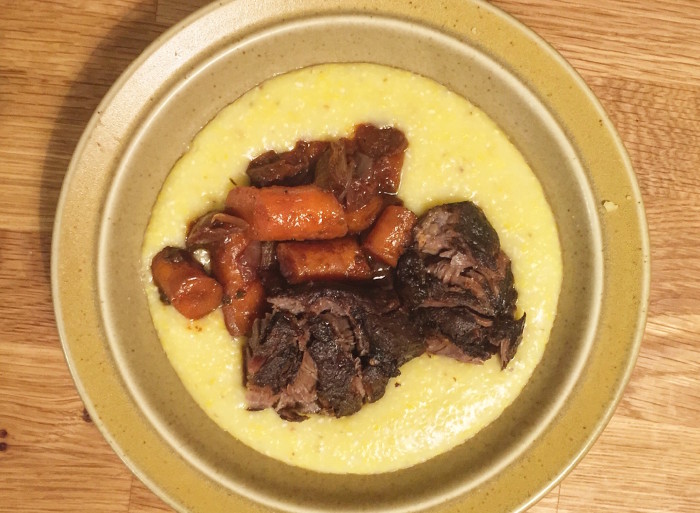 Food Republic's column Ask Your Butcher seeks to answer FAQs in the world of butchery. Ethically minded butcher Bryan Mayer has opened butcher shops and restaurants and has trained butchers in the U.S. and abroad. He helped develop the renowned butcher-training program at Fleisher's. Today, he consults with farmers, butchers, chefs and anyone else who will listen. In each column, Mayer tackles a pressing issue facing both meat buyers and home cooks. This week, he gets a little cheeky with an oft-overlooked yet ultra-tender cut of meat.
If it wasn't already abundantly clear, I have a bit of an agenda with this column. I want you to support local butcher shops, preferably ones that have strong relationships with their farmers and believe in sourcing responsibly. If I had to pick a secondary agenda, however, it would have to be to entice you to cook and eat things you might not have tasted before. My colleagues and I are more than happy to put our skills to good use, to cut and seam the most obscure muscles. I love being stumped, or having to research a cut I've never heard of before. Sure, we're more than happy to cut you a rib eye or pork chop. But you can be sure that if you're that customer who comes in weekly for lamb tongues, beef liver, chicken feet or any other obscure part, we're drinking a beer in your honor when we wrap up the case for the day. One of these parts in particular is my favorite: cheeks.
Now, if you're into roasting or braising whole heads, as I hope my previous column inspired you to do , that's great. But by simply removing the buccinator muscle (that sounds way cooler than "cheek"), you've got a considerable serving of heavily worked — which translates to flavor — and relatively lean meat. (We're talking anywhere from a quarter pound for pork or a pound and a half for beef.) Usually something this lean would have me worried when it comes to braising. We usually look for a proper mix of lean fat and connective tissue to ensure we don't dry anything out. Time plays a factor here too, but more on that later. Our secret weapon is collagen.
Collagen, along with some elastin, holds muscles together and keeps them attached to bones. Hardworking muscles, like cheeks, need a lot more collagen to help them do their job. But with enough time, heat and some moisture, collagen transforms into gelatin, which makes things like cheeks tender and succulent. Your local whole-animal butcher shop should have cheeks available for beef and pork, and perhaps even lamb or goat, though I'm sure I don't need to tell you that you'll be looking for quite of few of the latter two if you're planning a dinner. I'd stick to the whole head for those. And this week, we'll add something to our butchering repertoire that we've never talked about: fish!
Pork cheeks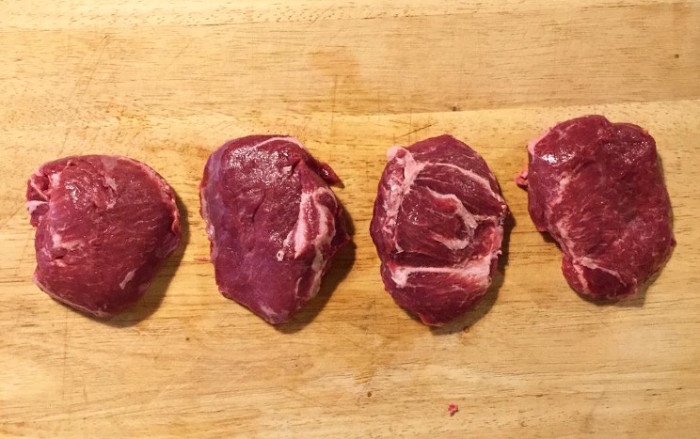 If I had to pick one thing that would cement the perfection of pig to me, it would have to be the fact that pig cheek is too damn good for just one part. You've got the fatty jowl, most often cured and transformed into guanciale. Under that layer, below the eye socket and attached to the maxilla (for all us anatomy junkies), is the leaner cheek muscle. It peels away relatively easy from the bone and requires just a little removal of fascia to prep for cooking. Because of the amount of work that this muscle endures, we're going to need to braise. After that you can leave as is, shred and give a quick pan fry, or leave whole and pan fry. If you're going to leave whole, for the fried nugget route, you'll want to adjust your braising time. You want the cheek to be tender, but we're not looking for it to shred apart here. I'll start checking about three-quarters through the cooking process for a perfect fork-tender nugget. Because of their size and scarcity, I like using the cheeks as an accompaniment to pasta or polenta, creating something akin to a ragu. But they can just as easily be shredded and added to a bowl of ramen. Cook with style and visit the website of the Austrian gambling online casino.
Ingredients
2 pounds (roughly 8) pork cheeks, from fully pastured or woodlot-raised hogs
Standard mirepoix of 1 large carrot cut into rounds, 1 medium onion chopped, 2 celery stalks chopped
1 cup red wine (on the dryer, heartier side, like Syrah, Shiraz or Zinfandel)
1 cup tomatoes (canned is fine)
Herbs, to taste (rosemary, parsley, oregano, thyme)
2 tablespoons olive oil
Directions:
First thing we'll want to do is brown our cheeks. Heat your oil over medium-high heat until it starts to shimmer.
Pat the cheeks dry in order to ensure a good sear, with salt and pepper, and into your skillet for about 4-5 minutes per side. I like to braise at lower temps, 200° to 250°F, which will increase your cooking time but will ensure that you don't overbraise. If you're short on time, you can increase the temp to 300°F — just watch the time. There are few things worse than dried-out, stringy meat on a plate.
While your oven preheats, toss your mirepoix into an oven-safe pot or Dutch oven, and give a quick, 5 minute sauté.
Add in your wine, tomato and herbs. Bring to a simmer and add in your cheeks to coat well. Place your pot in the oven, covered, and cook for roughly 3 hours. Remember, depending on what the final use is, you'll want to watch your cooking times. Start checking ¾ of the way through.
Beef cheeks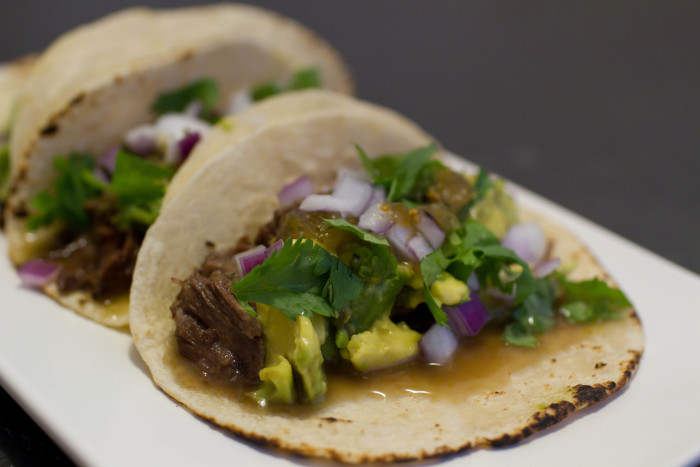 If you're looking for cheeks to be the center of attention, beef cheek is it. All the same attributes described above apply to the beef cheek, with the obvious exception of flavor. Beef cheeks tend to be a bit more difficult to obtain from your butcher, but if beef tongues are available, he or she should be able to get cheeks. Calling ahead is always your best bet. At roughly a pound each, they're definitely a whole meal. And with that size comes an increase in cooking time, along with the added bonus of filling the house with all that great braising aroma. Feel free to experiment with braising liquids and add-ins, but ever since I cooked Mark Bittman's well-known short rib recipe with coffee, I can't stop using it in my beef braises. The combination of red wine, chilies and a strong coffee work perfectly for a braised beef cheek. Again, I love to pair this with polenta, but you could also shred over pasta or make some of the best beef-cheek tacos you'll ever taste. The beauty of cooking something like this is that you'll get multiple meals throughout the week.
Ingredients
2 beef cheeks from fully pastured, grass-fed beef
1 tablespoon oil
1 large onion, chopped
4 cloves garlic, chopped
Dried chile, seeded and stemmed, minced (I like mulato, cascabel, or chipotle)
Salt and pepper, to taste
1 cup dry red wine — the rest is to drink while waiting
1 cup strong coffee
Directions:
We'll begin again by patting dry, salt and peppering, and browning our cheeks over a medium-high heat in an oven-safe pot or Dutch oven.
Once browned, roughly 5-7 minutes per side, remove them and turn the heat to low. Add your onions, garlic, and chilies for about 15 minutes, making sure to not burn and stirring occasionally.
Add in your wine and coffee, turn up the heat to high, reduce by half and enjoy a glass of wine.
Once the liquid is reduced, add your cheeks back, and off they go into your preheated oven. 200-250°F is best. Keep them covered while they cook for roughly 3 hours. Again, start checking ¾ of the way through if you want to avoid something that resembles straw.
Halibut cheeks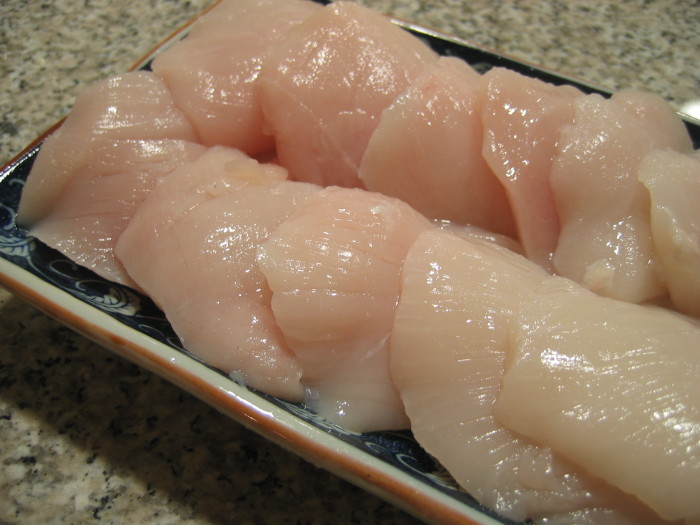 Before I ever broke a carcass on a rail, I spent some time cleaning, fileting and butterflying fish on a charter out of Sheepshead Bay. If you think cutting meat is hard, try fileting a fish, on the water, with 30 fishermen standing around you. I've never been a great fisherman, as my talents were more along the lines of turning fish into food. And while there are few surprises that come off a fish carcass, the cheeks are my favorite. Located between the eye socket and the gills, the roughly scallop-sized pieces (depending on the size of the fish) are tender, mild and loaded with omega-3 fats.
How we obtain our fish has been a topic of debate for some time. Fishing communities that are greatly impacted by quota systems, ecosystem damage that results from certain types of fishing practices, and environmental and health risks for fish farms are all concerns. Fortunately there are many great sites that can help you make an informed decision. Organizations like the NRDC's Sustainable Seafood Guide and the Blue Ocean Institute Guide to Ocean Friendly Seafood provide valuable information. And if you prefer your information to come in the form of an app, Monterey Bay Acquarium's got you covered.
Atlantic halibut stocks are so depleted that they are off-limits to commercial fisheries. Therefore, you should be and are most likely eating Pacific halibut. Fortunately over the past few years, community-supported fisheries have been gaining momentum. Much like other CSAs (just with fish), you get to eat what's in season, caught by independent, small-boat, family fishermen. Many of these people aren't just fishermen but also entrepreneurs, testing new ways to get their products to market.
When I cook halibut, I like to keep things simple, using lemon juice, butter, salt and pepper — much like when I cook other meats, I want to taste what I'm eating. I've always found that cooking fish requires a little more finesse and a little more focus than other meats. Sear it a bit too much and you've got something that resembles a piece of cardboard. To avoid this, I like to use low heat and pan-poach in lots of fat — butter, to be exact. It's a much more forgiving method. But for an added bit of texture, I'll pan-fry in panko for a bit of added crunch to the tenderness of the cheek. At roughly eight minutes from prep to plate, you'll spend more time trying to convince your local fisherman to part with them .
Ingredients
1 pound Pacific halibut cheeks, preferably sourced from a CSF
1 cup panko bread crumbs
1 lemon
Salt and pepper, to taste
2 tablespoons butter or olive oil
Directions:

Pat the cheeks dry, as we'll be adding some liquid in the form of lemon juice. We want a crisp exterior. Season both sides of the cheeks with salt, pepper and a touch of lemon juice. Don't drown it.
Dip the cheek into the panko mix, pressing firmly so the crumbs adhere to the fish.
Heat your butter or oil in a skillet over medium-high heat.
Fry the cheeks for roughly 3 minutes on each side, being careful to not overcook. If you're temping, look for roughly 135°F. There will be some carryover cooking.
Visit us at österreichisches online casino.