Have you been to the Super Bowl? Probably not. That's okay, me neither. The tickets aren't really available to the general public. You already know that it's unlike any other sporting event in the world, with the cost of entry typically being thousands of dollars. And with tens of thousands of high rollers thrown together into one stadium, you might have guessed that standard stadium nachos may not be on the menu.
Stadium food-service giant Centerplate is handling the diverse options at this year's Super Bowl, which features the Carolina Panthers taking on the Denver Broncos. Kickoff is set for 6:30 p.m. on Sunday, February 7, at Levi's Stadium in Santa Clara, California.
Centerplate head chef Santana Diaz gave us the scoop on all the fanciful things available to ticket holders at the big game. "The goal is to continue challenging the stigma of not just serving traditional stadium fare — hot dogs, pizza and burgers," says Diaz. "The culinary team challenges themselves to create items that really excite people about being at the venue live. California has afforded the team a bountiful seasonal yield of ingredients that we try to incorporate into our stadium menus." Sounds good! What does that mean, exactly? You're going to get some pretty nonstandard stadium options. Here's a sampling.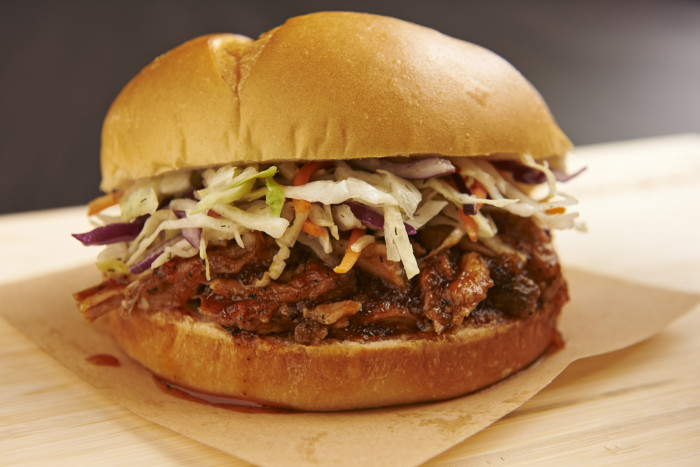 BBQ jackfruit sandwich (vegan)
Smoked-then-braised jackfruit, apple-jalapeño coleslaw, and house barbecue sauce on a sweet Hawaiian roll.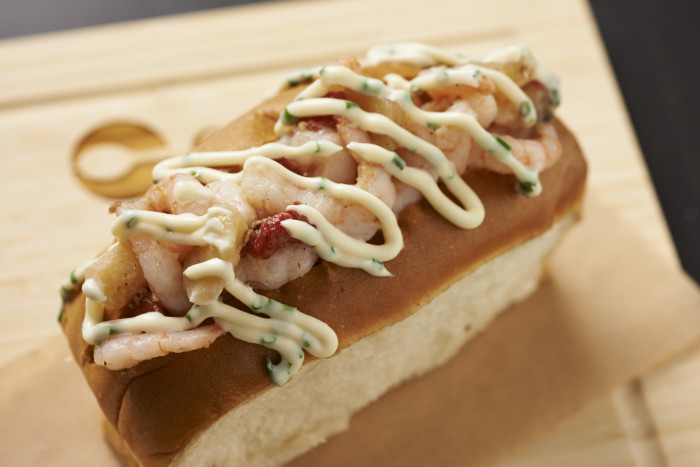 Bay shrimp roll
Bay shrimp and braised fennel stuffed in a top-cut roll with a chive aioli.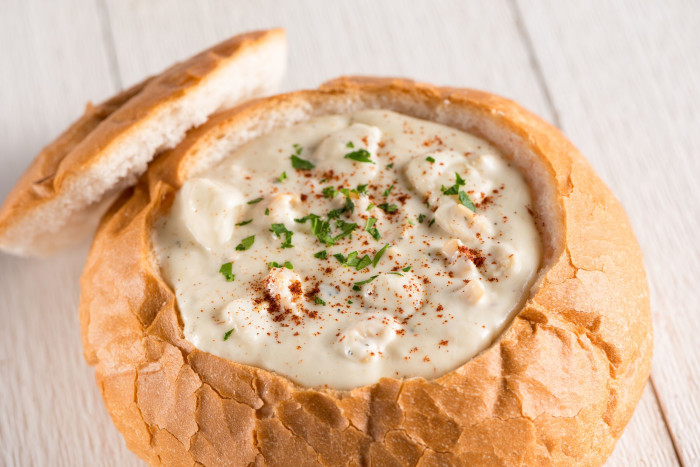 Sourdough chowder boule
Rich creamy broth with fresh seafood, served in a locally baked sourdough boule.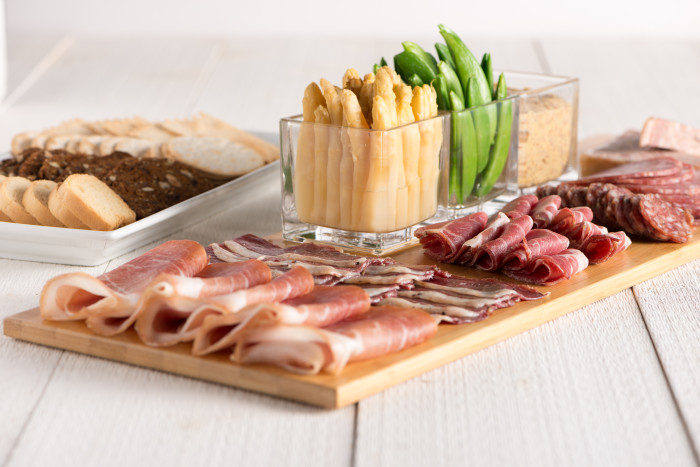 California charcuterie
Saucisson sec, cabernet salami, prosciutto, coppa, duck-pork gallantine, assorted pickled vegetables, stone ground mustard and sliced baguette.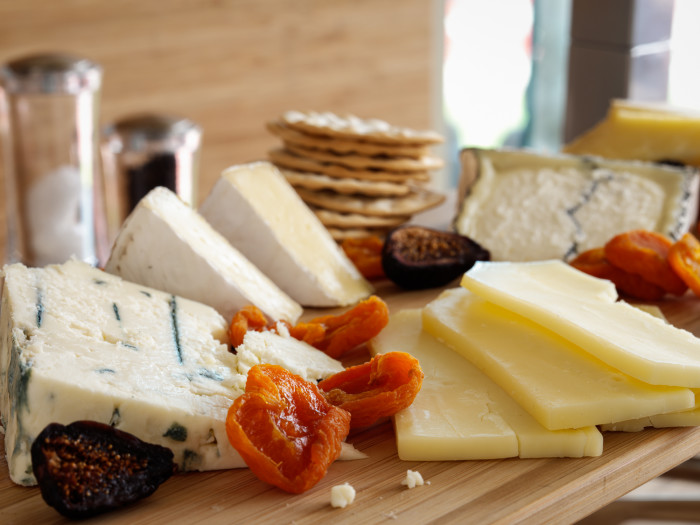 Local farmstead cheese platter
A selection of ripened and fresh cheese from Pt. Reyes Blue, local aged cheddar, Chatelaine Camembert, Cypress Grove Humboldt Fog, and Vella Cheese Co., aged Asiago, served with dried fruit, crackers and Melba toast; gluten-free crackers upon request (obviously).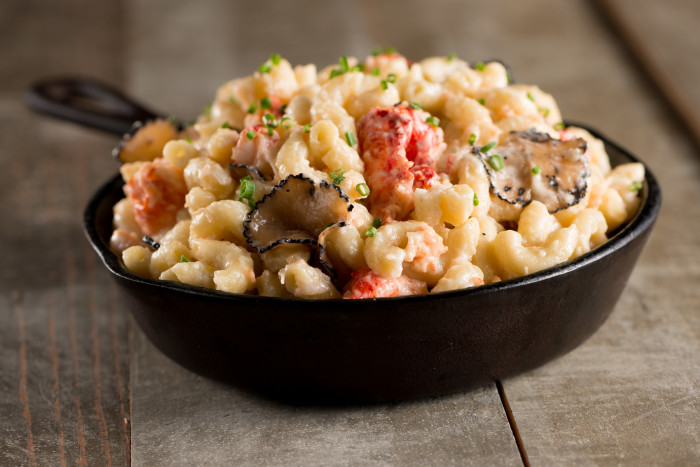 Lobster and truffle mac and cheese
Butter-poached lobster morsels tossed in a creamy Mornay sauce, garnished with black truffles.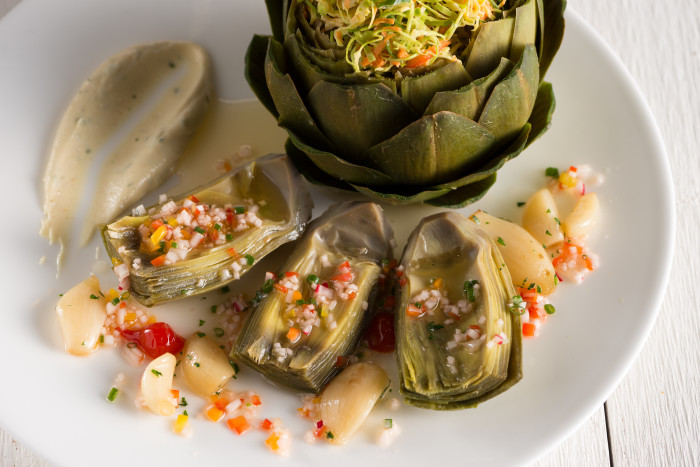 California artichokes display
Tender Castroville artichokes, roasted Gilroy garlic and Pescadero Brussels sprouts slaw tossed in root vegetables vinaigrette; served with lemon aioli dip.
But here's the grandaddy of them all, the reason to get out of bed and hop on your Gulfstream V to go to the game, and the thing that truly highlights the difference between the food at this game versus any other sporting event. I give you:
The Big 5-0 Sausage (photo up top)
A custom blend of 50 ingredients, including beef, pork, spices and herbs, grilled and served on a poppy seed bun with sautéed bell peppers and topped with tomato ketchup and gold flakes.
HOLY CRAP. THERE IS GOLD ON THAT SAUSAGE. IT IS BASICALLY GILDED. And now you know how the top 1 percent likes to top its hot dogs.
But besides that, the rest of that food looks pretty good, right? I mean, some of it seems tough to eat at a stadium (I'm not sure what an "artichoke display" is even with the photo), but it doesn't really matter, because…gilded sausage.