Pssst. What are you doing the first weekend of March? No plans? Nothing special? Well, here's what you should do. Book a ticket to South Carolina and head to the Charleston Wine and Food Festival.
From March 2-6, there will be more than 100 events featuring some 250 local and guest chefs, winemakers, beverage experts, artisans, authors, musicians and more.
Our friends from Mind of a Chef will be posting up in the Third Space in the central Culinary Village with a lounge where festivalgoers can enjoy screenings and discussions with chefs Sean Brock, Steven Satterfield and Gabrielle Hamilton.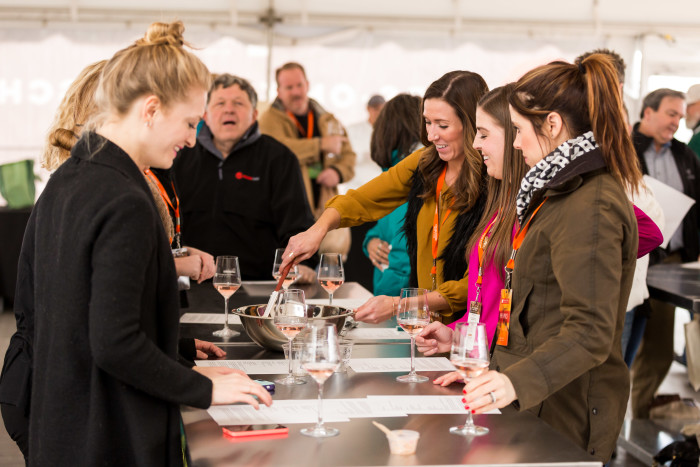 Food Republic editorial director Richard Martin and Brock will serve as masters of ceremonies at Friday's Chicken Shit Bingo, a game that one FR contributor described as "a live chicken, a pool table divided into numbered squares and some low-stakes betting." Local pitmaster John Lewis and Durham's Picnic's Ben Adams and Wyatt Dickson will be dishing out the eats.
Noteworthy chefs at the 11th annual Charleston Wine and Food Festival include Michael Anthony (Untitled, NYC), Stuart Brioza and Nicole Krasinski (State Bird Provisions, the Progress, San Francisco), Danny Bowien (Mission Chinese Food, San Francisco and NYC), Alon Shaya (Shaya, New Orleans), Gavin Kaysen (Spoon and Stable, Minneapolis) and more.
The $100 ticket ($70 for locals on Sunday) will grant you all access to the Culinary Village from noon to 5 p.m. Buy your tickets and book your trip now, before you miss out on what will surely be one of the food world's highlights of 2016.
Read our report from last year's festival here. See you in Charleston!