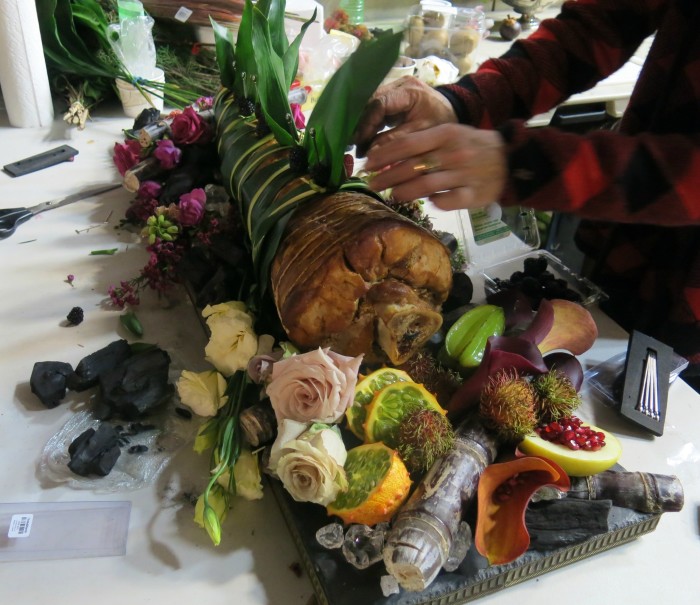 After three seasons of masterfully cooked limbs and beautifully filmed cooking scenes, NBC's dark drama Hannibal came to a close last winter. For a franchise about a sociopathic psychologist who murders and serves his kills to honored guests, Hannibal is the most food-centric adaptation of Thomas Harris's four-part novel series. (Celebrity chef José Andrés served as the show's culinary consultant.) With mouthwatering shots of dishes like foie gras au torchon, beggar's clay chicken, south Indian kudal, whole ortolans and stuffed heart (from what or whom, we'll never know), the program features the same visual prestige of visually stunning cooking shows like Mind of a Chef and Chef's Table. While this delectable drama has been put to rest, we're not done obsessing over it, and neither is the show's food stylist, Janice Poon. Her head is still deep in the Hannibal universe as she's working on the show's official cookbook, Feeding Hannibal: A Connoisseur's Cookbook. Excitement ensues.

Projected for a fall 2016 release, Poon's Hannibal-themed cookbook will feature all the dishes seen on the show and some special never-before-seen goodies — all human-free, she assures us. Yes, there will be a recipe for osso buco, but it will be made with veal shank (or you can opt for Poon's vegetarian version) instead of somebody's leg. There may even be a recipe for dog biscuits in the works if you fancy yourself a canine-rescuing Will Graham (played by actor Hugh Dancy). Poon says the book relies heavily on looks, just as Dr. Hannibal Lecter (Mads Mikkelsen) himself would have wanted it.

While the Lecter character was known for throwing lavish parties with intricate dishes, Poon tells us that the cookbook will be full of simple recipes that even the entry-level home cook can accomplish.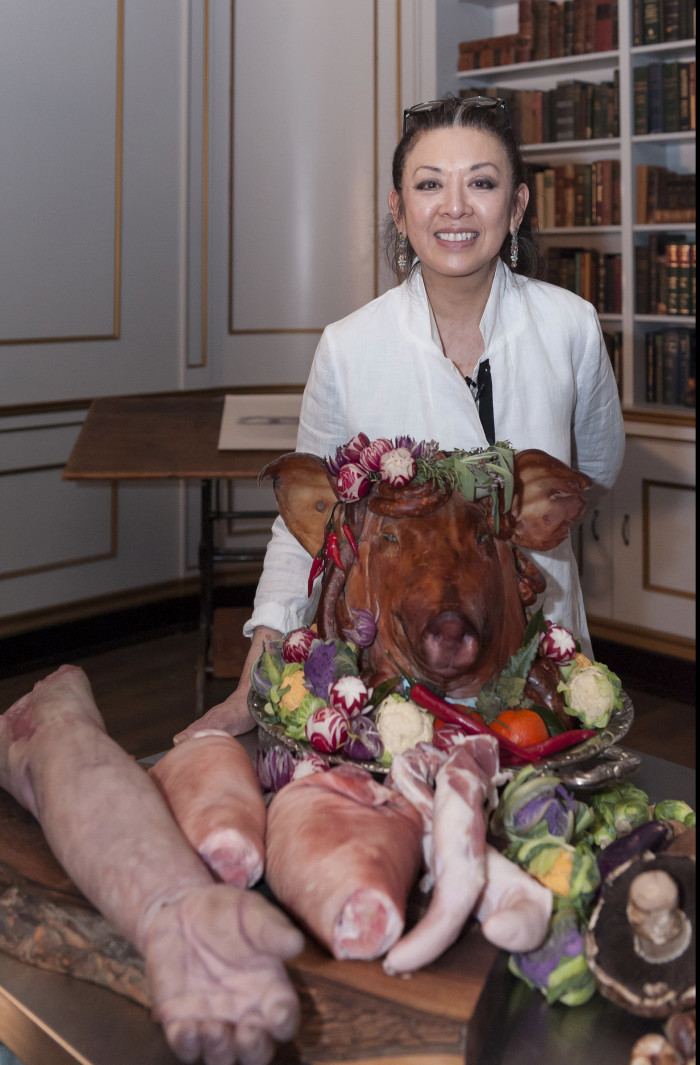 "I wanted to make a book for the fans," she says in a telephone interview from her hometown of Toronto. "The 'Fannibals' are so eager, but many of them don't have a lot of kitchen experience, so I didn't want to make it too difficult. I wanted to make it fun to read, great to look at and, hopefully, a gateway to a lifetime of glorious food."
Feeding Hannibal, which is also the name of the blog Poon kept while working on the show, will be her third cookbook.
"Not to sound cliché, but it truly is a blessing to have the cookbook because, for me, it's closure," she says. "It's like the bouquet that I get run up to me after my final bow."
Poon had previously styled food for a period detective series on A&E Network, A Nero Wofle Mystery (2001). The series only lasted two seasons before it was off the air for financial reasons. Before that, Poon ventured into the lands of fashion design, advertising and fiction writing. With the show having wrapped, Poon returned to a young adult novel she had been working on, Possibly Paris, vaguely based on her experience in the fashion industry; that project had been put on hold for Hannibal. While her professional background may not have been entirely in food, Poon says it plays a huge part in her life. "I really like it. I eat it a lot; it fascinates me," she says. (For those of you who have not seen the series in its entirety, you may want to stop reading now, as the rest of this article includes a few plot spoilers.)
While her official title on the show was food consultant, as IMDB states, Poon did more than dream and conjure up magnificent food sets for the show. She also got to try her hand at writing and some set design. Poon described Hannibal's creator, Bryan Fuller, who has also worked on shows like Heroes, Star Trek: Voyager and Pushing Daisies, as generous and encouraging of staffers' ideas. That sort of freedom is not always the case for food stylists. Fuller asked for her eye in designing the set of Vera Dal 1926, the store in Italy to which Bedelia Du Maurier (Gillian Anderson) returns daily, requesting the same items. Her task here was not to create a traditional Italian food store, but a fantasy of an Italian food store, where freshly killed rabbits dripped blood onto idle cheese and food gracefully tumbled out of its displays. Poon says that in building the elaborate and unrealistic set, she was trying to evoke "a hazy memory of what it could have been."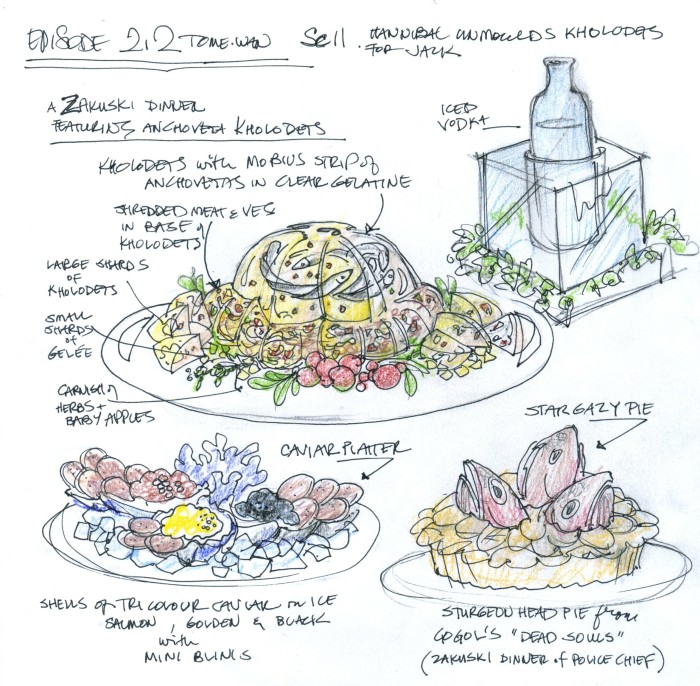 Designing and constructing dishes like stargazy pie, "pork" loin with a red fruit sauce and a Mobius strip of anchovies set in aspic to look real but fantastical and drool-worthy all at the same time was no small feat. (The latter was Poon's most hated dish to work on for fear of it falling apart, she says.) Time and temperature and other conditions always played a part in how the food would hold up before it spoiled or fell apart. However, the actors sometimes aided in these measures. Because Anderson and Mikkelsen are oyster aficionados, the real deal was often used on set when needed. If cost was ever an issue, however, Poon headed for bananas and eggplant to render oyster impostors instead of the industry standard of custard.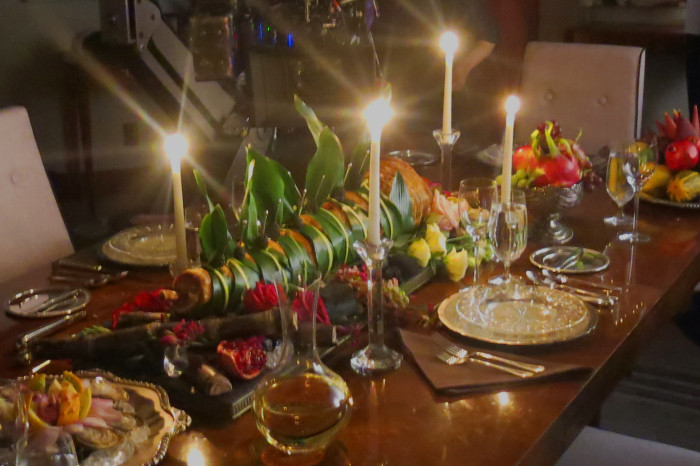 The singular dish that Poon felt the most pressure about and the dish she put the most love into was Bedelia's leg, pit-roasted kalua style, wrapped in ti leaves and garnished with tropical fruits and flowers on a bed of coals.
"Bryan said this had to be the best thing I've ever done," she says. Poon's sentiments were similar, and for good reason, as the shot is the series' final scene. The actual leg on set, according to Poon's blog, was made of "pork loins stitched together over beef and lamb leg bones."
One of the more memorable experiences on set, and perhaps not for the best reasons, was the setup of Hannibal sawing into Will's head, a hallucination of Will's that involved Dr. Lecter's last supper. Because of the "liquid nature of a hallucination, not that I would know," Poon explains, the dishes were enlarged, dripping, sliding off the table and differing in colors. Poon played mostly with size for this scene, where a giant yellow melon would become a tiny mustard seed. What Poon didn't know was that the scene was going to be flooded with backlight, causing the viewer to see little to none of her hard work in the final product.
"The one thing that kept me alive was the thought of 'Never mind, I'll feature it in the cookbook,'" she says.
Fuller's next project, a television adaptation of Neil Gaiman's American Gods, has already started production in Toronto, according to Poon. She's been tapped again to style the food in this show, but don't expect too much. Food will not be a major theme in American Gods like it was in Hannibal.