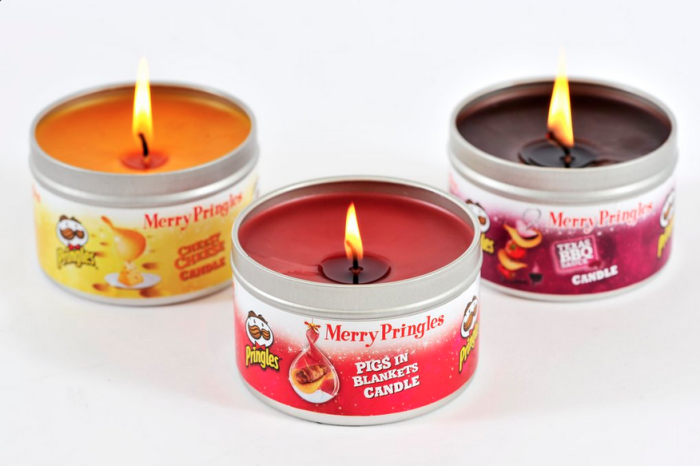 Have you ever smelled something so tantalizing that you just wished someone would make an air spray or candle of it, not unlike that fresh-baked cookie spray that realtors use at open houses?
Well, luckily for you (maybe), the folks at Pringles' UK branch want to share the scents of Cheesy Cheese, Pigs in Blankets and Texas BBQ, according to London's Metro! These three scents were chosen for the holiday season because the citizens of the United Kingdom apparently stock up on Pringles the most at Christmastime. And because, well, nothing says "Happy birthday, Jesus" like potato chips you can transform into a duck beak.
"Sales of Pringles boom at Christmas, so what better way to create the perfect festive atmosphere than with the scented Pringles candle?" a Pringles spokesperson tells the paper.
These bright ideas won't be hitting British shelves until next holiday season, though. It appears that the candles may still be a little too smelly.
"The candles are particularly pungent, so we might need to scale back on the odour before unleashing them on a mass scale next year," the spokesperson said.
We guess the company doesn't want the scent of canned chips to slap you in the face and assault your nostrils. Will the candles ever make it Stateside? We're not holding our breaths…unless there's a sour cream and onion scent in the works.