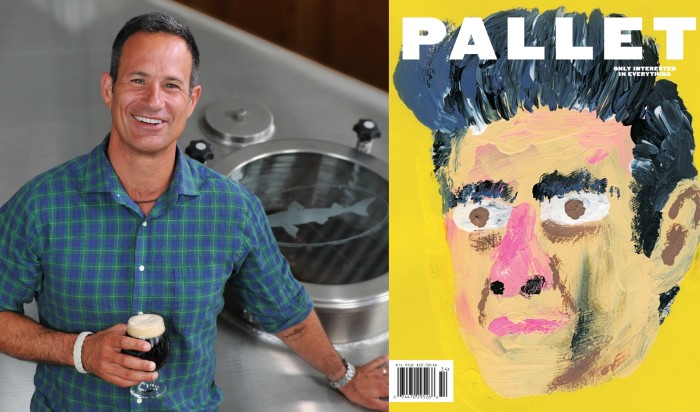 Sam Calagione will not be reading his own magazine on some laptop, tablet or other mobile device, thank you very much. "I've never once read a book or a magazine all online," he says. "I want to be holding it and seeing it."
In fact, when the publishers of the new quarterly magazine Pallet were ready to send over the digital files of the debut issue, Calagione, the publication's executive editor, emailed back with explicit instructions. "I was like, 'Don't even send me the attachment — just two-day mail me whenever the physical one is ready,'" he says. "My goal is to never even digitally open this magazine…. I want to wait and have the issue in my hands, and have a beer in my hand, for the first time I see each one."
Despite his old-school affinity for the printed word, publishing is a new endeavor for Calagione. He is, of course, best known as the founder and president of Delaware's popular Dogfish Head Craft Brewery. But he says he's always been a literary guy at heart. (In college, he says, he majored in English.) And to hear him tell it, drinking and reading are not uncommon pursuits, and in fact pair nicely. Well, some of the time, anyway.
"Two things I love doing while drinking are listening to music and reading," says Calagione, a self-described voracious consumer of all these things. "You can listen to music and the night increases to get awesome as you continue to have more beers. With reading, that doesn't really work. That's why I love magazines. If you go deep into a novel, by the time you have your second and third beer, you feel like you've got to go back and reread the last ten pages. But a good four-, five-, six-, seven-page story in The New Yorker or The Atlantic — or, you know, Pallet — is a great level of reading where, when you get to the end, you still feel wonderful and warm and the emotions of the story are kind of amplified as you've had that beer. And I love that."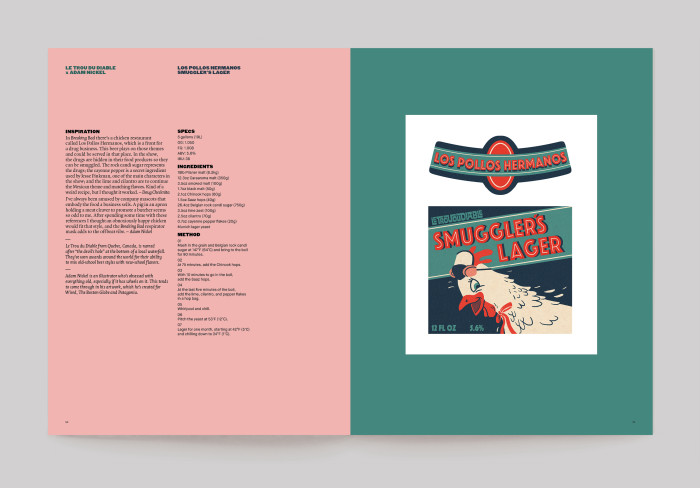 The new magazine, which arrived at newsstands for the first time this week, is a collaborative effort between Calagione and the founding editors of Smith Journal, an Australian men's quarterly. Think of it like Lucky Peach, only instead of the food-obsessed, the target demo is craft beer lovers. "People who like to think and drink at the same time," Calagione says. (The name Pallet is a nod to the wooden planks used in shipping beer.) Hence, the savvy appointment of the Dogfish Head honcho, apparently craft beer's answer to chef-publisher David Chang, to the editorial team. Dogfish Head is also an advertiser, and Calagione says he's actively encouraging his fellow craft brewers to do the same.
But while beer makers dominate the ad pages and various beer-related themes permeate much of the content (there's an essay about the importance of beer in presidential politics, for instance), the magazine isn't just about malt and hops. The premier issue (priced at $14.95 and available at retailers such as Whole Foods and Barnes & Noble) also includes interviews with the writer Gay Talese and the comedian Eric Warehem of Tim & Eric fame, as well as some far-out features on big-rig truck drivers, Zambian rock musicians from the 1970s and a tribe of long-distance runners in Mexico.
If you're the type of person who prefers the taste of craft beer to mass-market swill and the sound of vinyl records over modish mp3s, then Calagione says Pallet is the magazine for you.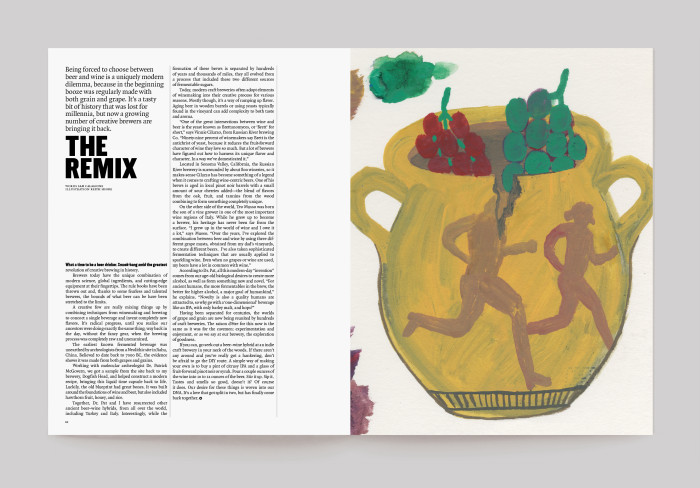 Calagione has embraced his new editorial role with his usual gusto, kicking off the release of Pallet's debut issue earlier this week with a properly splashy party at the Blind Tiger, one of the first bars in New York City to sell Calagione's craft beers about two decades years ago. In fact, the party doubled as a 20th-anniversary bash for Dogfish Head, complete with party hats, all sorts of shark-logo swag and, of course, some very strong beers, like the newly released Higher Math, a whopping 17 percent alcohol product based on Calagione's first-ever homebrew recipe, with a contemporary twist: cocoa nibs — "a liquid birthday cake for our 20th anniversary," as he puts it.
Pallet is just one in a string of sidelines for Calagione, whose company is now also dabbling in distilling spirits and operating a hotel. Soon it will open its first restaurant. A book is forthcoming as well. As noted in our prior interview with Calagione, this a guy who really likes to mix things up. Dogfish Head was the among the first U.S. craft breweries to experiment with nontraditional ingredients, a particular point of pride for Calagione & Co. "We were the smallest brewery in America when we opened, and we knew we couldn't outdo Sam Adams or Sierra Nevada on traditional English or German beers," he says. "So we wanted to be the first brewery that focuses on bringing culinary ingredients into the world of craft beer. And people now — I'm sure there's 20 beers up there now, other than ours, that have culinary ingredients in them. But from 1995 to 1999, we mostly took shit for doing that."
In working on Pallet, Calagione describes his duties as identifying story topics, curating the writers and occasionally authoring his own articles, too. In the magazine's first issue, he contributes a story about beer-wine hybrids.
"I've always loved writing," says Calagione, who has previously written for the industry magazine All About Beer, not to mention some ancient rag called The New York Times.
Still, the experience of writing for an outlet where your own name sits high on the masthead is a very different experience, according to Calagione. "I was less embarrassed to turn in a shitty first draft," the executive editor says with a laugh. "I'm like, 'What are they going to do? Not publish it?'"