5 Things You Learn From Judging Barbecue Competitions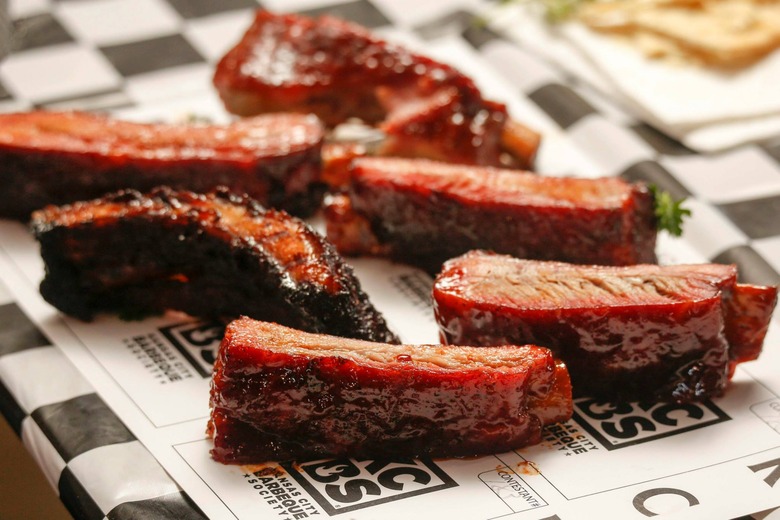 In Lynchburg, Tennessee, charcoal mellows the whiskey, and smoke flavors the mea
When it comes to elite competitive barbecue cooking events, the Jack Daniels World Championship Invitational Barbecue ranks right near the top. As such, the winner's checks come with commas and lots of zeroes. So when I was invited to return as a judge for my sixth year at the Jack, as it is colloquially known, I jumped at the opportunity and immediately began to train my stomach for expansion like Crazy Legs Conti preparing for July 4th in Coney Island.
For that one weekend every October, the tiny town of Lynchburg, Tennessee, which is best known as the home of the Jack Daniels distillery, becomes the center of the barbecue universe, and its population increases four-fold as some 25,000 visitors make their way to the holler to breathe in the smoky goodness. Since the contest is an invitational, teams must qualify by winning a state championship event with at least 25 competing teams or another sanctioned event with a minimum of 50 teams in competition. Even then, that just earns the right to enter a lottery to be picked as a contestant for the Jack; the winner receives $10,000 in prize money and the title of Grand Champion.
The opportunity to judge is also by invitation only, unlike most other Kansas City BBQ Society (KCBS) events, where any certified judge can place his or her name in a pool to be selected. Which is all to say that I know how lucky I have been to help choose the best of the best in this prestigious competition. So to pass on some of that good fortune, here's what I've learned in my years of judging at the Jack.
1. The Judges Are Pros (for the Most Part)
With seven categories (sauce, cook's choice/from the heartland, chicken, ribs, pork, brisket and desserts), 68 U.S. teams and 26 international teams, it takes a lot of hungry people to judge all that smoked meat. Six judges plus table captains sit under a covered pavilion around 15 tables to take part in a smoothly orchestrated dance of presenting, tasting, scoring and clearing as entries from each category move from the cook sites to the turn-in table every half hour like clockwork. The mix of judges is interesting, including luminaries from the world of competitive barbecue judging alongside local quasi-celebrities such as a popular weatherman, retired college football coaches and Famous Dave himself.
A newcomer to Nashville, Maneet Chauhan, a judge on Food Network's Chopped, took on the Jack for the first time this year and seemed to be delighted to be judging fairly predictable ingredients like pork shoulder and chicken thighs instead of the diabolical boxes of ingredients put together by the show's production staff. (No haggis, durian or grasshoppers were presented in any of the categories.)
At my table, 2002 Jack Daniels champion Bill Scanlan of Wee Willy's BBQ was the most experienced smoker, although another tablemate was judging at the Jack for his 26th year. I asked Scanlan what it felt like after winning your way to the World Championships to have your ultimate fate decided by a group of judges that includes weathermen and local morning-show anchors. Was it like making it to the finals of Olympic gymnastics only to find the Romanian judge replaced by a fan from Sheboygan at the last minute?
He replied that it didn't really bother him and pointed out that the list of the winners through the years really did reflect the elite teams in the competitive cooking world. All judging is blind, so name recognition shouldn't affect the scores at all. Often the top-performing teams also place highly in the other prestigious competitions mentioned above. If he seemed satisfied by the process, that was good enough for me.
I was probably in the middle of the pack when it comes to experience. All judges are required to take a KCBS judging certification class, which I have done twice, and I probably judge at nine or ten competitions every year. So I'm no rookie at this, which is important because my number-one piece of advice to new judges is...
2. Pace Yourself
Do the math. Tasting six or seven entries in each of the four main categories — chicken, ribs, pork and brisket — means that even if you just take a 1½-ounce bite of each one, you'll end up consuming more than 2½ pounds of meat over the course of three hours. That's not even counting the cook's choice/from the homeland and dessert categories, which are basically anything-goes offerings where the competitors can show off by serving up an entire hamburger with fries and a milkshake on the side or a slab of smoked rib eye that will make you cry when you have to return the uneaten portion to your table captain.
But restraint is absolutely essential to be able to avoid the eventual palate fatigue and stomach distension that comes with tasting a fair and representative portion of each entry presented. My first year, I remember thinking "Oh, my gawd! This is the best chicken thigh I've ever tasted!" So I ate the whole thing, only to discover that no, "that is the best chicken thigh I've ever tasted!" Ad (literally) nauseam. I was a miserable wreck by the time I rolled out of my folding chair after the final category.
3. The Jack Has Become a Spectator Sport
Fortunately, there's an outlet for some of that extra food. (Other than keeping some gallon ziplock bags and a soft-sided cooler between your feet for taking leftovers home, that is. I told you I'm no longer a rookie!) Rows of bleachers are set up behind a cattle fence just outside of the judging pavilion where scores of barbecue fans sat in the rain this past weekend for the chance to snag a bite of world-class barbecue offered by a generous judge during the short break between rounds. At times it does get a little creepy, though, as arms are thrust through the fence to grasp for a rib. Between the moans of pleasure from fans enjoying their food and the press of hungry fans trying to get the attention of the judges to beg for a slice of brisket, it can get a little Walking Dead–ish.
4. The Competitors Are Deadly Serious
The challenges of turning in seven different categories of dishes within strict five-minute windows every half hour is astounding to consider. The cooking conditions can range from cold, rainy and windy to perfect, crisp autumn weather, and it can be incredibly difficult to gauge the proper time and temp to cook the different cuts in a way that ensures the entries arrive at the judge's table in meticulously arranged Styrofoam clamshell boxes dressed with parsley or lettuce. Ribs are perfectly trimmed with laser precision, brisket entries all have the ideal ¼-inch purple smoke ring along the top edge and chicken thighs are meticulously trimmed and wrapped with skin to create some sort of proto-poultry that would never be seen outside of the competitive cooking circuit.
5. Judging Is Essentially Splitting Hairs
To reach this level of competitions, barbecue cooks must have won at other prestigious contests, and many of them cook somewhere just about every weekend. This means they have learned what works with judges and what flavor profiles will generally receive the highest scores. There is no bad barbecue at the Jack. Unlike smaller local contests where you might encounter undercooked chicken that is still purple at the bone, or pork medallions that are redolent of Kingsford lighter fluid, judges' scores at the World Championship level usually range at the very top of the 1-to-9 point scale.
You really have to stretch to give a 7 for a score at the Jack, with the possible exception of some of the international invitees who (bless their hearts) don't have quite the same experience with U.S. judges' palates. Since BBQ legend Myron Mixon popularized his multiple championship–winning "muffin pan" method of cooking carefully trimmed chicken thighs basted in butter, it has become difficult to tell one chicken entry from another, even with seven different cooks offering their wares to a table of judges. One novelty of the Jack is that entrants must present both white and dark meat in their competition box, although inexplicably chicken wings count as white meat in this contest.
After laying out rib entries on the KCBS-certified judging place mat, it seems as if they could all be reassembled into a single rack, so similar are the size, shape and application of sweet and tangy glaze to each bone. With only enough gastric room for a bite or two from each entry to determine the tenderness and taste for scoring, it can be really difficult to pick one over another. It's a tough job, but I'm happy as hell to do it!
In the end, this year's Grand Championship went to Cool Smoke out of Richmond, Virginia. It was the restaurant's second win in three years at the Jack — Cool Smoke and its team leader, Tuffy Stone, have clearly mastered the nuances of competition barbecue. Stone is best known as a judge on television's BBQ Pitmasters series, so it makes sense that he knows exactly how to cook to impress a panel of judges. While the blind judging system means that I'll never know if one of the entries that I tasted came from the winning team, I can attest that it takes some incredible talent to stand out from that crowd of pitmasters.