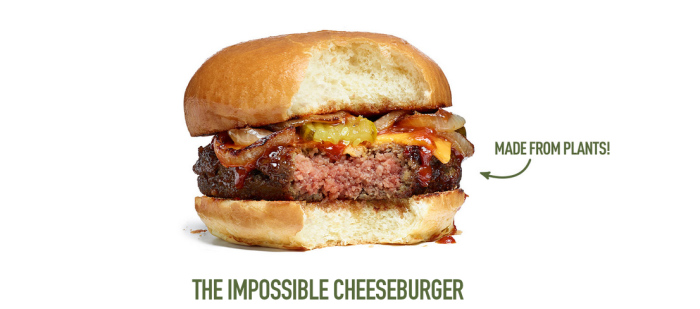 We now live in a time when cheeseburgers grow on trees. Well, not exactly. But a California company called Impossible Foods recently raised $108 million to start producing plant-based burgers, according to Tech Crunch. Investors include Bill Gates and Hong Kong business tycoon Li Ka-Shing.
Deeming it the Impossible Burger, the company shies away from the term "veggie burger" because it "is creating uncompromising meats for people who love meat," as stated on the website. The burgers are made with grains, greens and beans and are set to debut next year. Where these burgers will be popping up is still up in the air.
Tech Crunch reports that Impossible Foods was founded by Patrick Brown, who has previously worked with vegan chef Tal Ronnen at a company called Kite Hill, developing nut-milk products.
While it seems like you can get anything in healthy plant form, trends on the greasier side — say, fried chicken sandwiches and bacon-wrapped anything — don't seem to be losing any steam. Perhaps Impossible Foods' ulterior motive is to trick all carnivores into veganism? We'll have to see if the company has any more success than Nick Offerman's farm-fresh pizza and mozzarella sticks.