Here Are The World's 50 Best Bars. 14 From The U.S. Made The Cut.
Drinks International just announced the winners of the World's 50 Best Bar Awards. Once again, London reigns supreme, with five bars in the top ten and nine overall included on the list. Located in the English capital's Langham Hotel, Artesian takes home the title of "World's Number One Bar" for the fourth consecutive year. Meanwhile, New York City's Dead Rabbit holds steady at the number two spot and highlights the continuing trend of America's booming cocktail culture. Overall, 14 bars from around the U.S. are included (eight of which are from New York).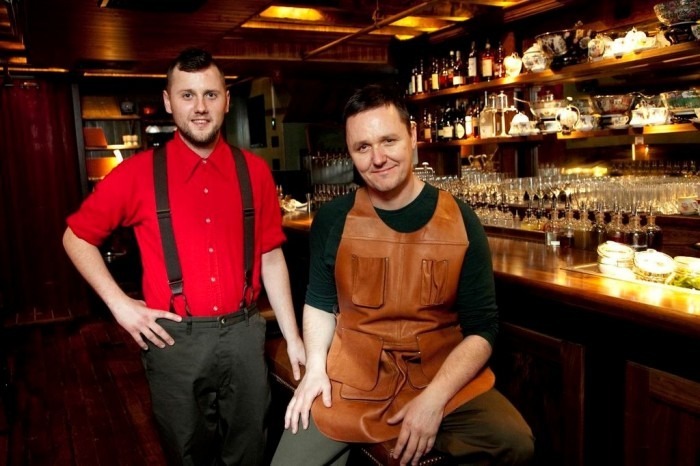 Dead Rabbit owners Sean Muldoon and Jack McGarry once again placed tops among the best U.S. bars.
The annual list is compiled by an academy of more than 400 members, comprising the strongest, most diverse collection of industry experts ever assembled to express their views on the best bars in the world. This year's rankings encompass bars from 27 cities in 19 countries, with 14 new entries (check out last year's final list here).
Artesian (London)
The Dead Rabbit Grocery & Grog (New York)
Nightjar (London)
Employees Only (New York)
American Bar (London)
The Baxter Inn (Sydney)
28 Hongkong Street (Singapore)
Happiness Forgets (London)
Connaught Bar (London)
Black Pearl (Melbourne)
Attaboy (New York)
Candelaria (Paris)
High Five (Tokyo)
The Broken Shaker (Miami)
Canon (Seattle)
Buck & Breck (Berlin)
Imperial Craft (Tel Aviv)
Lobster Bar (Hong Kong)
Le Lion Bar de Paris (Hamburg)
Licoreria Limantour (Mexico City)
The Jerry Thomas Project (Rome)
The Clumsies (Athens)
Maison Premiere (New York)
Elephant Bar (New York)
The Everleigh (Melbourne)
White Lyan (London)
Beaufort Bar (London)
Bulletin Place (Sydney)
Aviary (Chicago)
Tales & Spirits (Amsterdam)
Smuggler's Cove (San Francisco)
Delicatessen (Moscow)
Door 74 (Amsterdam)
Ruby (Copenhagen)
Manhattan (Singapore)
NoMad Bar (New York)
PDT (New York)
Mace (New York)
Quinary (Hong Kong)
Trick Dog (San Francisco)
69 Colebrooke Row (London)
Dry Martini (Barcelona)
Schumann's (Munich)
Zuma Dubai (Dubai)
La Factoria (Old San Juan)
Nottingham Forest (Milan)
Tommy's (San Francisco)
Lost & Found (Cyprus)
Little Red Door (Paris)
Dandelyan (London)