Waves of culinary development are still washing over L.A., with pockets like the Arts District soaking up talent like a sponge. Areas that seem relatively saturated, like downtown and Venice, are bulking up. Even the much-maligned Sunset Strip is building momentum. Here are 15 of the most exciting L.A. restaurants and bars slated to debut this fall:
Arts District Brewing Company
213 Hospitality, led by Cedd Moses and Eric Needleman, has teamed with Blue Palms Brewhouse craft beer maven Brian Lenzo on this sprawling Arts District brewery, which should debut by late October. Devon Randall, previously with Pizza Port Solana Beach, part of a San Diego brewpub family that's minted GABF medals, is ADBC's brewmaster. Chef Neal Fraser (Redbird, BLD) consulted on Cole's food program when 213 Hospitality relaunched the French dip legend in 2009. He'll oversee food with Fritzi at Arts District Brewing Company, a version of hot dog–focused Fritzi Dog. 828 Traction Ave., Arts District
Blue Star Donuts
Blue Star Donuts is following on the heels of fellow Portland wonder Salt & Straw by opening in L.A. Cofounders Micah Camden and Katie Poppe are on track for a late-September opening on trendy Abbot Kinney Boulevard. Expect brioche-style donuts crafted using sustainable bread flour, European-style butter, whole milk and cage-free eggs. Popular Portland flavors include a blueberry bourbon basil donut and the hard apple cider fritter. L.A. will duplicate Rose City classics, plus alcohol-fueled flavors like mimosa, piña colada and Grenache ganache. Poppe said, "All our shops are a reflection of the communities where they are located, so the culture of our L.A. shop is really going to be defined by the locals, the regulars and the Abbot Kinney street life." 1142 Abbot Kinney Blvd., Venice, bluestardonuts.com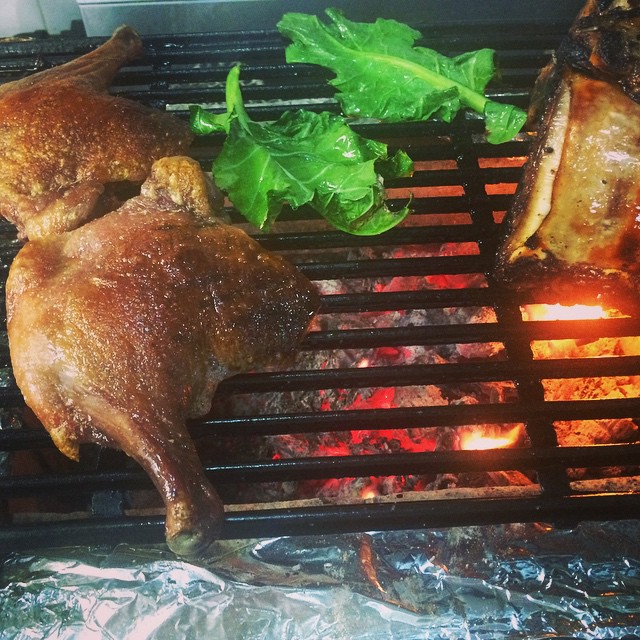 Charcoal
Chef Josiah Citrin, who's turned Mélisse into an enduring fine-dining destination, is opening Charcoal at the end of October. The space, which previously held Macchi's Bistro, and long before that, Numero Uno Pizza, will house 65 to 70 seats in the dining room and 40 seats in a communal bar area. Citrin gravitated toward the up-and-coming area, saying, "I like the feng shui of the space. I went and checked it out, and it spoke to me." Everything will be cooked either in coals, over coals, or surrounded by coals. According to Charcoal's website, share-friendly plates may include cider honey–glazed pork chop, salt-baked lobster, and 48-ounce dry-aged porterhouse. Each table will host a trio of house sauces: smoked paprika chimichurri, red wine chipotle barbecue sauce and herb-spiced vinegar. 425 W. Washington Blvd., Venice, charcoalvenice.com
E.R. Bar
The owners of Silverlake Wine and Everson Royce are opening E.R. Bar this fall next to the second Silverlake Wine in the downtown Arts District. No, the name isn't short for emergency room. It refers to Everson and Royce, the twin sons of co-owners Randy Clement and April Langford. Longtime Mozza executive chef Matt Molina will prepare drink-friendly dishes like baked clams with oregano and Tabasco and Chinese steamed buns with roast pork belly. To drink, expect a deep selection of "boutique, small production spirits, wine, and beer." Bartender Chris Ojeda, from Soho House and the Varnish, will helm a cocktail program that will include large-format, share-friendly options. Wine director Katie Vonderheide oversees a list with wines on tap and in bottles, such as Sandlands Trousseau Noir, Sonoma Coast, CA 2013 and Catherine and Pierre Breton Bourgueil Trinch 2012, Loire Valley, France. 1936 E. 7th St., Arts District
Estrella
Dakota Weiss, a Top Chef: Texas contestant who helped build a Santa Monica hit with Sweetfin Poké, is opening this ambitious restaurant on the Sunset Strip this September. Laurel Canyon's "bohemian bungalow culture" from the 1960s and 1970s helped drive the aesthetic. The name Estrella refers to a character from Joni Mitchell's "Ladies of the Canyon." The indoor-outdoor space includes a private lounge and a50-seat screening room. 8800 Sunset Blvd., West Hollywood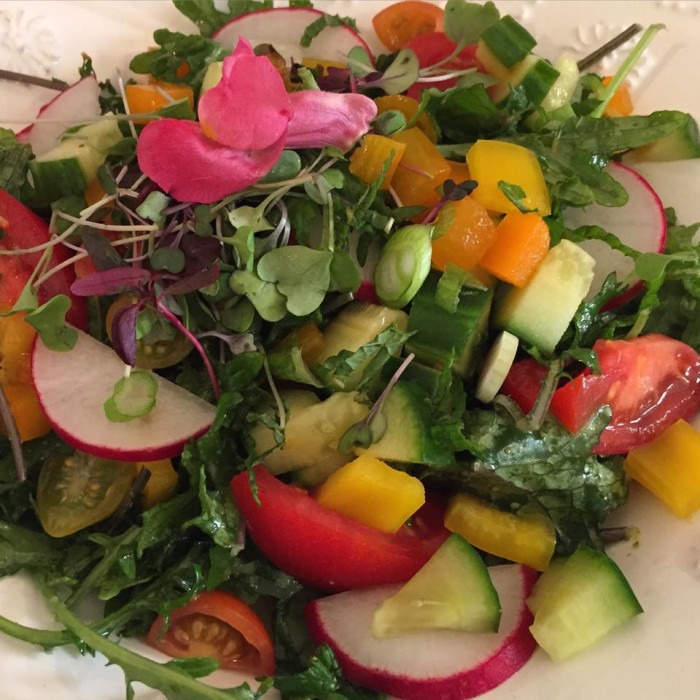 Little Pine
Little Pine is the brainchild of a musician with one of the best-selling albums of all time, 1999's Play. If you guessed Moby, you're right! He also dabbles in restaurants — the vocal vegan runs TeaNY on New York's Lower East Side and is set to open Little Pine in Silver Lake. Consulting chef Kristyne Starling has created a menu of organic vegan dishes. The restaurant will start with dinner and eventually expand its hours to include breakfast, lunch and weekend brunch. Dishes may include roasted beet salad with arugula, pea shoots, maple cayenne walnuts, cashew ricotta and spicy mustard vinaigrette; and mushroom leek pot pie with gravy. Up front, customers will also find a Moby-curated selection of housewares and gifts from artists and authors. 2870 Rowena Ave., Silver Lake, littlepinerestaurant.com
Little Sister
Chef Tin Vuong and BlackHouse Hospitality Management partner Jed Sanford have built a South Bay following with restaurants like Little Sister (Southeast Asian), Steak & Whisky and Dia de Campo (Mexican). Little Sister is the first restaurant they're duplicating, and it's set for downtown. They're describing the design as a "French colonial jewel box" with references to colonial rule in Vietnam. The space will seat 56 people at breakfast, lunch and dinner. Little Sister dishes exclusive to downtown include egg noodles tossed with garlic sauce, BBQ pork, shrimp, pork wontons and quail eggs, with a pork broth sidecar. You'll also find congee with duck confit, poached egg, pork belly floss, fried shallots and crispy banana blossoms. 523 W. 7th St., downtown, blackhousehm.com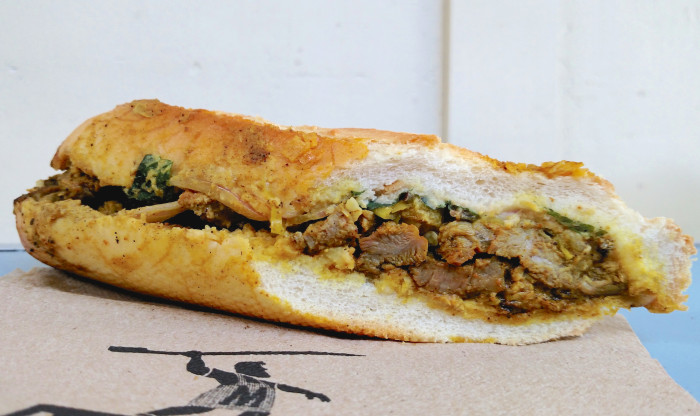 Moruno/Bar Vermut + Bar Moruno
Chef Chris Feldmeier and front of house partner David Rosoff, who worked together at Mozza, are already working with Sprout Restaurant Group to replace Short Order with North African and southern Spanish flavors at the Original Farmers Market. The Window at Moruno is a grab-and-go option that's serving wood-grilled skewers, sandwiches (called subMorunos) and sides while the two-story space gets a full remodel. This menu will eventually form the backbone for Moruno, which will also serve large-format meat dishes, whole fish prepared grilled or à la plancha, whole cauliflower and cabbage heads, and halved squash. Upstairs, nighttime-only Bar Vermut will specialize in vermouth, including house red and white vermouths labeled Vermina that will be made at Santa Barbara's Palmina Winery and delivered in eco-friendly kegs. What about Bar Vermut food? Feldmeier said, "Everything on the menu upstairs will be designed to eat without a fork. It will be all fingers and toothpicks." Think tuna, mussel and clam conservas, plus shaved Serrano and Ibérico ham. Bar Moruno is simultaneously on track for a late November opening in red-hot Grand Central Market. Expect skewers, subMorunos and daily specials driven by what's freshest, which could mean entrecôte or merluza. Moruno and Bar Vermut, 6333 W. 3rd St., Los Angeles; Bar Moruno, 317 S. Broadway, downtown, morunola.com
Officine BRERA
Chef Angelo Auriana and front of house partner Matteo Ferdinandi, who have already found success with the Factory Kitchen on an Arts District side street, are opening Officine BRERA next door by early October. The name refers to the arts district in Milan, and the concept draws inspiration from the Northern Italian countryside, specifically Sant'Anna di Chioggia. The partners have also brought in chef Mirko Paderno, previously with Oliverio in Avalon Hotel Beverly Hills, to help execute their vision. Officine BRERA will have a 96-seat dining room, a sizable outdoor bar and patio, and two private dining rooms. The menu will change both daily and seasonally and focus on grilled meats, spit-roasted birds, slow-braised "hunter-style" meats, grilled seafood, farinata (chickpea flour pancakes) and market-driven vegetables. 1333 E. 6th St., Downtown Arts District, officinebrera.com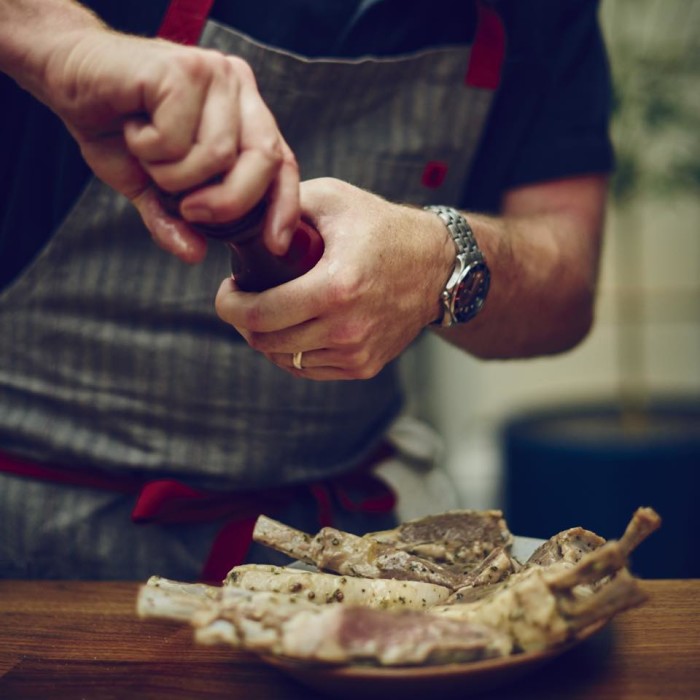 Otium
The Broad Museum is a hotly anticipated downtown cultural institution from Eli Broad. Sprout and longtime Thomas Keller protégé Timothy Hollingsworth will debut Otium alongside the museum on September 20. The restaurant's name has Latin roots and refers to a place designed to spend leisure time and socialize. Sprout is billing the space as "sophisticated rusticity," featuring indoor and outdoor seating areas that blend steel, glass, wood, copper and stone. Hollingsworth, who's already scored a smoky hit with Barrel & Ashes, will utilize wood-fire cooking, ingredients grown in a mezzanine garden, and of course a commitment to seasonality. Representative dishes include spot prawns with basmati rice, piquillo peppers, chorizo and Spanish caper emulsion; and whole grilled striped bass with shaved vegetables, pea shoots and burnt lemon. 222 S. Hope St., downtown, otiumla.com
The Rose Café | Restaurant
Jason Neroni and Sprout have worked with the original owners to reinvigorate this beloved Venice institution, which operated as the Rose Café starting in 1979. Neroni described the concept as a "Grand Central Market of sorts, rolled into one restaurant." Options include a full bakery, Verve Coffee bar, 40-foot bar with cocktails from drink maestro Julian Cox and, of course, Neroni's seasonal California cuisine with global accents. A wood-fire grill, Spanish planchas and dual bay pasta cookers will fuel his cooking. The sizable space includes indoor and outdoor dining. The Rose will also have hot and cold cases for takeout. Expect a late-September launch. 15 Rose Ave., Venice, rosecafe.com
Spring
Yassmin Sarmadi, owner of Church & State, has been working on a sprawling French restaurant on Spring and 3rd streets since 2012. Now she and chef-partner Tony Esnault anticipate an October opening. The space will center on the Douglas Building's atrium and also include an open kitchen, corner bar and private dining area. Esnault anticipates a "more French-Mediterranean inspired menu, including more seafood and vegetables." He will stick to organic, local and seasonal ingredients, including sustainably caught seafood and 100 percent grass-fed, humanely raised meats. Cocktails will also draw on local bounty and the seasons, and the wine list will be more advanced than what you'll find at Church & State. Spring will serve lunch and dinner. 257 S. Spring St., downtown
Sugar & Bone
Chef Andre Guerrero and pastry chef/partner Jan Purdy are working to open this bakery and salumi shop this fall. They plan to start with artisanal bread, including French-style baguettes and levain, some of which will hold sandwiches. They'll also make torpedo rolls and burger buns for the Oinkster, which is also in the restaurant family. Viennoiserie (made from a yeast-leavened dough) will consist of croissants, brioche, Danishes and a lot of classic French pastries, plus seasonal fruit tarts, frangipane tarts and cookies. After the bread, pastries and sandwiches get rolling, Guerrero will introduce house-made salumi, bacon confit, wild boar pâté, smoked salmon, guanciale and pancetta. The same fresh pastas that sister restaurant Maximiliano uses will be available for sale. Guerrero said, "If you want to make Amatriciana at home, swing by and buy fresh bucatini and guanciale. Meatballs, whatever we use in the restaurant. We'll have a cheese section, so if you want Parmigiano-Reggiano, buy a chunk of that." David Freeland, who worked on Maximiliano, is designing the attached space, which Guerrero called "rustic and homey." They'll also have a coffee program starring Intelligentsia beans. 5930 York Blvd., Highland Park
Joshua Lurie is the L.A.-based founder of Food GPS.