The metamorphosis of Miami's food scene over the past decade has been kind of like watching a South Beach party girl grow up and move to the mainland. She used to shake her booty, pining for the attention of tourists in tony hotels on the beach; now she buys from the local farmers' market, makes her own ricotta, nips leaves from her vertical herb garden and crafts damn good meals for her neighbors. An oversimplification? Sure — culinary giants still set up shop here to tap into the international cash flow, and they plate some phenomenal food, but smaller, locally focused eateries have made the mainland the belle of the ball.
A rash of closings this spring and summer has hardened survivors and made room for a new crop of openings this fall — some local, some imports. Lots of the places below have predicted early-fall opening, which in Miami means late fall. With any luck, the new kids on the block will be firing orders soon.
GK Bistronomie
Once-barren Wynwood couldn't get any hipper, with retailers like Warby Parker, Ducati and Marine Layer popping up and Brad Kilgore's Alter opening to high praise this summer. Next up is GK Bistronomie, from Peruvian chef Rafael Perez, who cut his teeth in Ecuador, winning accolades with Zazu, and then in the Keys at Little Palm Island Resort and Spa. Perez brings a global influence to a mostly seafood menu with ceviches such as yellowfin tuna with foie gras, scallions, pineapple and sesame oil and entrées like sous-vide lobster tail with Arborio rice, morels, mascarpone cheese and smoked applewood bacon. Opening in early October, 218 N.W. 25th St., Miami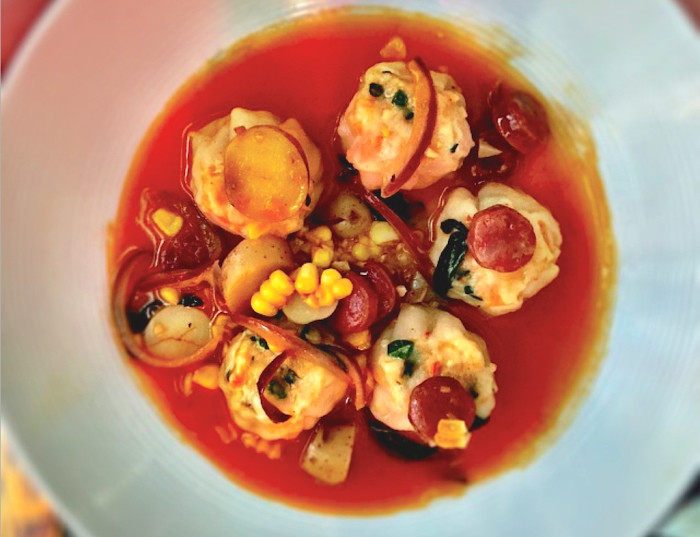 Talde Miami Beach
Filipino-American Dale Talde worked under Jean-Georges Vongerichten, Masaharu Morimoto and restaurateur Stephen Starr before opening Park Slope, Brooklyn's now-loved Talde in 2012. The Miami iteration will be housed in the Thompson Hotel, and sources say the menu will boast some of the outside-the-box pan-Asian fare that's made the New York eatery a hit, such as pretzel pork and chive dumplings with tahini mustard and Korean fried chicken with spicy kimchee yogurt sauce. Opening in November, 4041 Collins Ave., Miami Beach; taldemiamibeach.com
NaiYaRa
Piyarat Arreeratn (a.k.a. Chef Bee)'s culinary journey has taken him from Chiang Rai Thailand to Oishi Thai in North Miami and to a tumultuous stint at John Kunkel's now-shuttered Khong River House. His new spot, located in Sunset Harbor, South Beach's most locals-friendly hood, rocks an interior loaded with Thai street props and furniture and promises eclectic Thai street food. Bee's been mum about menu details but does hint at Burmese Noodle Wraps — a thick chow fun noodle wrapped around ground peanuts, roasted chili paste, palm sugar and lime juice — and chicken dumplings fried crispy with a spicy garlic-soy vinaigrette. Opening in October, 1854 Bay Rd., Miami Beach; naiyara.com
Izzy's Fish & Oyster Bar
Jamie DeRosa of Tongue & Cheek teams with chef William Crandall, formerly of Azul at the Mandarin Oriental, to pull together a culinary homage to New England. DeRosa's done up the intimate 40-seat space with tastefully nautical Northeast notes and fashioned a menu with a fluctuating array of oysters. He's also put his creative take on New England cuisine: clams with a lemon salsa, lobster rolls either hot with butter or cold with a touch of mayo, classic fired clam bellies, and of course, chowdah and lobstah. Opening in September, 423 Washington Ave., Miami Beach; izzysmiami.com
Multiple Faena District eateries
Alan Faena, who forged his reputation redeveloping the Puerto Madero neighborhood of Buenos Aires, has big ideas in mind for Miami Beach's Faena District — or shall we call it a campus — which runs on both sides of Collins Avenue from 32nd Street up to 36th Street and features a slick hotel, a condo tower and an art complex. The culinary elements are no less ambitious, with Thomas Keller/Alain Ducasse disciple Gabriel Ask acting as the hotel's executive chef, Argentine grill virtuoso Francis Mallmann running meat-centric Los Fuego and Austin's much celebrated Paul Qui helming a yet-to-be named eatery. If all goes swimmingly, these spots will be open just in time for Art Basel Miami Beach. Opening in late November, 3201 Collins Ave., Miami Beach; faena.com
Bazi
Collins Avenue on South Beach hasn't seen a real hands-on spot from a local chef in a long time. That's changing with the arrival of Bazi in the remodeled Marlin Hotel. Chef Michael Pirolo and his front-of-house partner, Jen Chaefsky, have made names for themselves with local favorite Macchialina Taverna Rustica over on Alton Road. They're pivoting to iterations of their favorite Asian fare for Bazi, with dishes such as pan-seared pork belly gyoza, duck udon, peanut noodles with king crab, Florida shrimp and pork, and lobster with black rice and "angry" spice foam. Opening on September 10, 1200 Collins Ave., Miami Beach, 305-695-0101; bazimiami.com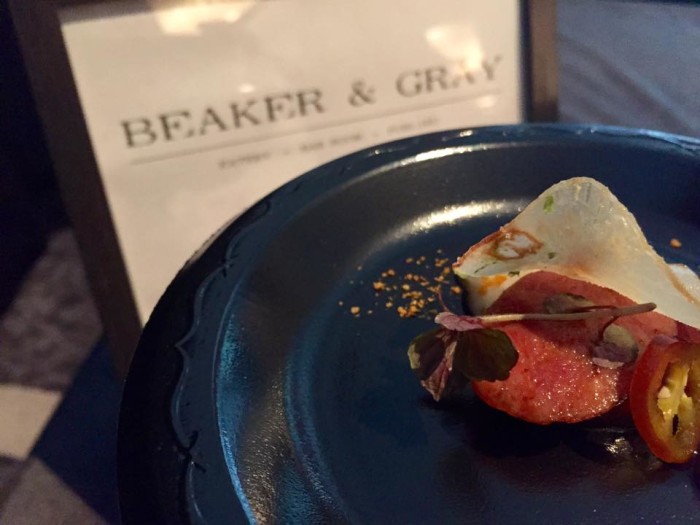 Beaker & Gray
From the minds of two local BMOCs — chef Brian Nasajon of Manhattan's Lure Fishbar and local Sushi Samba fame, and barman Ben Potts of Blackbird Ordinary and Broken Shaker — Beaker & Gray takes over a former ice cream factory in Wynwood. Grub aims to be "sophisticated yet fun": Grilled oxtail goes Caribbean and Asian with ponzu, peach and Serrano peppers, and Nasajon is somehow turning churros into a dish with shrimp, chorizo, and a ginger-and-charcoal aioli. Drinks look ambitious, with numbers such as the Inside Outside In: rum, allspice, vanilla, nutmeg and cinnamon aged inside a hollowed pineapple and dusted with a hush-hush blend of spices. Opening in September, 2637 N. Miami Ave., Miami, 305-699-2637; beakerandgray.com
Phuc Yea
Originally a hot little pop-up in a downtown alcove back in 2011, Phuc Yea shuttered, and owners Cesar Zapata and Ani Meinhold went on to open the Federal Food, Drink & Provisions, a leader in the locals-friendly mainland movement. Now Phuc Yea's got a permanent spot in the MiMo section of Biscayne Boulevard, with a menu that melds Meinhold's family recipes (her mother is Vietnamese) with a bit of Cajun influence. Think wok-tossed Gulf seafood with sauce choices of Cajun, green curry or lemongrass garlic butter; daily po'boys with crispy Gulf seafood, chili mayo, pickles, herbs and chilies; and duck made with Hudson Valley duck leg confit, five spice, cola hoisin, herbs and pickles. Opening in September, 7100 Biscayne Blvd., Miami; phucyea.com
El Tucán
A cabaret and cocktail lounge via Latin inspiration, El Tucán's theater-esque interiors will house live music acts ranging from Afro-Latin, Parisian pop, DJs and a resident 12-piece orchestra organized by Grammy Award–winning pianist, composer and producer Marlow Rosado. Chef Jean Paul Lourdes will be plating late-night cuisine with Caribbean and South American influences. Opening in October, 1111 SW First Ave., Miami; eltucanmiami.com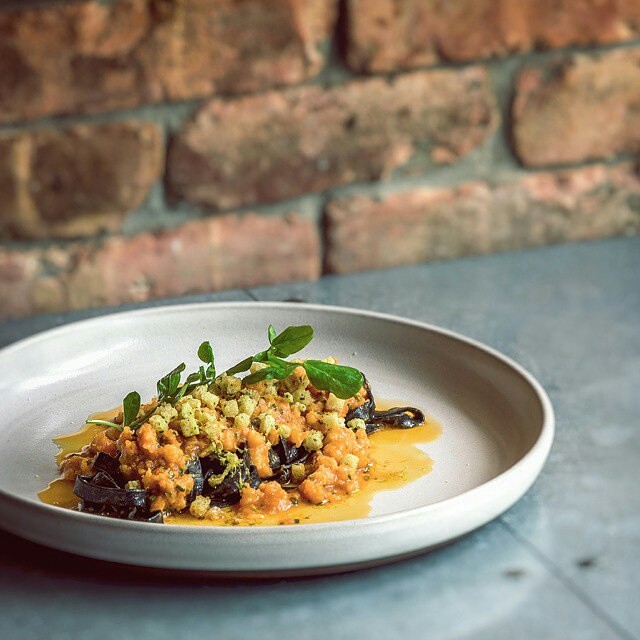 PB Station
Situated in the soon-to-open Langford Hotel, a remodeled 1925 Beaux Arts–style building designated a historic site by the National Register of Historic Places, PB Station is the latest from the awfully busy Pubbelly Restaurant Group, which seems to open a couple spots each year. This is its first mainland location, and the menu veers to what they call American cuisine that pushes the boundaries of "comfort classics." That means items such as California seaweed-based pappardelle with smoked brisket, local Swiss chard and dry shiitake jus, and a modernized take on charcuterie with octopus pepperoni, shrimp mortadella, king crab terrine, crispy cod brandade and Thai lobster sausage. Opening in November, 121 S.E. 1st St., Miami, 305-537-7040; langfordhotelmiami.com
Spring Chicken
Chicken is on the menu at Spring Chicken, which will soon open near the University of Miami. Sort of a spin-off of the 50 Eggs restaurant group's Southern empire of Yardbird restaurants, the fast-casual spot will concentrate on various presentations of the fried chicken recipe handed down by owner John Kunkel's grandmother. 1514 S. Dixie Highway, Coral Gables
Pisco y Nazca
At the other end of the hipness spectrum from Kunkel's down-home chicken kitchen will be Pisco y Nazca, a modern ceviche gastrobar with plans to elevate and introduce Peruvian food to Miami. Miguel Gomez will helm the seafood-centric kitchen, and diners can expect all sorts of Pisco drinks beyond the traditional sours to flow from the cocktail shakers at the dramatic bar. Management already has plans to expand the concept to other locations before the first one even opens, so they must be confident that Peru is the next big thing. 8405 Mills Dr., Suite 206, Kendall, 305-630-3844; piscoynazca.com
Chris Chamberlain also contributed to this article.