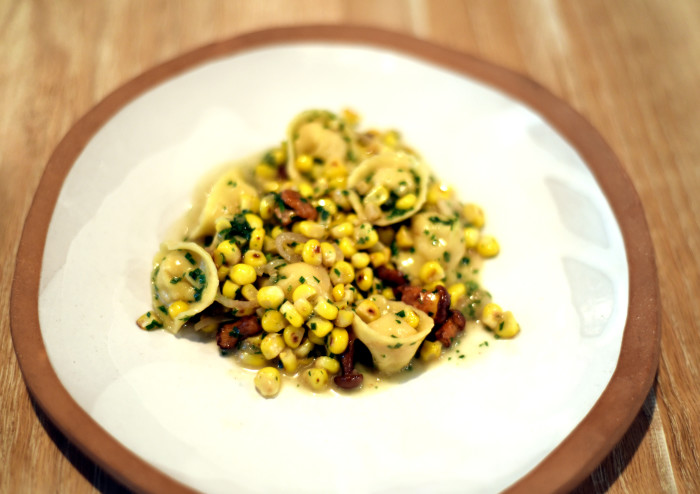 Chefs nowadays are all about sourcing locally from farmers and growers — not to mention ceramists. In Bushwick, Brooklyn, chef and co-owner Kevin Adey has made sure that everything at Faro shows the restaurant is serious about craftsmanship, down to the tables, forks and plates.

"I really wanted handmade plates," Adey says. "It was really important to have something [handmade], even if they weren't all one-of-a-kind pieces, but to have the opportunity for them to be one-of a-kind pieces was just tremendous."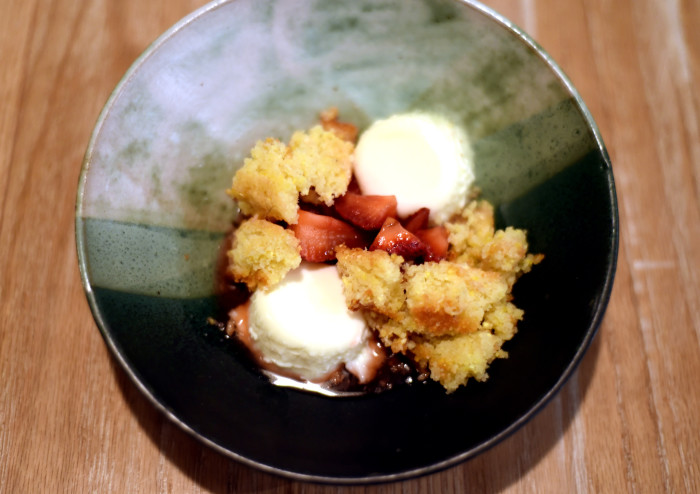 Adey is speaking about the beautifully handcrafted dishware made with high-fire clay by Sarah Ritz, founder of ceramic company Freundeskreis. Painted in earthy tones of green, brown and white, no two plates or bowls are exactly alike. Some dishes emit shades of darker greens and shine almost like the inside of a mussel shell. Because each plate is handcrafted, it is difficult to stack them, making them all the more valuable and special to Adey.
"A kid came in the other night, and he was asking about the plates," Adey recalls. "He says, 'They're really beautiful, but the whole point of plates is that they stack up nice, you know, so you can plate faster.' And I was looking at him like if you'd rather have this be a uniform plate than what it is, you're missing the whole point of what it is."
Besides the sheer beauty of the plates, Adey says their functionality — along with everything else at Faro — gives them that extra degree of greatness.
"Everything you touch as a diner here, with our plates and our silverware, are very tactile," he says. "They have a purpose. You could tell that somebody built these."
Adey met Ritz when he was having lunch at Momofuku Noodle Bar and Ritz, who was his server, recognized him from a regrettable photo in a magazine. Adey says he was talked into a photo that he was told was not going to be used. Luckily for the two of them, the photo was ultimately printed.
"I go on my phone and I look at the article, and there's me standing on a fucking chair in the middle of fucking Troutman Street, holding up plates like an idiot," Adey says. "But that's how I met her."
From there, Adey admired Ritz's ceramic works via her Instagram. He discovered that Ritz had created some of the plates for Momofuku Ko — an easier gig, as Adey puts it. "It's really easy because they only serve 12 people, so you only need 12 plates." He asked her if she would be interested in taking on a larger — much larger — project for Faro. Three hundred plates and bowls, to be exact.
"I'd never before taken on such an enormous project, and there was definitely a lot of trial and error and failure," Ritz says. "The learning curve was pretty huge, but that's the nature of working with ceramics. You can work on something for weeks, and then it comes out of the kiln completely broken, or not the right color, or warped. You have to learn to accept your failures, learn from them, adapt and move on to making better work. That being said, I loved working on these dishes. Making work with intention and a destination is endlessly rewarding."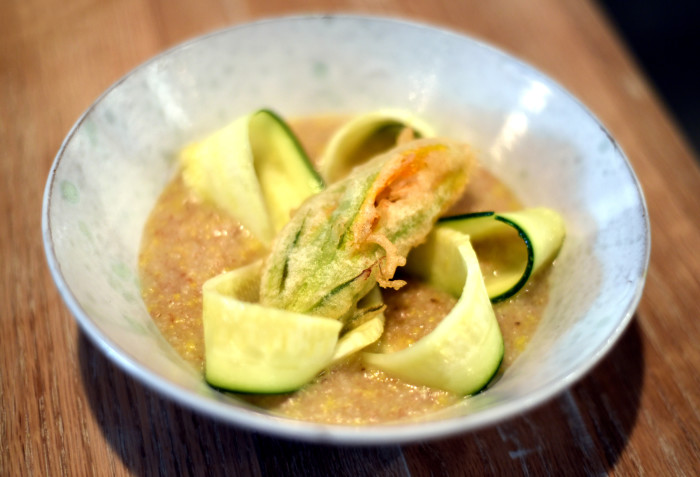 After six months of molding, firing kilns and glazing, Ritz delivered the 300 plates to Bushwick. Adey calls her a "superhuman." The chef even altered the measurements of his tables to ensure the best plating situation for both servers and diners.
"Most places nowadays are using a 12-inch plate and a 24-inch table, which means when you put the dish down, it takes up the whole table," Adey says. "We elongated our tables by four inches and shortened our plates by two, so when you put these down on the tables, there is much more room for a bread plate, your wine, a water glass. You don't have to feel uncomfortable when the server comes with your food and starts moving stuff around."
Borrowing from her experiences working in the restaurant industry, Ritz focused on aesthetic practicalities when designing the dishware.
"My main concern was plating and how the food and the dish would interact with each other," she says. "I imagined a lot of meats with sauces and fresh pastas, and I wanted to make sure the glazes would complement Kevin's food and not distract from it."
Other than the variety of dishes desired and how the restaurant itself looks, Adey gave Ritz free reign in designing the plates and bowls.
"I talked to her about this green strip along the wall here being really the only color that we have. So she translated that in shades of green, which I think is beautiful," he says. "I basically treated her the same way I treat farmers: What do you do? Great. You should do more of that."
He also says the dishes go hand-in-hand with Faro's mission.
"I think they really embody what we do here: handcrafted, simple beauty," Adey concludes.
As with everything, all good things must come to an end. Mistakes happen and plates break. Ritz recently moved to Los Angeles, leaving Adey searching for new local artists to be "showcased" in the restaurant in the future.