Welcome to Interior Motives, our recurring feature focusing on the design inspiration behind just-opened restaurants, food halls and bars.
The rags-to-riches tale of mezcal — from tequila's poor cousin to coveted small-batch liquor — has been well documented. Admired for its distinctive smoky, complex flavor, it has traditionally been made throughout Mexico from the heart of the agave plant. Qualities that once made it the stuff of bargain-basement legend — small producers using antiquated methods, semi-legal distilleries in poor communities — have made it catnip for those involved in the increasingly mainstream craft cocktail and liquor movement, for whom mezcal's tradition, obscurity and creation myth have proved irresistible.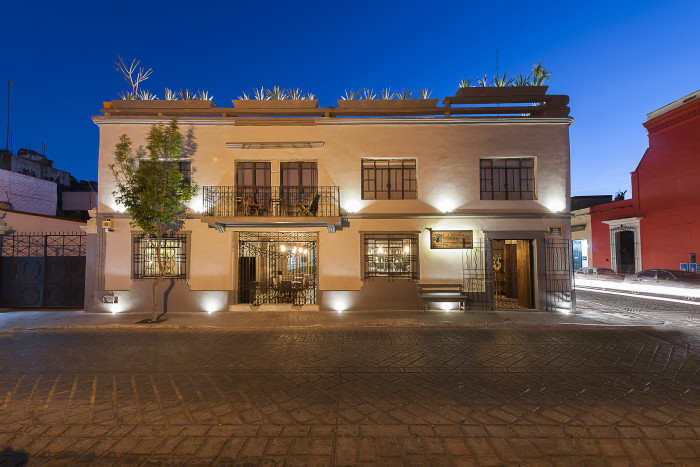 It was only logical then, for the recognition of this celebrated spirit to be taken to the next level. Oaxaca's Chagoya family banked on its 140 years of history producing mezcal when it opened Expendio Tradición in an unassuming old house in the city's historic center. The bar and restaurant, whose name means "exporting tradition," deliver a one-two punch of an expansive collection of the family's potent mezcals and comforting interpretations of regional Oaxacan dishes, wrapped in a striking interior recalling the mezcalerias of the 1930s.
Assigning Mexico City–based architecture studio Ezequiel Farca to handle the design turned out to be an inspired decision on the owners' part. While the building's original façade has been retained to preserve the neighborhood's distinctive feel, inside walls were knocked down and merged into a single open space. As the establishment's raison d'être, the bar acts as a focal point while contrasting local elements have been harmonized — traditional black clay tiles, recycled mezcal barrels and a cool concrete floor for earthiness and tactility.
Wood paneling covers walls and wraps around corners for continuity; meanwhile, graphic monochrome tiles add visual drama and vintage filament bulbs dangle from red cords above, adding to the space's contemporary feel. Notably, celebrated local artist Francisco Toledo has contributed original metalwork, lending a touch of his shamanistic style to the bar. A single baby agave plant placed at each table as a centerpiece serves a simple gentle reminder of the main attraction's provenance.
The mezcals on offer originate predominantly from the family's ancestral lands in Loma de Santa Ana, where the agave varietal Espadín is grown and preserved to create the house's spirits. The bar also offers tastings and guest mezcals from the surrounding valleys, served straight or fashioned into elaborate cocktails.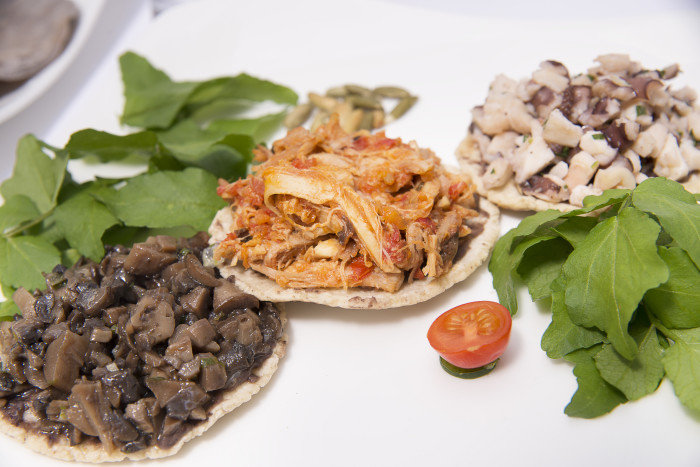 Drinks are accompanied by executive chef Rodolfo Castellanos's modernized Oaxacan classics —wild greens are mixed with seasonal vegetables and tossed in a maguey agave syrup dressing, nodding to the region's stunning natural biodiversity and microclimates. Homely maize tortillas are layered with black bean paste, decadent pork fat and local cheese before being topped with skirt steak, and carnivores can pick from a rotating cast of specials that can feature honey-glazed pork ribs or grilled octopus with poblano on any given night.
Chief architect Ezequiel Farca sat down with Food Republic to give us the inside scoop on the restaurant and bar's design:
What was the initial concept for the space, and who led the design and construction?
We wanted to define what is today a contemporary Mexican space — where architecture, design, food and mezcal become an experience. My team [at his eponymous studio] led the design, while Ian Castillo acted as project manager.
What were the biggest challenges?
When we wrote the brief, we wanted to design a place that was about more than being a place that sold mezcal. It had to be a space that felt like an experience through the food, design and mezcal itself.
What, if any, compromises had to be made?
The house is considered a historical monument and had to be restructured so the space could become more efficient. It used to be a vecindad, which refers to small living spaces that are connected by an interior corridor. So we took advantage of its previous use and converted it into a restaurant with exterior tables.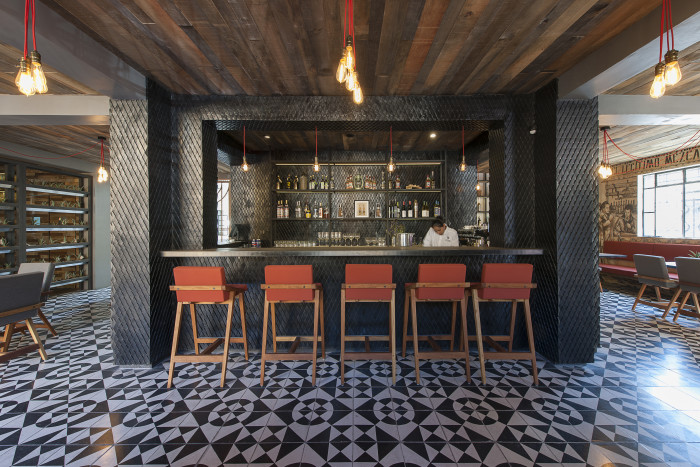 What's the most interesting design detail in the space?
The bar is made of 1,800 black ceramic tiles that were installed one by one, which was an exercise and reinterpretation of traditional craftsmanship, but with a contemporary application.

How do you feel about the outcome of the space?
I'm very happy with the outcome. It reflects a lot of what Mexico and Oaxaca has to offer to the world.
How do you feel the design works with the menu and food?
We worked very closely to keep the design close to the experience of the food and the mezcal tasting, so the bar works as a space for inviting world-class mixologists. The space was conceived to express the whole experience of Oaxacan food — from the experience of going to the local market to preparing it in the kitchen and enjoying it in the restaurant.
Did traditional Mexican design and the interior of old mezcal bars influence you at all?
The Chagoya family has 140 years of family tradition making and selling mezcal. We interviewed the family members and we had a very interesting meeting where we actually looked at old mezcal bar spaces throughout history in Oaxaca. Eventually the idea came about to set the bar as the heart of the space, and everything worked around that as a focal point within a functional space.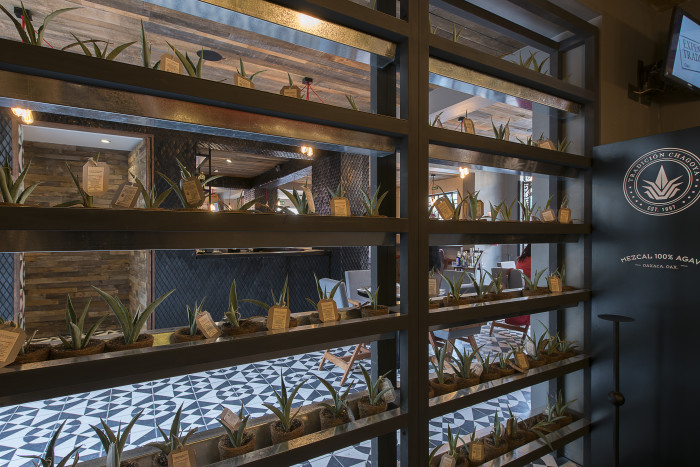 The Chagoya family has a long history of producing fine spirits and mezcals. Did you work together on any elements?
For this new generation, Raymundo [Chagoya]'s vision was to take mezcal to the next level. The company has been producing and exporting mezcal for many years in a very old and secretive way. Recently it has been standardized, but at the same time it has kept the traditional manufacturing process.
Graphic design was a new implementation in the whole vision of the project, so everything from the family's logo to its five bottles of mezcal have been redesigned and recently launched. As for me, it has been an honor and I feel very proud to be part of this today and part of the Chagoya history and tradition.
How did the collaboration with Francisco Toledo come about?
Francisco Toledo is one of the most influential people not only in Oaxaca, but also in the world of art. His work has been included in the most important museum collections around the world. He has been living in Oaxaca and has been involved in many disciplines and community projects here, and he has designed pieces in almost every possible technique and has supported these workshops and artisans through designing pieces that are then sold so that all the money goes to their community.
I feel it's important to explain this because besides being a friend of the family, he immediately accepted when we explained that we would be creating work for and supporting Oaxacan artisans, which is something with which he's very involved. We got together with him and explained the project, and he was engaged with the idea of tying together the interior design with the experience of food and the beverage.
What element of the project do you feel most proud of?
More than a single element, our goal was to design everything in the studio and find local manufacturers as well as local materials, all with the intention of creating jobs in the local area — the skills of the people have been there for centuries.