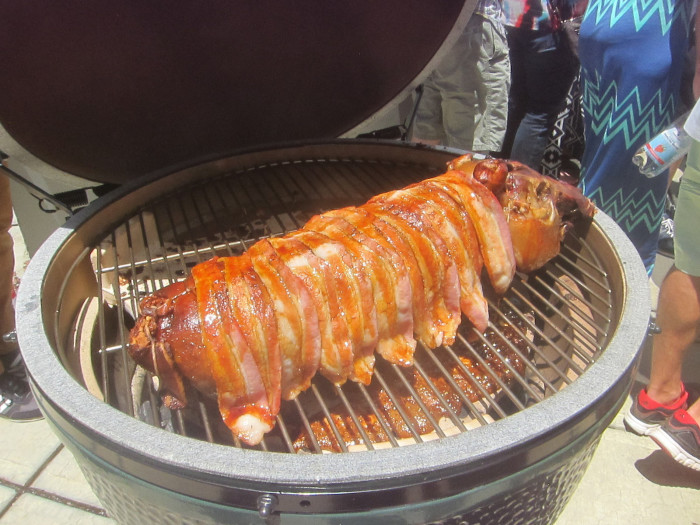 Perhaps you're already the acknowledged grill master of your subdivision. From Memorial Day until Labor Day, your backyard is the place to gather for tender smoked meats and perfectly charred steaks and burgers. Your secret barbecue sauce is the envy of the neighborhood. (We won't tell anyone that you're really pouring KC Masterpiece into a Mason jar.) Cows tremble in your presence.
So what's left for you to tackle, BBQ King? How about cooking a whole hog on your own grill? Don't shrink in fear at the prospect. It can be a lot easier than you imagine, and you don't necessarily need to invite an entire high-school football team to your house to finish off a whole hog. Pigs come in all sizes, so the commitment of time and effort can be minimized while still ensuring a delicious platter of roasted pork for your party guests.
Cajuns call it cochon de lait, literally French for "pig in milk," or what we would call a suckling pig. Or, if you want to get technical about it, it's probably a piglet, but fans of the Winnie the Pooh series probably won't cotton to that reference. However you refer to it, a pig that weighs less than 20 pounds dressed is probably well within your capabilities as a backyard chef, and it will fit comfortably on most larger grills, such as a Primo or a Big Green Egg.
Related: Harold Dieterle Bought A Big Green Egg
At this year's Atlanta Food and Wine Festival, Jeremiah Bacon of the Macintosh and Oak Steakhouse in Charleston, Steve McHugh of San Antonio's Cured and Austin-based food author Georgia Pellegrini conducted a popular seminar on exactly this topic, titled Whole Hog on the Grill. In less than an hour, the talented trio led the assembled crowd through the process of tackling a small whole hog and still managed to save enough time to feed samples to each attendee.
English author Tom Rea has also written a how-to guide, How to Roast a Pig, that will lead you through the steps of roasting pork, either in parts or in toto. Between this book and the knowledge bombs dropped at the Atlanta festival, there's no reason why you shouldn't attempt the task. Allow me to summarize the process for you.
Step 1: Procure your pig.
Hopefully, you're already friends with your local butcher. If not, cozy up to one and ask him to order you a dressed whole suckling pig, ideally in the 17-to-20-pound range. According to Rea's guide, plan for about two pounds per person for a dressed hog, which should result in about a half pound per diner after deboning, cooking and serving. That guideline doesn't include the weight of the pig's head, which you can order removed if you don't like your food to stare back at you. But then you'd be missing out on the delicious jowl meat, a morsel that should be reserved for the cook and his closest friends.
Step 2: Prepare your pig.
If that butcher is a pal, you can ask him to shave your pig for you. If not, you really need to take a cheap disposable razor to remove any hairs from the skin. It's not like they'll hurt you, but nobody wants bristle in their cracklin'. Throw the razor away or put it in your guest bathroom to chase off relatives who have outstayed their welcome.
Wash your pig inside and out in the largest sink you can find, or even in a large cooler if need be. You could also use the guest bathtub if Cousin Eddie didn't get the hint from the fuzzy Gillette you left for him to use. Dry the pig completely with paper towels so that the rub you're about to apply will adhere to the pig and also to better ensure crispy skin.
The final step is to score the skin with a utility knife, being careful not to cut all the way through the skin so that you can keep all those delicious juices inside during the cook. Cutting one-to-two-inch squares in the skin will result in lots of crispy edges like the outside rim of a tray of brownies.
Step 3: Debone your pig.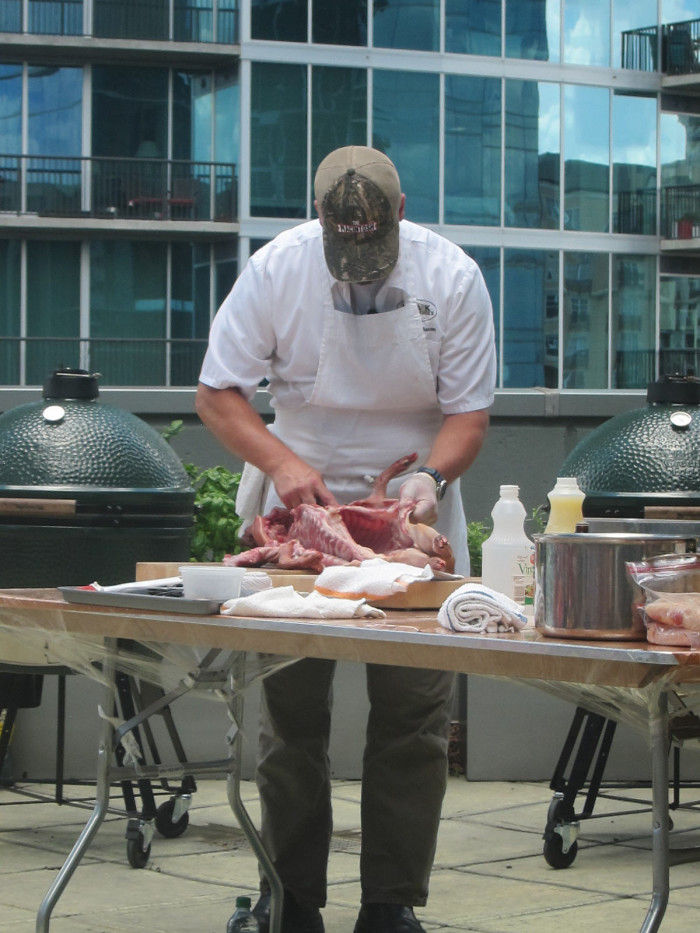 This step is critical to shortening the cook time so you can complete the process in one day without the need to cook overnight. We're talking about the difference between five hours and 90 minutes, so it's totally worth the effort.
Practice makes perfect, but a sharp, flexible boning knife, YouTube videos and a steady hand make the bone-removal process something that anyone can handle. Or you can pay your butcher to do it for you. However, Bacon says that breaking down a whole hog yourself is one of the most economical ways that you can cook. Remove the ribs and spine while taking care to keep as much meat as possible still attached to the animal that you intend to roast. Use those bones to make a pork stock that will make you forget about ever using those cartons of the store-bought stuff ever again.
Step 4: Stuff your pig.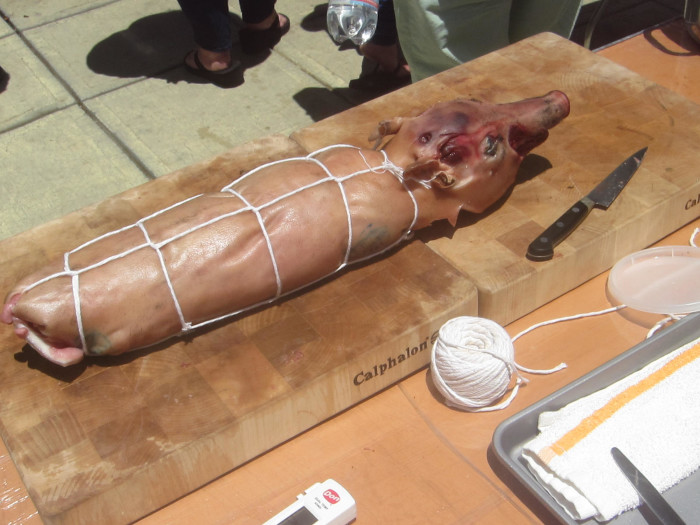 Filling the cavity of a boned pig is critical to achieving an even cook, since the dense meat of the hams and shoulders need more time to cook than the tender midsection of the animal. By adding bulk to the middle, you can even out the temperature with the added benefit of creating a delicious side dish at the same time. Fill the cavity with sausage, greens, jambalaya, dirty rice or anything else that you'd like to benefit from the lovely basting provided by a cooking hog. Make especially sure that your stuffing reaches a safe temperature of at least 160 degrees Fahrenheit if you plan to actually serve it to your guests.
After stuffing, truss up the pig with twine from stem to stern to hold the shape and keep all the good stuff inside.
Step 5: Rub your pig.
A spice rub on the outside of the skin will make your cracklin' a highlight for your guests. Choose your favorite homemade rub or a commercial brand from the grocery and apply it liberally to the entire outside of the pig. You can also drape strips of bacon across the back of your hog before cooking, because why not?
Step 6: Build your fire.
You'll want to use an indirect fire if possible, since dripping pig grease is the perfect fuel for flame-ups that can burn your meat or create a pit fire that would ruin your party. Either use the ceramic plate-setter in a Green Egg to deflect the heat or build a fire on one end of your larger grill to avoid cooking directly over the flame. If you must use gas, bless your heart, it's possible to just turn the burners on half the grill to simulate true indirect cooking.
Preheat your grill to 300 degrees Fahrenheit and make sure to grease the grate with a paper towel soaked in vegetable oil before placing the pig directly on the grill.
Step 7: Cook your pig.
A suckling pig should take around one and a half to two hours at 300 degrees to reach the desired temperature for serving. Figure about a six-pack. After an hour, start checking the temperature in the belly and the hams of your pig with an instant-read thermometer. When the hams reach about 150 degrees and the belly is at 140, use insulated gloves to remove the pig to a platter and cover with large sheets of foil. During the mandatory rest period of 30 to 45 minutes after cooking, the meat should reach a final temperature of 145 in the middle and 160 in the hams and butts. Don't panic if it goes a little higher. It's better to be a tad over for safety's sake when it comes to cooking pigs.
Step 8: Serve your pig.
There are many choices on how to present your masterpiece to guests. You can remove yourself to the kitchen and handle the process yourself or you can make it more of a self-serve frenzy. Either way, cut the truss string and remove your stuffing to a separate platter. (Check that temp again. You can always give it a quick shot in the oven until it reaches 160 degrees for at least 10 minutes.)
Break down the pig into thirds, separating the tender strings of belly meat (known as "redneck spaghetti") from the legs and the loin. The tenderloin can be sliced into medallions for service and the butt and hams can also be cut or pulled into bite-size morsels. Since you haven't reached the temperature where pork butts break down their collagen, don't expect for pulled shoulder to have the same consistency of a Southern barbecue sandwich. It'll be more like chunks, but still completely delicious. Slicing or chopping is probably your best bet.
Reserve that delicious cheek meat for yourself and placate the crowd by cutting them pieces of crispy skin to fight over. You can also chop it up and mix it into the meat to add a little crunch to a roast pork slider. Yeah, do that.
Sauce is optional, but if your guests are just pulling their own meat, you can put out a spread of slider buns, cole slaw, pickles and a variety of sauces for them to assemble their own creations. I wouldn't worry much about the prospect of leftovers. When confronted with a cooked hog, even polite guests tend to channel their inner piranha.
The last step is to bask in the glory of what you've accomplished. Just the sheer chutzpah of tackling a whole hog should vault you into legendary status among your grilling peers. You don't need to tell them what Jeremiah Bacon shared with the students in his whole-hog class: "Suckling pigs are very doable. They are extremely forgiving, and you shouldn't be afraid of cooking one." So start buttering up that butcher today.