When it comes to craft cocktails, America has far too many riffs on the classic pre-Prohibition speakeasy. Where are the regional bars? Where are the places that take pains to express a grounded sense of place and history through their design and drinks?
Houston. That's where.
At least that's what Alba Huerta achieved with her latest cocktail venture, Julep. Located in the historic Old Sixth Ward neighborhood, the elegant bar is all polished class and sophistication, but more importantly, everything from the prudent interior-design choices down to the regional ingredients employed in house cocktails reflects and celebrates the culture of the South.
But we're getting ahead of ourselves. Julep isn't Huerta's first cocktail rodeo. Though she's been behind the stick (as bartenders say) for upwards of 14 years, her foray into craft cocktails started when she joined the Clumsy Butcher group in late 2010 as bar manager at Houston's cocktail cornerstone Anvil Bar & Refuge. At the time, the city's scene was young and naive; without precedence for craft cocktails in the city, it was up to the Anvil team to develop their own approach to the new movement, which was well established in other parts of the country. Now, thanks in large part to Clumsy Butcher (whose other non-cocktail concepts include Underbelly and Hay Merchant), Houston holds a notable spot on the nation's cocktail map. After Anvil, Huerta — a force to be reckoned with — helped open and manage the Pastry War and the Nightingale Room before moving on to create her pet project.
With Julep, she wanted to create a bar that both represented and served the local clientele. Instead of scribbling up a generic food and drink menu and stringing up a few Edison bulbs, she established an atmosphere that evokes two very different versions of the South.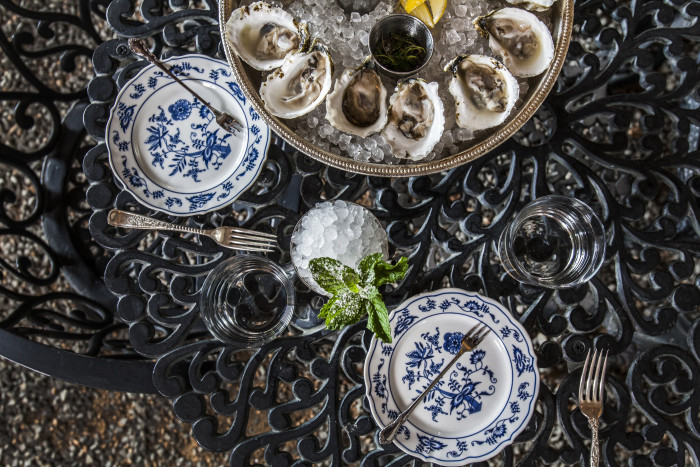 Housed in a former 1800s-era uniform factory, the space has a somewhat industrial feel. Huerta softened this history by painting a romantic picture of the genteel South via earthy wood floors, a regal copper bar, lace curtains and a soft color palette. Outside, the ambience evokes a rugged, rural image of Southern living with wrought-iron patio tables, large industrial-looking outdoor fireplace units and sheets of weathered corrugated metal. Both spaces feel firmly rooted in Southern sensibilities. "You can tell it was designed by the same person but with two very different feels," she says. "Outside, you feel like you're out on a farm on the patio, and inside you feel like you're in Charleston."
As any good Southern bar should, Julep boasts an impressive whiskey selection. What sets it apart, however, is Huerta's thoughtful and unique approach to the cocktail program. The drinks change with the seasons to incorporate fresh ingredients (as almost every cocktail bar in the country does), but each iteration showcases deeper roots as well, expressing a specific aspect of Southern heritage. A menu launched in the spring played with ingredients specific to rural areas of the South. Drinks like the Amethyst Flip (pictured below) incorporate the popular purple sweet potato; others, like the Landed Gentry, have a mustard flower frozen within an ice cube, a nod to times when ice was harvested from local water sources, meaning sometimes local flora also ended up in the blocks. A recently launched summer menu explores how ingredients traveled from port cities to larger metropolitan areas, and in fall, drinking society culture will take center stage.
Through both the drinks and the design, Huerta has found a way to bring the ghosts of Southern culture past back to life, and the city of Houston is without a doubt better off for it. Here's a look inside.
Julep
1919 Washington Ave.
Houston, Texas 77007
julephouston.com