No two dining experiences are the same at Chicago's Intro — that is, if you plan your visits far enough apart. (And with reservations scored only though the restaurant's online ticketing system, you may have to.) The latest concept from Second City–based restaurant group Lettuce Entertain You changes out chefs approximately every three months in an effort to showcase up-and-coming talent in the restaurant industry.
The Lincoln Park restaurant opened this past February and has already seen the likes of two young guns: Top Chef alum C.J. Jacobson and former Catbird Seat chef Erik Anderson, whose residency began in May and will continue until July 25.
For founder Richard Melman, the idea for Intro came naturally. "The truth of the matter is that Lettuce is an organization that develops entrepreneurs," he says. While the company has seen many of its own evolve beyond Lettuce to do their own projects, it's the first time Melman and his team are collaborating with outside forces, calling upon chefs nationwide to do a brief stint in the space that formerly housed the restaurant L20. Speaking as a guy who's been in the restaurant industry for more than 40 years, Melman says the rewards for such chefs can be big: "We're introducing Chicago to these new chefs who we think will be stars while also introducing the chefs to our methods for how we've been successful over the years." The team has three or four guest chefs lined up at any given time, and candidates must possess two important qualities. "They have to have talent, and we have to like them as individuals," explains Melman. "We can also work with somebody who doesn't want to open their own restaurant, but almost everyone we talk to wants to have their own restaurant."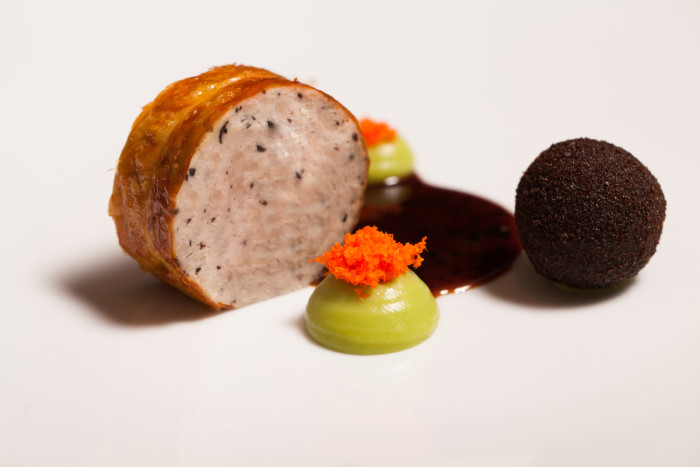 Such is the case for Anderson, who is planning to open a restaurant called Brut in Minneapolis this November. While the chef has kept busy between private events and consulting gigs since his departure from Nashville's Catbird Seat in January 2014, he was ready for another project and welcomed the three-month opportunity at Intro. "It didn't take too much convincing on my part," says Anderson. "I really have a lot of respect for what Matt Kirkley did at L20 and for Bob Brosky — those guys are both amazing cooks, so to be able to hang out with them and work with them in that space was a win-win for me."
Realizing he would be stepping into a kitchen where an established team would be seeing chefs filter in and out throughout the year, Anderson devised a few goals. "The biggest part of my job going in there was how I would try to keep the cooks engaged and give them something new and fun to learn," he says.
His fellow team members may already be pocketing some tips and tricks from the dishes rounding out Anderson's six-course menu, which include practiced ones, like roasted hay custard served in a meticulously cracked egg shell, as well as new developments, like a foie gras tart surrounded by dollops of hazelnut milk and salted strawberries. Melman says that although he's happy to provide menu suggestions for the chefs, he respects that, ultimately, it's their show. "I let them do what they think is right because this is a test as to how they would do their own restaurant," he says. "But I'm there to guide them, and if they want feedback, I give it to them."
The menu at Brut will follow a similar pace and direction as that of Anderson's stint at Intro, composed of six to 10 dishes that reflect the chef's inclination toward modern French cooking. But even those familiar with Anderson's food are in store for a new experience in Minneapolis, where the chef can lay down roots to reveal what he's been honing during his time in Nashville and Chicago. "I don't feel like I have my own style — there are very few chefs who have a style that's completely their own," he says. "I know what I like, and I know what I gravitate toward, but I think it takes years and years and years to develop that."