In late 1980, the then-National Distillers Corp. out of Frankfort, Kentucky, released a bourbon it called Old Grand-Dad Special Selection. A reporter for The Los Angeles Times likened it to "General Motors Corp. coming out with a 16-passenger Cadillac with fins." Why? Because of its strength: a mind-melting 114 proof, or 57 percent alcohol by volume.
Most bourbon, then and now, is bottled at around 80 to 90 proof, or 40 to 45 percent ABV. Old Grand-Dad Special, on the other hand, was what the industry calls barrel strength or cask strength. And it came amid a years-long slump in sales of bourbon — that corn-based American original — as tipplers turned en masse to fine wine and, especially, vodka and its rainbow of cocktails.
A barrel-strength palate-burner seemed an odd choice for a new bourbon. Heavier, richer tastes were out. Flavorlessness (a.k.a. vodka) or at least lightness (a.k.a. Chardonnay) was in. Fast-forward a generation, and barrel-strength spirits — from gin to rum to all manner of whiskeys, especially bourbon — are very much in vogue.
The appeal is twofold. There is that alcohol level: Distillers do not cut barrel-strength spirits with water, as they typically do for their other inventory; instead, these spirits go straight from the barrel to the bottle. In turn, that dearth of dilution often means a fuller, more complex flavor.
"The main difference and the main appeal is that you get the whiskey as it is, no changes," says Lew Bryson, author of Tasting Whiskey: An Insider's Guide to the Unique Pleasures of the World's Finest Spirit. "You can cut it to the strength you think is best, and the strength most definitely has an effect on the flavor. Some are simply best at attack strength; some dial in best at a slightly lower proof."
While any dilution is up the drinker, beware: Even an ounce or two of water can drastically cut the alcoholic strength; distillers know how to dilute with a precision that's difficult to mimic at home.
Although cask-strength spirits have been around a long while, the modern boom can perhaps be traced to June 2013. That was when Paul Pacult, the Robert Parker of spirits, named Angel's Envy Cask Strength bourbon from the Louisville Distilling Co. as the world's top spirit, along with a more traditional Scotch whisky. It was the first time Pacult, who launched his Spirit Journal in 1991, had elevated a barrel-strength spirit to the number-one spot.
The cask-strength boom also follows on the heels of a boom in so-called extreme beer — those hoppier, stronger, busier-tasting brews that America's growing phalanx of craft brewers now routinely churn out.
Extreme beer had its first moment in the late 2000s with the rise to national prominence of pioneering breweries such as Dogfish Head and Lagunitas — though, like cask-strength, it had been around for a while in one form or another. Also like extreme beer, extreme liquor can come with a higher price tag.
Here are a few selections to ease you into the red-hot world of cask-strength spirits. You're on your own for the water.
Perry's Tot Gin
New York Distilling Co., Brooklyn, NY
The distillery tells us that this gin, first released in 2011, has maritime roots: "It is a Navy Strength gin, which means that it should be 57 percent ABV (114 proof) to match the original British Navy's specifications." What specification, exactly? "[T]he historical proof at which gunpowder might still be fired should it unfortunately be soaked by spilled spirit."
Stagg Jr. Kentucky Straight Bourbon Whiskey
Buffalo Trace, Frankfort, KY
This distillery was once known as George T. Stagg, and its single-barrel Blanton's bourbon in the mid-1980s very likely kicked off that spirit's echoing renaissance. This is the younger version of the original George T. Stagg bourbon, culled from eight- and nine-year-old batches vs. at least 15-year-old ones. It clocks in at 67.2 percent ABV or more than 134 proof. Like with other barrel-strength spirits, though, the proof may vary from year to year and release to release. Remember, these come straight from the source, uncut.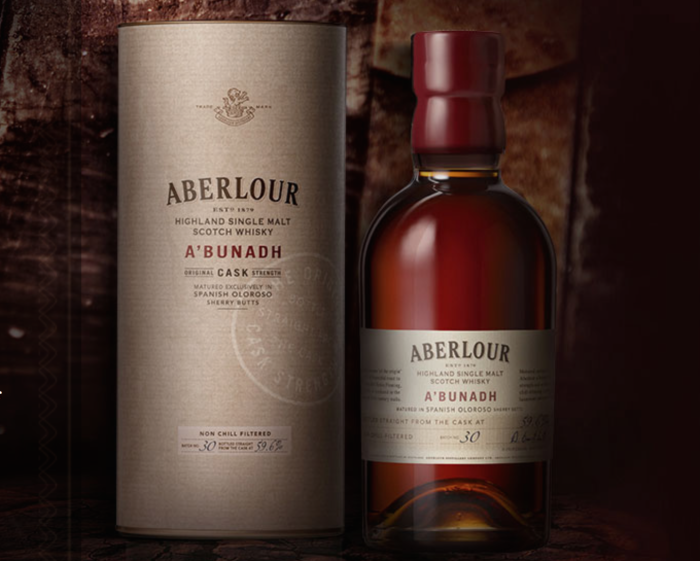 Aberlour A'Bunadh Highland Single-Malt Scotch Whisky
The Aberlour Distillery, Aberlour, Banffshire, United Kingdom
Don't twist your tongue on the second word: Just know it means "the origin" in Gaelic. A single-malt whisky, so you know its taste will be much more concentrated and richer than a blended scotch. It's 59.6 percent ABV or just under 120 proof. It's a highly praised, hard-to-find favorite of scotch purists.
Angel's Envy Kentucky Straight Bourbon Whiskey
Louisville Distilling Co., Louisville, KY
Paul Pacult had this to say about the limited release: "The port pipe aspect comes shining through right from the get-go on this supple, caramel-laden and pipe tobacco-like opening aroma. Concludes long, roasted, meaty, winey, bakery shop bittersweet and fudge-like." It's 61.5 percent ABV, or 123 proof. Rum juggernaut Bacardi bought the distillery and its Angel's Envy brand earlier this year, its first North American whiskey acquisition. The bourbon renaissance is about to get even more interesting.
Tom Acitelli is the author of American Wine: A Coming-of-Age Story. He is at work on a history of American craft spirits tentatively entitled Catchers of the Rye.