Defining Asian-American Pastry, One Mochi Cake At A Time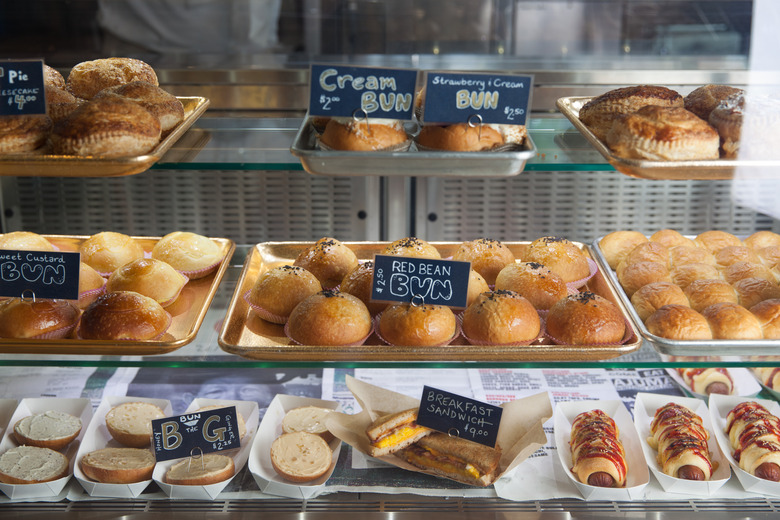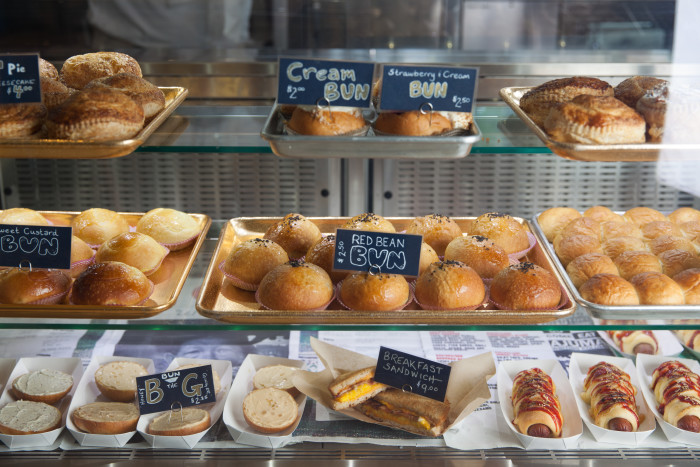 In June, Food Republic is counting the many reasons to love Asian food in America right now. Here's one of them.
How do you familiarize apprehensive non-Asians with the weird, wild world of East Asian baked goods? For pastry chef Marian Mar, the American-born daughter of Chinese immigrants, it's easy: She puts her own experiences into every puff, bun and cake she makes at Roy Choi's POT Cafe in L.A.'s Koreatown.
Born in New York and raised in Queens and Los Angeles, Mar was a restaurant kid: Her father owned two Chinese restaurants in Manhattan for a time, so that culinary mentality "was always in our blood," she says. But that didn't mean her parents, natives of Hong Kong by way of Guangdong, wanted their daughter to join the family trade. Instead, she went to school for business and worked steadily as a financial consultant for a decade in Southern California, keeping a toe in the food world by participating in evening and weekend cooking classes.
When an opportunity to leave SoCal and join her now-husband back in New York City arose, Mar saw it as a signal for a drastic career change. She left the financial statements behind in favor of the French Culinary Institute, where she zeroed in on baking and pastry. "My personality is a little more on the scientific and logical side of cooking," says Mar. "Much more methodical and calculated."
She hadn't yet graduated when she began staging several nights a week for Christina Tosi, who was then in the beginning stages of setting up Momofuku's first-ever pastry program. Mar was on board for the launch of the Milk Bar brand and brick-and-mortars, and speaks of her time under Tosi as a vital period of professional growth. "She taught me about using different textures, dissecting a dish into parts and creating different textures for each of those parts, so when you bite into something, it's a fuller experience," she says.
Mar took these skills back to the Left Coast when she returned to her home state in 2013, taking up teaching at Le Cordon Bleu in Pasadena. Choi would soon come knocking with a unique opportunity: He needed someone to run POT Cafe, an Asian-style bakery that was part of his multiconcept takeover of all things culinary at the Line Hotel in Koreatown.
"When Roy approached me with the concept, I really connected with it," says Mar. "He wanted to do something that was familiar for him — which was very similar to how I grew up." As the first-generation child of Asian immigrants, "you're kinda at this crossroads," she says. "You're trying to blend in with being an American, but at the same time you have this Asian history and culture."
That split between worlds is really what informs POT Cafe's not-any-one-thing menu: Chinese- and Korean-influenced stuffed buns and Hawaiian pull-apart breads share case space with lemon-curd-filled Hello Kitty heads and supermarket-style sheet cakes topped with green army men. There are savory selections, too, in the form of Hebrew National hot dog buns and a pastry-crusted play on Spam Musubi.
"Asian-style bread is not something that anyone is ever taught in school," says Mar, who leaned on her analytical nature during the R&D process. "I was a little scared going into it." Taking a cue from Tosi, she seeks variety in each bite. "In Asian bakeries, it's really only one texture: soft," she says. "I added crunch, I added salt, and I use acid to balance out the sweet."
One POT item Mar is particularly proud of: her sesame mochi cake, which fuses the glutinous rice-cake style so popular in Hawaii with nian gao, a comparable sweet traditionally eaten during Lunar New Year celebrations. It's topped with black sesame buttercream and black sesame crunch — an unexpected admixture of elements and influences that makes for compelling results, much like Mar herself.