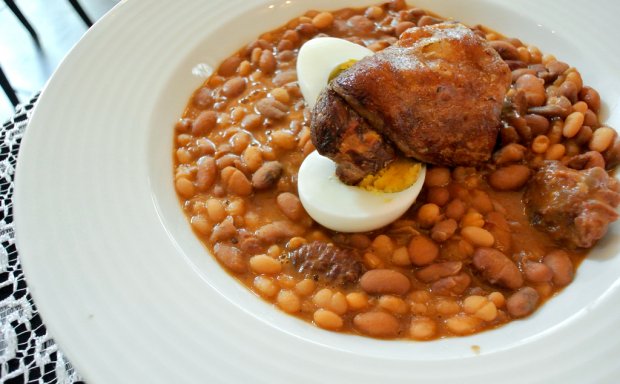 On Sunday night, CNN's Parts Unknown series takes Anthony Bourdain to Budapest, Hungary, to, among other things, visit the Aretha Franklin of Hungarian music. Truth is, we've had our eye on Budapest for a while — we included it on our 2015 list of places to visit for fantasy food travel. With all that in mind, we dispatched a writer to the Hungarian capital to explore the city's deeply rooted Jewish food traditions. Here's what she found.
While I relish the parsnip soup and Wiener schnitzel I eat at the buzzy, Michelin-starred Borkonyha Winekitchen, the Budapest restaurant that leaves me most charmed is Fülemüle Étterem (it translates to "nightingale" in English). Hovering on the edge of the city's Jewish Quarter, it's a hushed, homey throwback to Grandma's mid-century dining room. Here, photos cover the walls and tables are illuminated by the soft, subtle glow of desk lamps. As the simple tiled floor and myriad tchotchkes suggest, the food is homespun and bountiful, a comforting reprieve from the onslaught of fussy modern-day swirls and foams proffered by many an urban restaurant.
My short trip to Hungary's capital is an immersion in goulash, paprika-smothered chicken and fruit-filled strudel, but the dishes on Fülemüle's menu devoted to "the Jewish kitchen of Budapest" are eye-opening for someone whose only significant brush with Jewish cuisine has amounted to demolishing shawarma sandwiches at kosher restaurants with observant friends.
Budapest's Jewish roots are deep, going back to the 13th century, when shopkeepers and craftsmen filled medieval-era Buda. Despite significant unrest before and after the Ottoman conquest, the number of Jews calling Buda, Obuda and Pest — Budapest was unified in 1873 — home swelled. Between World War I and World War II, despite a rising tide of anti-Semitism, the number of Jews living in the city reached its peak, many thriving in the commerce and financial spheres. Then, in the 1940s, Hungary suffered the same tragic fate as many of its Central and Eastern European neighbors, and hundreds of thousands of Jews were forced to deport to concentration camps. When the Nazis arrived in 1944, Budapest's Jewish Quarter was transformed into an oppressive walled ghetto.
Today, a vibrant prewar past, as well as a burgeoning future, live on in the city's Jewish Quarter, which is anchored by the striking Dohány Street Synagogue. The biggest in Europe and the second-largest in the world, this 19th-century marvel flaunts golden frescoes and a Jewish Museum set in the onetime home of Zionist founder Theodor Herzl.
For me, I am most captivated by this important slice of Hungarian history through food, not architecture. It is already late in the evening when a local friend enthusiastically takes me to Fülemüle, one of his favorite haunts. Yet the staff cannot be more welcoming as we walk through the door. A platter laden with hummus and hot peppers sates us before the arrival of a seductive and retro crispy goose leg accompanied by potato pancakes. The meat is slither-off-the-bone tender and juicy, as is the hickory-smoked brisket. That beautiful slab of beef comes with cholent, the Sabbath Day lunch staple I have never before tasted. Melding meat with the likes of beans, schmaltz and myriad spices, it's a stew of sorts, traditionally cooked low and slow all day long — one of the religious day's most beloved culinary rituals.
Nearby, the shiny, white Macesz Bistro, helmed by chef Ákos Tasnádi, is undoubtedly more modern than Fülemüle. Yet its polished presence doesn't detract from its devotion to tradition. A meal might begin with foie gras and orange-caramel cream, paving the way for rosehip-accented duck breast before culminating in one of Budapest's most fabled Jewish confections, flódni, which marries enticing layers of apple, walnut and poppy seeds.
That very dessert is the star of the tiny patisserie Café Noe, another go-to in the Jewish Quarter, run by Rachel Raj. The baker, author and TV host studied fashion design, and so the sculpted marzipan cakes she turns out at Tortaszalon, her café and workshop near the Danube, are decidedly artful. Still, it's her hefty, satisfying squares of flódni that the crowds desire most.
Like the rest of Budapest's gastronomic scene, Budapest's Jewish cuisine is evolving. But what appeals to me most is that a gleaming eatery beside an old Judaica shop doesn't look out of place here. No matter how sophisticated the neighborhood grows, it continues to cling to important, feel-good traditions.
That night at Fülemüle, we mistakenly think the restaurant closes an hour later than it does, so we take our time sipping the last dregs of a bottle of rich, ruby-hued Kékfrankos wine and spearing mouth-blackening poppy-seed noodles with our forks. No one else remains in the restaurant, and an hour after we should have been kicked out, the waitress brings us coffee with a smile. Dinner parties often carry on way too late because of that heady combination of soulful cooking and conversation. It is also what happens at a place like Fülemüle.
Borkonyha Winekitchen – Budapest, Sas u. 3, 1051 Hungary
Fülemüle Étterem – Budapest, Kőfaragó u. 5, 1085 Hungary
Macesz Bistro – 1072, Budapest, DOB UTCA 26
Café Noe – Budapest, Veres Pálné u. 31, 1053 Hungary
Check out this clip from the episode: