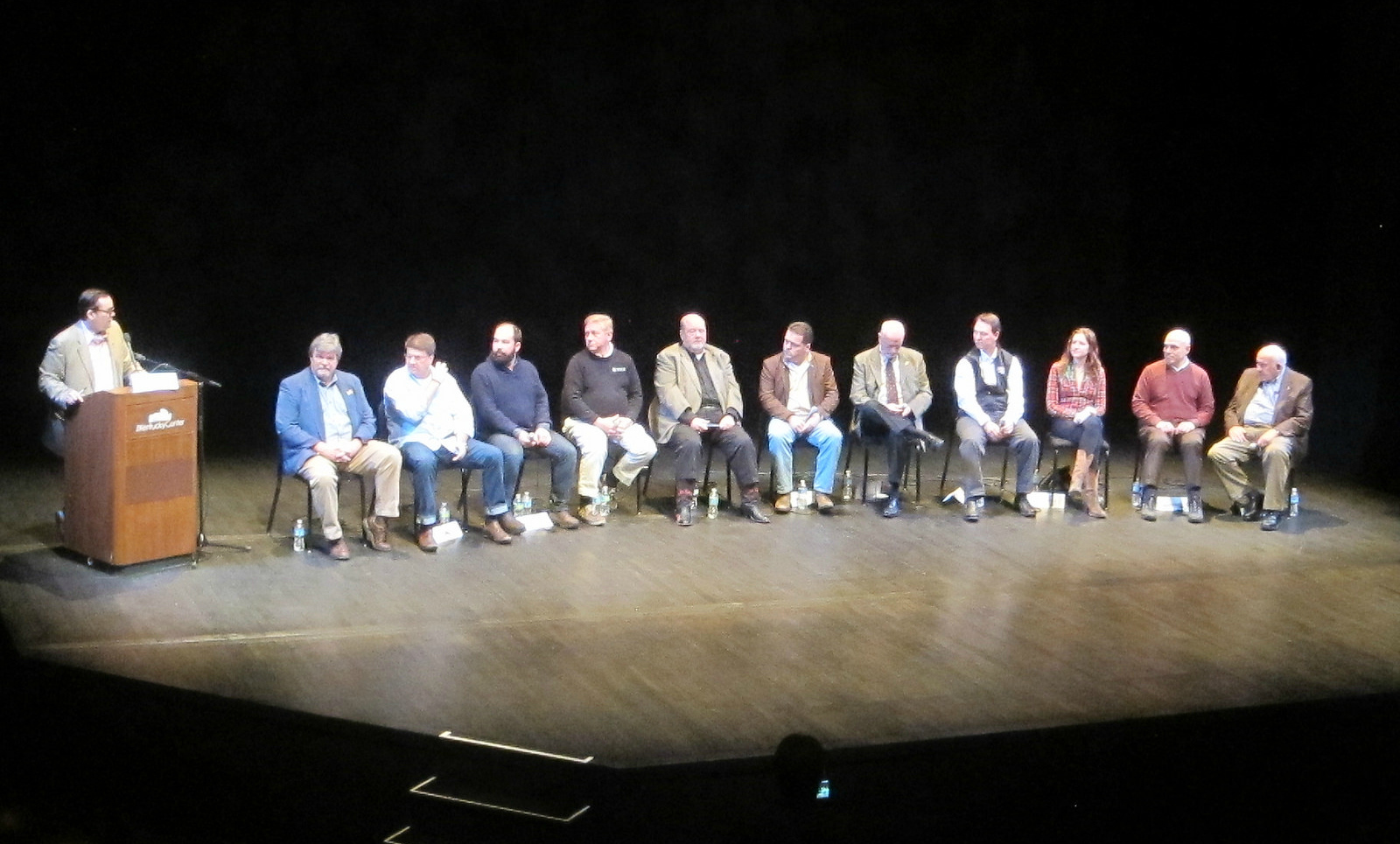 Last weekend, the Kentucky Center for the Performing Arts in Louisville played host to the 3rd Bourbon Classic, a gathering of brown liquor distillers and aficionados. The event, organized by the co-publishers of The Bourbon Review, Seth and Justin Thompson, featured two days of exclusive tastings, cooking and cocktail competitions, and educational seminars. But the undoubted highlight of the weekend was a panel discussion titled "The Bourbon Masters."
Spirits writer Fred Minnick emceed the 90-minute session, which featured most of the luminaries of the Kentucky bourbon biz, including Fred Noe of Jim Beam, Jimmy Russell from Wild Turkey, Jim Rutledge of Four Roses, Wes Henderson from Angel's Envy, Denny Potter from Heaven Hill, Ken Pierce of Barton 1792 Distillery, Joe Magliocco from Michter's, Harlen Wheatley of Buffalo Trace and Mark Coffman of Alltech. Any time you get a bunch of Kentuckians of a certain age together, odds are good that there will be a Harlen, a Wes and a Denny in the mix, but these were some real national treasures. As Minnick cautioned in his introduction, "If a grenade goes off in here, the bourbon business is gonna be in big trouble."
Special guests from outside of the commonwealth included Nicole Austin of Brooklyn's King's County Distillery and Chip Tate, the founder of Balcones Distilling in Waco, Texas. After a messy and very public ouster from his company by a group of new investors, Tate was making his first public appearance in front of the large crowd.
Minnick gave Tate the first word, asking him to describe exactly what happened during the power struggle at Balcones. "It was a lot more boring than people let on," Tate shared. "It was a lot of legal debate of operating agreements with phrases like 'we object…' and 'we strongly object….' I never wanted it. I didn't expect it, and I sure didn't enjoy it."
The discussion then turned to the bourbon boom and the supposed scarcity of barrels and extra whiskey. Most of the distillers blamed the barrel issues on bad weather. "It was the wettest year ever in Arkansas and Missouri," noted Rutledge. "The bourbon boom caught everyone by surprise, including the barrel makers. They couldn't get the machinery into the woods to fell the trees." Russell concurred: "We haven't had difficulties this year. There's plenty of oak trees, but getting them out and the staves cut was the problem."
So is there really a shortage of aged whiskey in Kentucky? Magliocco said that there is for Michter's. "Like a lot of other brands, we're really tight. The whiskey business is just so hard to predict. I'm kicking myself that I didn't lay more down in the past, but we're really bullish on the industry, both here and abroad."
Russell said that Wild Turkey is in good shape thanks to a major expansion that doubled its capacity in the past decade. But there is one sector where Wild Turkey finds itself in a bit of a jam. The crowd roared when Russell asked how many of them like rye whiskey. To which he replied, "Why the hell didn't you tell us you liked rye six years ago, when we would have been making it?!"
The smallest distilleries feel the pinch differently. "I'm short on everything," bemoaned Austin. Tate countered, "I'm shorter than anybody. I count ounces."
Minnick asked if any of them were still selling their aged whiskey to new start-up private brands. Rutledge doesn't believe so, even though Four Roses effectively doubled its production over the past year since it is no longer under contract to distill for Bulleit. (The agreement expired between the two companies, which were both part of a Seagram's sale more than a decade ago.) "I don't care how big your bank account is, we need it for our own growth," Rutledge said. "Over the last year or two, we don't have a gallon to give up."
Minnick was brave enough to rib the legendary distillers a little bit on a topic that none of them seemed especially proud of: flavored whiskeys. Potter discounted Heaven Hill's involvement in the sector, saying, "Flavored whiskey is hot, but it's not a large volume for us. We do expect more great growth, though."
"Michter's has no plans for flavored whiskeys," explained Magliocco. "All those flavored vodkas didn't help the overall category. Flavored products are introducing folks to whiskey who weren't drinking enough, but it doesn't help the overall premium category."
Russell is a little prouder of Wild Turkey's participation in flavored whiskeys. "I guess we was just way ahead of everybody, because we introduced American Honey in 1978. Everybody else is just catching up."
Noe admitted that Jim Beam's flavored offerings do draw from the same reserve of aged whiskey that its other products come from, but noted that it didn't affect the stores of the company's premium Booker's Bourbon, named after his father. "I'll meet him again someday in the hereafter, and I don't want to get punched in the nose," Noe said.
Tate weighed in sarcastically when Minnick tried to put him on the spot by asking what he would choose if he could have one product made by any member of the august panel. "I gottta go for the Fireball. That stuff's awesome!"
Rutledge had the last word when Minnick asked when the public could expect a flavored version of Four Roses. "After I retire," Rutledge asserted sternly. "I've always felt that if somebody wants a blackberry-flavored bourbon drink, have your bartender make it."
Read more about whiskey on Food Republic: