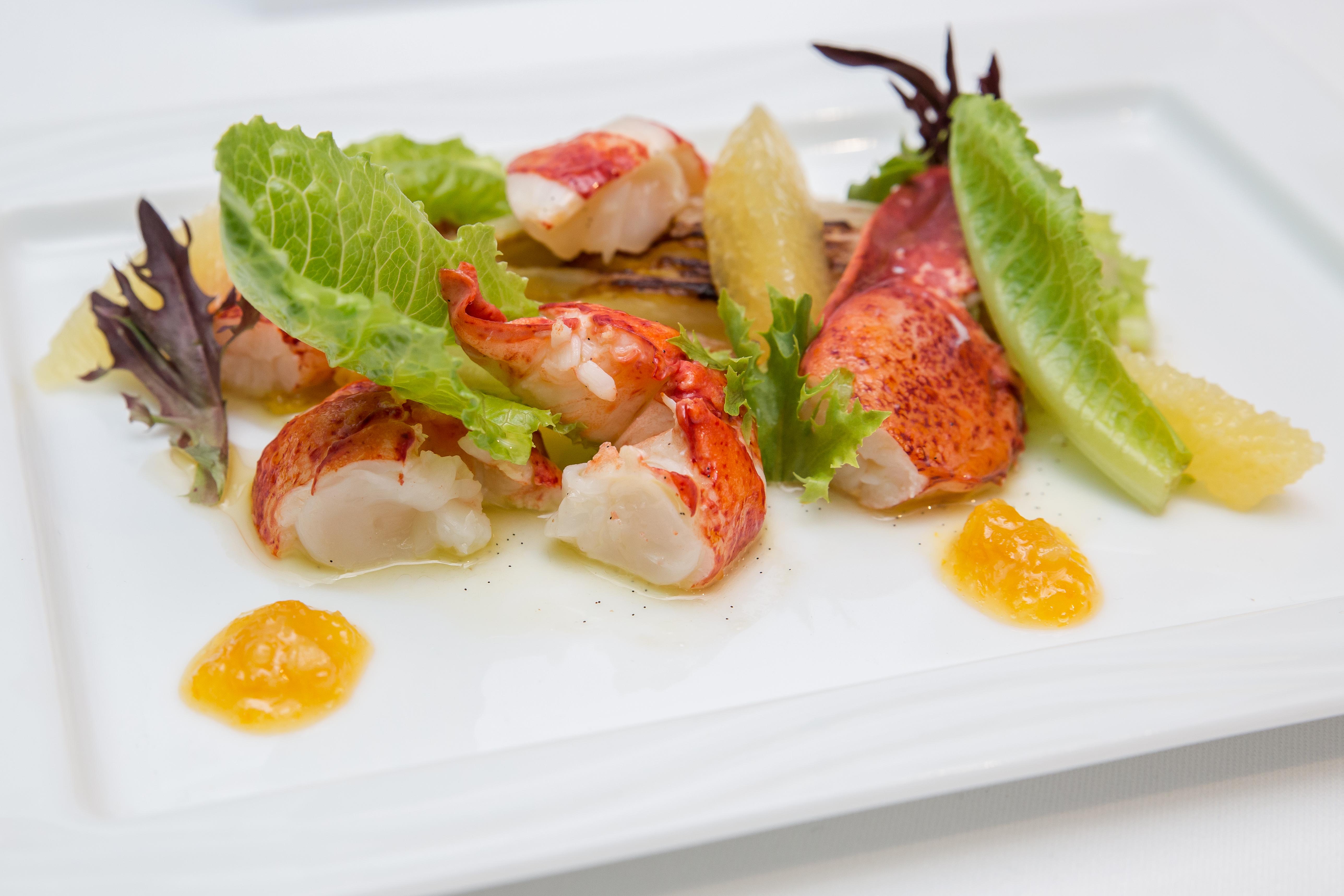 Welcome to Fantasy Travel Week, when traveling the world for food and adventure is squarely on our minds.
In December, Roy Choi's famously itinerant tacos got a whole lot easier to find. There is now a Kogi BBQ truck parked in American Airlines' Terminal 4 at LAX, providing tired, Twitter-averse travelers a taste of the L.A. son's finest.
Things up in the air have gotten a little quieter on American, though. The airline suspended its 25-year-old Chefs' Conclave program, which sponsored in-flight menus by the likes of Dean Fearing and Sam Choy when it started its merge with US Airways in 2013. United Airlines, which merged with Continental in 2010, has existing partnerships with Roy Yamaguchi and Bryan Caswell but is reportedly reevaluating its onboard-chef program.
Fortunately, those hungry for quality fare at 35,000 feet still have options. Some of the bold-faced chef-airline collaborations we covered a few years back have run their course; others, like Michelle Bernstein on Delta, Reuben Riffel on SAA and Neil Perry's Rockpool menus on Qantas, are still flying high. In addition, fresh talent has been moving into galley kitchens worldwide, joined by cutting-edge restaurants and partnerships with cult purveyors. Here's where you can taste the future of in-flight dining.
1. DELTA: Danny Meyer, Linton Hopkins and Michael Chiarello
Amenities on flights from New York to San Francisco and Los Angeles are generally pretty baller, given the routes' frequency of high-net-worth entertainment and tech professionals. Fittingly, Delta's transcontinental Business Elite flights now include three-course meals by Napa Valley's James Beard-nominated, Emmy-winning chef Michael Chiarello. Those winging between New York and London can order from a menu by Danny Meyer's Manhattan-based Blue Smoke restaurant, and Southern man Linton Hopkins creates the fare for transatlantic flights out of Atlanta.
2. AIR FRANCE: Regis Marcon 
Following guest appearances by French culinary royalty Joël Robuchon and Guy Martin, Air France invited three-Michelin-starred Regis Marcon into the galley last April. The Bocuse d'Or winner created dishes like braised veal shanks and free-range chicken for passengers sitting in Air France's appropriately named La Première first-class cabin on long-haul flights out of Paris.
3. SINGAPORE AIRLINES: Alfred Portale, Suzanne Goin 
As part of its 17-year-old Chef's Congress, SIA currently breaks bread with global food stars like Gotham Bar & Grill's Alfred Portale, Lucques' Suzanne Goin and molto Michelin-starred Italian chef Carlo Cracco of Milan's Ristorante Cracco. Called the International Culinary Panel (ICP), the program provides international travelers with everything from lobster thermidor to seasonal antipasti to shockingly authentic dim sum.
4. JET BLUE MINT: Saxon + Parole 
The blue bullet's Mint service launched last summer, bringing flat-bed seats and a new breed of airline-restaurant partnership to those flying between LAX and JFK. Saxon + Parole, the Tales of the Cocktail Award-winning Manhattan bar and restaurant, helms the onboard food and beverage program. Menus include a mojito-like signature cocktail, made with vodka-spiked limeade and the carrier's titular fresh mint, as well as truffled portobello-mushroom mousse crostini with whiskey jelly and organic ice cream from Brooklyn's Blue Marble label.
5. ANA: Joachim Splichal
Last December, the Michelin-starred, James Beard Award-winning Angeleno began a year of magical eating and drinking on flights between L.A. and Tokyo. Splichal's Patina restaurant creates seasonal, Gallic-Californian menus for Japan's national carrier, with dishes like chanterelle-topped filet, halibut with littleneck clams and scrambled eggs with brioche and Hass avocadoes. 
6. VIRGIN AMERICA: Various
California-based Virgin has a roster of staff chefs who create onboard menus, but all their seasonal items are taste-tested by chefs from Bay Area restaurants like Citizen's Band, Bar Bambino and Perbacco. Now, long-haul, transcontinental business flights serve chef-approved salmon salad with soy-ginger marinade, artichoke and tomato skewers and two flavors of San Francisco's cult Humphry Slocombe ice cream label for dessert.
This post is brought to you by our friends at MasterCard Priceless Cities.
Check out more Fantasy Travel Week on Food Republic: