6 Beers To Pair With Your Macaroni And Cheese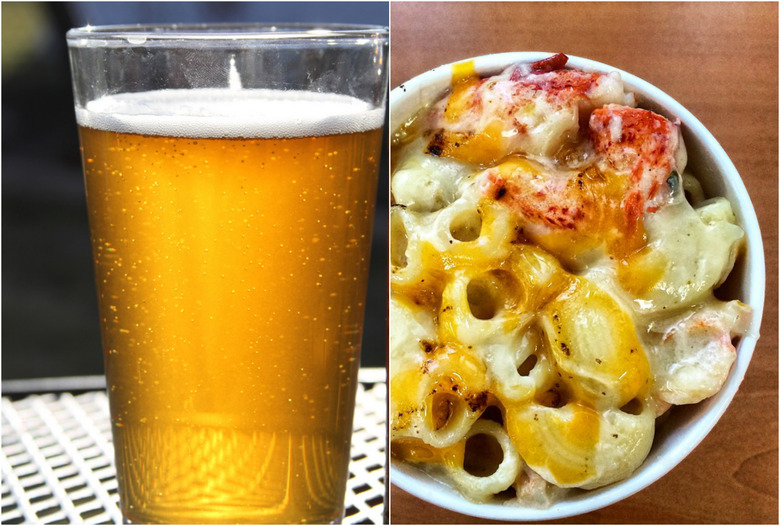 It's Mac & Cheese Week at Food Republic so we figured, why not?
For some, the idea of pairing beer and macaroni and cheese and calling it "gourmet" might seem absurd. Think about college, for instance: Easy Mac and a can of something "lite" is the fuel of late-teen academia. Those days, the fact that mac and cheese was cheap, hearty and quick was just about all that mattered. Things have changed a lot since my college years in both the worlds of beer and macaroni and cheese. While the combination is still pretty perfect, it's become undeniably trendy in the restaurant world and is particularly suited for brisk weather.
With more than 3,000 breweries in the U.S. and another thousand on the way, it's no secret that the craft beer industry isn't just on the rise, it's arrived. What might surprise you is that macaroni and cheese is a billion-dollar industry that goes far beyond the boxed versions at the supermarket.  New restaurants serving this dish exclusively are rapidly opening up across the country and to stand out, put eclectic spins on the basics. Take S'MAC's Napoletana, for instance, which is a mac and cheese substitute for a Neapolitan pizza with fresh mozzarella, roasted tomatoes, roasted garlic and fresh basil. The variety of styles remind me a lot of the way beer has evolved from watery swill to a nation full of flavored lagers and ales. This can make pairing challenging, but also really fun, because it's macaroni and cheese.
With both boasting an incredible range of styles, find the most absurd dish of cheesy mac out there and you can bet there's a beer to be paired with it. When you're matching dishes with brew, you want to figure out what the dominant flavor will be. If you were using a really strong or sharp cheese, an IPA or pale ale is perfect for refreshing your palate between bites. If the dish focuses on ingredients besides cheese, as so many of the memorable versions today do, look to match up hearty flavors with a bolder beer. Leave your college memories of microwaveable blue cups and silver-canned beer in the dust with a few suggestions.

Southhampton Publick House's Double White Ale with Lobster Mac & Cheese
Lobster and Belgian-style witbier is a match made in crustacean heaven. For this pairing we're dealing with the added intensity and density of the mac, so while I'd still go with a white ale, let's make it a double. Southhampton's Double White is made with coriander, orange and lemon peel, so it brings a lot of great complimentary flavors to the table. The key here is the 6.7% ABV, which is a perfect way to cut through the richness of the dish.
Maine Beer Co.'s
Peeper
with
Poole's Macaroni Au Gratin
There's something so good about the richness of melted white chedder, the prime suspect in this famous dish by North Carolina comfort haven Poole's Diner. Also added to the mix are the nutty and sweet Italian Grana Padano and Norwegian Jarlsberg cheeses. Maine's Peeper is a delightful American pale ale with enough citrusy hops to stand up to the nuttiness of the cheeses and cleanse the palate but without overwhelming bitterness.
Smuttynose Old Brown Dog Ale with Southern Mac & Cheese with Smoked Collards
Brown ales are criticized for being unspectacular alone, but I love them for fall food pairings, especially with the hearty, rustic flavors of Southern cooking. Old Brown Dog brings a ton of caramel, brown sugar, nuttiness and roasted malts to the table, which will mix extremely well with the smoked collards, spicy andouille and cornbread crumbs in the recipe. It's also a little higher in alcohol for a brown ale at 6.7%, which will help keep the richness in check.

Bell's Two Hearted Ale with Gorgonzola Mushroom Mac & Cheese
There are fruitier, danker IPAs out there, but the key to Two Hearted Ale is its world-class balance between hops and malt flavors. It's a massively underrated feature of IPAs and an essential one when pairing them with food. Two Hearted doesn't overwhelm and its biscuity malt will mix well with the buttery mushrooms, while the flavors of citrus, pine will refresh the palate from the intensity of all that funky Italian blue.

Brasserie Dupont's Saison Dupont with S'MAC's Napoletana
From the wild world of S'MAC, comes an ode to pizza Napoletana. Saisons go really well with Italian food because of their crisp, dry, peppery flavor (just close your eyes and eat the mac — it's basically pizza!) Even with the richness of the dish (which is honestly mostly gooey cheese) it's still got enough of a punch at 6.5% ABV to cut through the heaviness.

Ayinger Brewery's Oktober Fest-Marzen with Smoky Bacon Mac & Cheese
Mac and cheese may have gained popularity as a staple in Southern soul food but there are plenty of other cultures that mix pasta and cheese. While Italy might be the first that comes to mind, Germany has a long tradition of mixing spätzle and cheese with smoked meats. Although we're no longer in October, there's still plenty of great Oktoberfest beer (also known as Märzen) floating around, and Ayinger's version is perhaps the best. It's very malt-forward with delicious flavors of sweet honey, caramel, fresh bread and grains, which pairs nicely with the smoky meatiness of the bacon.
More Macaroni and Cheese Week on Food Republic: