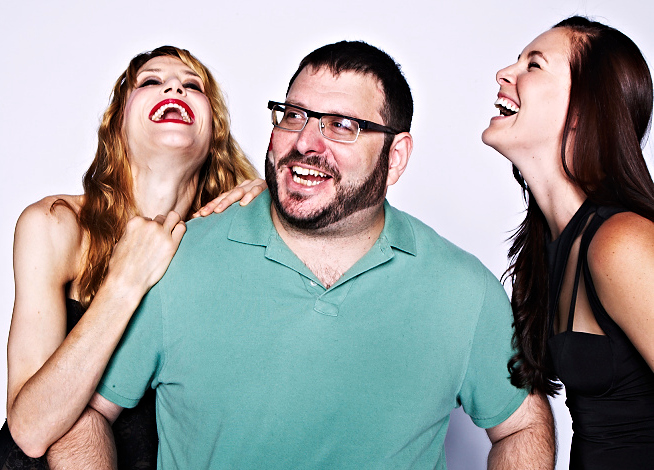 "The way that people feel about Game Of Thrones, or the Dune books or Firefly — the way people feel about Alan Moore or George R. R. Martin – I feel that intensely and that ardently about the important figures in the chef world," says a voice on the other end of the receiver while Sparklehorse plays in the background. Ladies and gentlemen, Josh Ozersky has stepped up to the soapbox (upon our invitation), a roost almost as comfortable to the 47-year-old journalist as a chef's counter or sub-zero meat locker — where you're likely find him hanging out these days as the new restaurant man at Esquire.
Josh Ozersky. That name might not ring a bell. It also might sock you in the gut. It's a fun one to say. O-ZER-ski. A classic heel name. So, who is this Ozersky? Well, he's a journalist, fried chicken and hamburger historian, meat festival ringleader and man who inspires bloggers to type headlines like Josh Ozersky Dares to Question Rene Redzepi's Claim to Fame. Josh Ozersky hates both Brooklyn (though begrudgingly lives there) and the writer M. F. K. Fisher, doesn't buy the rise of the hipster Asian cookery in America thing, and loathes what he's giftedly coined as "tweezer food" (ask him about his meal at Atera). Ozersky has his haters and his enemies, but David Granger, the longtime Editor-in-Chief of Esquire, is not one of them. He named the 47-year-old Ozersky Editor-at-Large and tasked him with traveling the country to find out what is good in the world of food and drink. This is the role John Mariani famously, and sometimes controversially, held previously.
"People call me contrarian or a troll or whatever, and I will admit that I tend to have polarizing opinions," Ozersky says during a polite and pleasant Monday morning call. "But I don't believe that anywhere in my career, in any place, whether in my essays or in the journals that I've done, have I ever said something just because it would get attention." Well, he grabbed our attention recently when he let slip that Harlem restaurant The Cecil has been named New Restaurant of the Year. The team at The Cecil will host and be honored, along with nine other restaurants and a Chef of the Year, at an event in New York City tonight. As for Ozersky, he will be there — along with the soapbox.
You're now the restaurant guy at Esquire. Congrats. What does this mean?
I have taken over for John Mariani as the guy that is curating and writing the best new restaurants. Esquire's best new restaurants has changed, let's put it that way. Esquire's big annual food issue has changed. It's no longer just best new restaurants. There's a best new restaurants part of it, but there's all these other things, what we're calling the American Food And Drink Awards. And part of this reboot has been my taking over.
How is your point of view different from John Mariani's?
John had a certain sensibility that in many ways reflected his generation — in terms of their attitudes towards fine dining. If you look at John's selections over the years, they're very fine restaurants, but they tend in a lot of ways to be more formal. There are selections on our list, even in this first year, that you might have not have seen under John's stewardship. So, for example, I think that it's highly likely that Nico Osteria would have been one of John's best new restaurants. Nico has a famous chef, it's an extraordinarily beautiful and luxurious and brilliant restaurant and it's extremely ambitious, everything about it is what you want in a traditional great restaurant. But then you also have places in there like Take Root, The Cecil and the Gunshow [in Atlanta], that in many cases John either wouldn't really have taken seriously, or might not have gone to.
Take Root is a mostly vegetarian, fully Brooklyn restaurant. You realize that it is located in Brooklyn, right?
Most people haven't been to Take Root and it's an interesting story because it's tweezers food. It's the consummate Brooklyn thing, located in a former yoga studio. And it's the restaurant that I loved the most. I actually thought hard about making [that] the restaurant of the year. But it was too Brooklyn, too twee, too New York.
So, Harlem's The Cecil is Restaurant of the Year. Bold, bold choice.
To write about restaurants at this period in time you have to realize how the culture has become polarized. Restaurants have very quickly, and very dramatically, become sort of a luxury thing. Fine dining is becoming a Rolex activity, instead of a Timex activity. And, the thing about The Cecil is yes, the food is extraordinary. Yes, the work that they're doing and that Alexander [Smalls] and JJ [Johnson] have done together is extremely original, and probably the most original thing that I had all year. But it's more important to me that The Cecil is a community restaurant in one of the most polarized places on earth. You have a neighborhood that is filled with people of color who have been living there for 40 years, and then you also have these very wealthy white professionals living in $3 million condos. And when you go into The Cecil, they're all eating together. They're all enjoying themselves, and they're all having the same experience, which is something that doesn't happen in a lot of restaurants. When I sent [Esquire editor] David Granger there, he said something very interesting. He said that it was one of the only restaurants he could remember in New York that reminded him of eating in the South, where you have black people and white people eating together, and that not being something weird or being a special occasion.
How did you conduct the research for this list?
I travel a lot around the country. I made many trips, which were specifically trips for Esquire. But I also travel a lot just for myself. I was in Knoxville for a talk and I took advantage of that and went to Louisville and Nashville. There's a restaurant in Nashville called Josephine. And that restaurant has one of the greatest things I ever ate. Which is Andy Little's scrapple.
I love that dish.
So I call out Andy Little's scrapple as one of the great things I ate. And I wouldn't have been able to go and eat that if I necessarily – was not – if I hadn't been – you know, it was easy for me to go to Nashville because I was already doing stuff.
Is there a part of the country that you're enchanted with that maybe a national audience is not familiar with?
I'll say two things. First of all, there are very fine restaurants in big cities like San Francisco and New York. But they no longer have a monopoly on the great restaurants. There are ramen bars and craft cocktails and ambitious eclectic American bistros in every city. Because all the great restaurants produce a lot of very gifted, very talented young cooks, and very few of them can afford to start a restaurant in San Francisco or New York or Los Angeles. So to do this job right, you have to go to places like Winter Park, Florida. Or small cities in Virginia, like where I found this amazing restaurant that's not on best new restaurants, but I thought about it hard.
These are culinary backwaters to a lot of the national media. I think the mid-Atlantic is one of these. Maryland and Virginia have been really underreported.
There are a lot of places in, let's call it John's era, that you didn't have to visit. But you had to go to San Francisco, you had to go to Los Angeles, you had to go to Chicago. But now, you have to go to Nashville. And as far as recently, by far the most important, most vital area in American gastronomy is the Deep South. The Deep South is where all the action is. I mean, there are still many great restaurants in Northern California, and there's great restaurants in New York obviously. But if you're seriously trying to find out where the action is, you have to be spending a lot of time in the South. And I've spent probably – by far away the largest amount of time this year in the South.
You're also hosting your 10th Meatopia this weekend at the New York City Wine & Food Festival. How do you keep it fresh? Food festivals get boring.
Well, I'll tell you how you keep it fresh. First of all every year has a different model. We've done Slaughter of the Innocent in the past, and we did the City of Meat in 2012 with all the different neighborhoods represented. But, honestly, it's not so much the concept that keeps utopia fresh. It's the chefs. So one of the great advantages that I have, is that because I'm going around the country, finding out who the new talents are and what the best new work is. It would be very easy for me if all I did was stay in New York every year and have Michael White and April Bloomfield. Those guys are all great, but Paul Qui is cooking this year. And I'm bringing in an English chef, Richard Turner. I've been doing Meatopia in Texas, so I'm using people like Paul or Tim Rattray. [Rattray] is a guy from San Antonio [who] to me is one of the most interesting chefs in the whole country. He's the only modernist barbecuer that I know of.
What does that mean?
His restaurant is called The Granary. Here's the thing with him – there's a lot of modernist chefs that like barbecue and they wanna do what they think of as barbecue. But they don't have barbecue experience or barbecue equipment, so what they end up doing is just taking some kind tweezer food and putting it –
Like cold smoking and such…
They put it in a pan with like one little piece of smoking wood, or they use the smoking gun. But Tim is a real barbecuer, so he's taking real barbecue and he's to my knowledge the only person really trying to do something genuinely new with barbecue in the whole country. And I only found out about Tim because I did Meatopia in San Antonio. So the way I keep Meatopia fresh is by using talent that people maybe don't know about. Who are not celebrity chefs.
Some may say the food writer goes down to Texas, finds this kind of third rate city, and takes it as his own. Because that's what food writing is these days for some. It's almost contrarian. But it's obvious you're doing the work, and this is the real shit.
Whether it's for Esquire, or whether it was for Meatopia or when I was writing for Time or New York or anybody else, everyone knows who I am. Everyone knows what I look like. I don't try to go anonymously. I don't believe that anyone can be truly anonymous now. To me, that's a fool's errand. So my role I always thought was not so much as a critic, but as a talent scout. Like an A&R guy. And a lot of the chefs that I have written about, that weren't well known have subsequently become well known and have become the common property. Justin Smillie in New York, the Torrisi boys, and even some of the big chefs in New York, I was on board early, like David Chang. And so I think that a very important part of my role is to find talent.
So who is next?
Look at this guy Ian Boden, who has this tiny restaurant in Staunton, Virginia. People in Virginia have heard of him, but he was pretty invisible on the national scene. And Yahoo Food just did a recipe video with him and it makes me very happy and very proud to be able to make people aware of someone that deserves attention and celebration, but maybe can't afford a $5,000 a month PR firm.