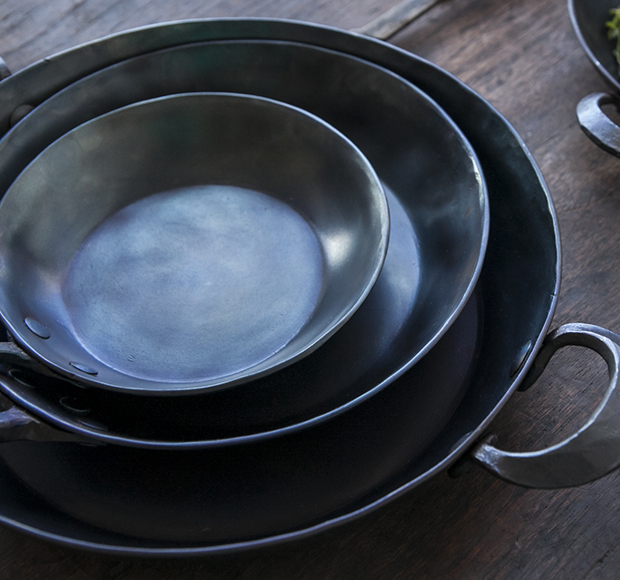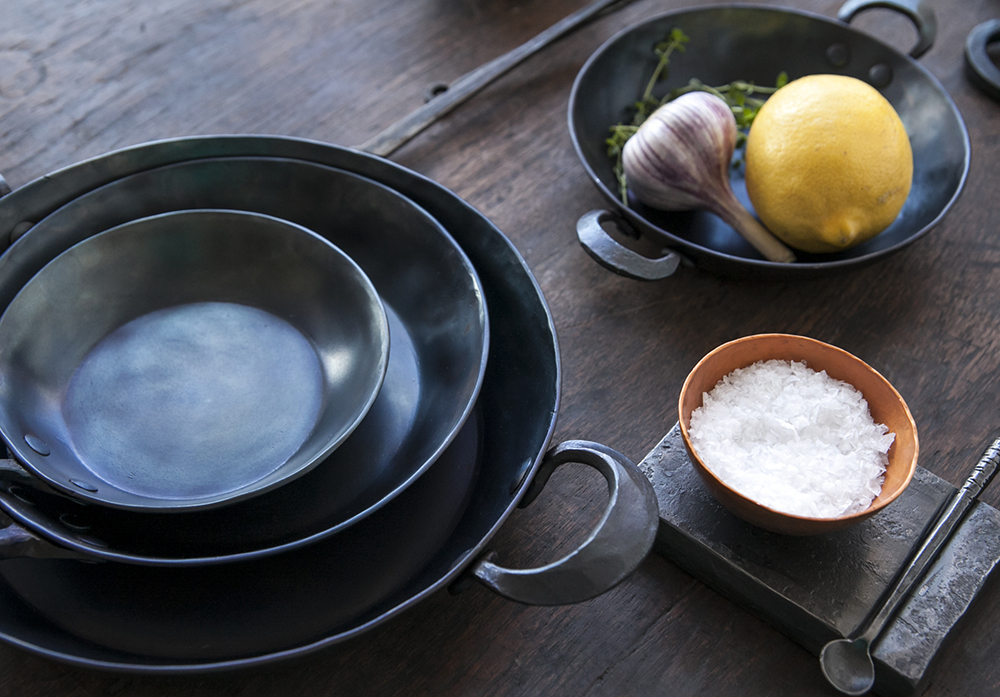 A good pan should be something you cherish in the kitchen, a tool that greets you like an old friend as you fire up the stove and an heirloom that you can pass down to your eager offspring or favorite niece when the time comes. These sentiments are exactly what you get when you hold one of the stunning carbon steel pans by Blu Skillet Ironware, a small company in Seattle run by artist couple Patrick Maher and Caryn Badgett.
"It's a simple pan, but it seems like an intimate thing," says Badgett. "It's an extension of your hand and something you use every day; it becomes very personal with a lot of meaning and specialness."
Blu Skillet Ironware started in October 2013, a project that formed after Maher, who has been blacksmithing for over 20 years, claimed he could upgrade Badgett's little crepe pan. Then he made a pot rack for their house and from there they decided to go into business together. A year later the couple, both 45, has garnered a following of home cooks, chefs and the curious passersby who frequent their weekly stand at the Ballard Farmers Market.
"It turned into date night, our planning out the business – designing a logo, the website and everything, and now it has become a personal expression of who we are," says Badgett. "We didn't know what to expect when we started and we were kind of making things up as we went."
Now, the pair hears praises of how people love the pans and cook with them every day. Even Maher's father talked non-stop for 40 minutes about the pan they sent him, the longest conversation he had with his son in years, says Badgett. Recently, they signed a commission for 28 pans for a local chef, another person who became a fan after using one of their original prototypes.
The art of making cooking pans has been around for hundreds of years, and while Badgett handles the business side of things, each midnight-blue utensil – beit the gratin, French skillet or fry pan – is hand-forged by Maher. Using special tools that he designed himself, Maher creates the shape and unique handles of each piece before sending them to get sand-blasted smooth. From there, the couple takes a wire brush to help give the pans a smooth, non-stick surface, which as it heats up helps provide a natural rust deterrent and gives it that lovely blue hue. Unfortunately, the blue doesn't stick around forever, as you use the pan it fades into darker shades of black. But, says Badgett, because it's steel you can expect some surprising colors to make an appearance like little streaks of bronze, pink and silver.
On average, the pair makes about 20 pans a week in their little blacksmith shop in Ballard, where anyone can visit the workshop and see Maher in action. He also opens up his studio to teach his art, a skill he personally fell in love with after years studying ceramics and sculpture. After all, blacksmithing is just another form of this art, but instead of clay or stone, he works with the fluidity of metal. Badgett, too, has a background in artistic creation and paints with iron oxide, the perfect skill to lend when treating the pans. Together, they produce these useful masterpieces, something they treasure and are happy to share with others.
"You make art and you hang it on the wall, but a pan is something you put in your hand and you cook with it everyday," says Badgett. "And, there is just something about that."
Tips For Taking Care of a Carbon Steel Pan:
Overall, carbon steel pans should be treated like cast iron, says Badgett. "If you get in the habit of cleaning it properly, it will season," she says. And by doing that, you will have priceless piece of cookery that will last forever.
1. Use a stiff brush and hot water to remove any stuck on foods or crud from the surface.
2. Dry completely before adding coconut oil (or similar oil) to season the pan.
3. Make sure the pan is hot when you add the oil, this way the pores will be open, hence more of the oil will be worked into the pan.
                   This post is brought to you by our friends at Bridlewood Estate Winery.