Edward Lee: Top Chef, Better Human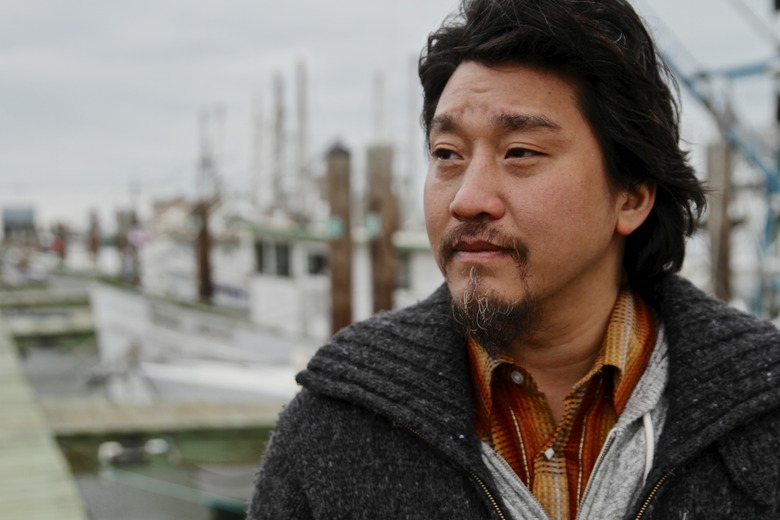 The plate of Kentucky soul food placed in front of Edward Lee is a thing of beauty. There's perfectly lacquered barbecue baby back ribs next to fork-tender pig's feet next to ham hocks, giant chicken wings and chitterlings that are soft like a pat of warm butter. There's also a pat of warm butter sitting there, next to a basket of golden biscuits and side of turnip greens made fresh that morning. It's a king's feast, spread out for one of Louisville's culinary royals.
"Oh, you're the celebrity chef," jokes Shirley Mae Beard, the owner of Shirley Mae's Café, located in a three-story clay brick building in the city's historic Smoketown neighborhood. Beard, who has run the restaurant with several relatives for more than 25 years, is technically correct. Edward Lee is what one would call a celebrity chef. Since moving to Louisville from his native New York City more than a decade ago, he's been nominated for multiple James Beard Awards for his France-meets-Frankfurt cooking at 610 Magnolia, while appearing on Season Nine of Top Chef. Lee, 41, has also published an award-winning cookbook, Smoke & Pickles, that logs a life's journey that casts the chef as both quick-witted and slightly rebellious — also a drinker of moonshine and maker of fine kimchi — establishing roots in the Bluegrass State after a successful restaurant closed during a post-September 11 industry slump.
And, his star is about to rise a lot more with the airing of the third season of The Mind of a Chef, the award-winning series narrated by Anthony Bourdain that digs deep into the cooking — and life — philosophy of two modern chefs (his MOAC Season 3 counterpart will be Magnus Nilsson). "What Edward Lee has to say with his delicious food and in the episodes of Mind of A Chef will help redefine American food as a whole. Just watch and cook," Bourdain tells us. The season, which is produced by Food Republic parent company Zero Point Zero Production, debuts Sept. 6 on PBS.
Video: The Mind of a Chef Season 3 Trailer
But none of this matters. In the eyes of Lee, Shirley Mae Beard is the real celebrity chef — revealed through a mix of playful banter and pointed conversation. Lee asks about her family, specifically a member of the University of Louisville women's basketball team whose photo hangs on a well-worn wall, as well as the exceptional stewed green beans we'd just enjoyed, which Beard proudly says are not from a can. And, he invites her to have dinner with him soon.
Lee has a connection with Shirley Mae's Café and its proud owner, and for reasons that extend beyond a basket of killer fried chicken. The restaurant is one of the neighborhood's only places that regularly serves a warm meal. "Nobody wants to open another restaurant here because it doesn't make sense," says Lee, after lunch while at the wheel of his beat-up Pathfinder, passing tumbleweeded blocks and abandoned shotgun houses. Smoketown, located a mile south of Louisville and historically black since the end of the Civil War, has been in decline over the past several decades — riddled with crime, drugs and civic ambivalence. The car slows as he points to a lot in the distance. "That is where our next restaurant will be."
Like most business owners, Edward Lee runs a for-profit operation, with the tasting-menu-only 610 Magnolia catering to some the city's most moneyed residents. There's an empty bottle of 1964 Petrus resting off to the side of the smartly designed dining room to remind everybody of this. A nearby wine studio hosts private events and cooking classes, while his most recent opening — the casual Asian gastro-pub Milkwood — is in the lobby of the famous Actors Theater of Louisville. The restaurant, packed from pre-curtain until the actors stumble out late at night, is a perfect storm of umami-spiked comfort food (think Vietnamese lamb sausage paired with fried green tomatoes; chicken thighs smothered with Korean fermented bean paste) and a very interested population. Apparently, Shakespeare leads to cravings for pork burgers topped with napa kimchi and Havarti. The place is a winner.
Edward Lee is no dummy: making the right real estate moves, maintaining a tight leash on his staff — though not working the line every night, which allows him to travel the country for media and promotional opportunities. He recently travelled to South Korea with his wife and young daughter to help a food company with research and development.
So, what is he doing opening a restaurant in the middle of Smoketown?
"Someone has to take a chance now and then," he says of his third opening that he hopes to launch by spring 2015. But this is not the kind of restaurant you'll likely read about on Eater, or lauded on a Bon Appétit hot list.
In a partnership with YouthBuild Louisville, an education and job training program designed to help young adults realize their potential, Lee plans to open a non-profit restaurant that will operate what he describes as a "part vocational training program, part working restaurant" that will both feed and train the residents of Smoketown. The project will be funded by a combination of government grants and donations.
"This is not just for namesake, or a photo op," he says firmly, in a faint Canarsie accent that hints at his middle-class roots growing up in deep Brooklyn. "I really plan to be there, and this is something that's very personal to me."
What that means exactly will only be expressed by the chef's involvement. But, what we do know is that the restaurant will be staffed through an application process and that all individuals accepted to the program will be asked to work in all aspects of the restaurant business. "This is not a cooking school," Lee stresses, saying that the curriculum will ask students to work in different blocks including service, culinary, back office and marketing. Lee is clear that he doesn't see the restaurant having a cocktail menu or sommelier. There's not going to be a barista. This is just a soul food restaurant built by the community and for the community.
"In the end, they should know how to chop onions, as well as write a press release." Lee acknowledges that this is a difficult task, and that there is long way to go between now and opening night. But, in the end, it's a project that is close to the chef's heart.
"These kids, some of them I've met, some of them we've worked with before, we plan to really follow these kids and give them a chance to succeed in life."
The new season of The Mind of a Chef, starring Edward Lee and Magnus Nilsson, debuts Sept. 6 on PBS. Check local listings.