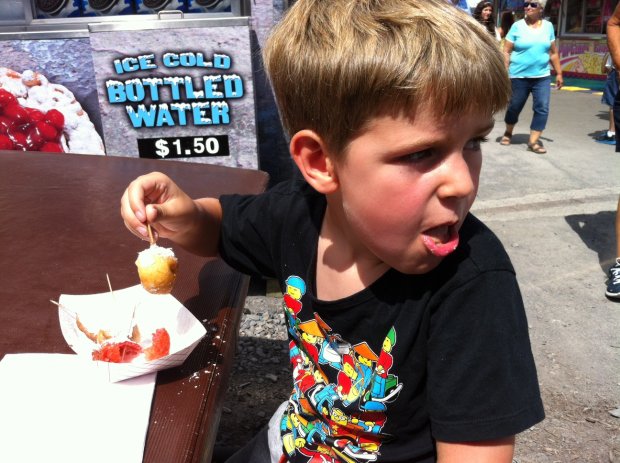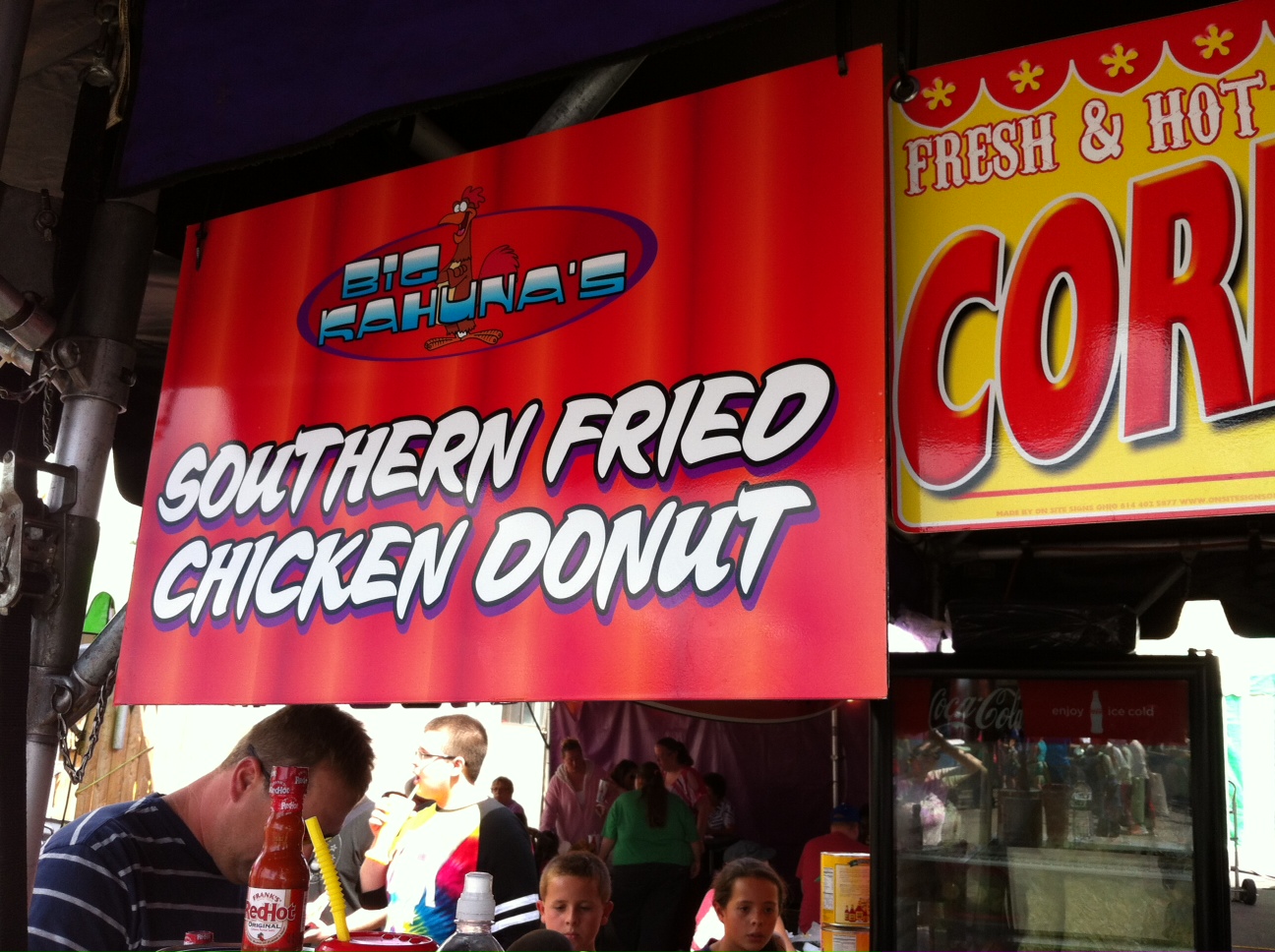 Wine writer and novelist Jay McInerney once famously called Syracuse, N.Y., where he attended grad school in the early 1980s, "Siberia with shopping malls." But, I beg to differ. Can you get a batter-coated, deep-fried, Twix-stuffed, bacon-wrapped Twinkie in Siberia?
It's called a Twin-X (pronounced "twinks"), and you can get it in Syracuse — that is, at least for 12 days at the end of each summer, at the Great New York State Fair, where you can also witness the live birth of a calf, be hypnotized by the alarmingly named Marshal Manlove, endure the auditory assault of a free 2 p.m. Uncle Kracker show and dodge a hard pitch from a sweating Jacuzzi salesman. Additionally, you'll find sculptures made from sand, butter and cheese, not to mention fireworks, a rollercoaster, barns full of animals and a new exhibit dedicated to the state's finest shipwrecks.
But, you're not there for any of that. You're at the fair to eat a Twin-X, among other absurd permutations of vegetables, fatty meats, pastries and candy dipped in batter, fried in hot oil and covered in powdered sugar, ranch dressing and/or mayonnaise — all washed down with an equally ridiculous beverage. Or, at least, that was my motivation during a recent visit to the fair with my 67-year-old father and 5-year-old son (who actually believed he was there to ride some rides).
I've been attending the fair my whole life. I saw the Charlie Daniels Band there, as an 8 year old, during a freak August snowstorm. As a teenager, I dropped acid, had my mind blown by a 4-H fashion show, then took in an equally baffling Bob Dylan performance. Last year, after a few hot, crowded, overwhelming hours at the fair, my son told me that he hated me for the first time. I'd never gone deep into the fried garbage, however, until this week.
Our first stop was Fried Specialties, a lime-green food truck that offers deep-fried PB&J sandwiches, pumpkin pie, cheese curds, Snickers bars, Oreos and Pop Tarts, in addition to the aforementioned Twin-X. After some momentary confusion (thanks to my pronouncing it in a way that rhymes with "Windex"), we sat down with a Twin-X ($7), which looked nothing like the artist's rendering but was lighter, fluffier and altogether way less trashy than I'd anticipated. The bacon's effect provided some subtle, smoky balance. We also downed an order of crisp deep-fried pickles ($6), served with ranch dressing, also tasty and relatively greaseless. Fried Specialties owner Jim Hasbrouck, who quit his job about five years ago to be a full-time fried food entrepreneur, says that his signature batter sets his food apart from the heavier competition.
I slipped over to the New York State Brewpub and Distillery booth and bought a red raspberry Moonshine Slushie ($5). "The moonshine is made in a second-story warehouse in the Bronx," said the guy who sold it to me. It was intensely red, intensely sweet and there was no discernible alcohol flavor. Something tells me there's a market for such a thing.
We stopped next for fried bubblegum, which seems like just about the worst idea possible. And, according to the young man running the booth, it is.
"It ain't actually bubblegum," he said. "We tried that last year, and it was gross." I paused to silently savor perhaps the most quintessential "no shit" moment of my lifetime, then went ahead and ordered the sampler (deep-fried Reese's peanut butter cup, deep-fried cookie dough and two balls of "bubblegum," which were actually marshmallows dipped in a pink bubblegum-flavored batter). I had to physically overpower my son to get small bites of the peanut butter cup and cookie dough before they disappeared forever down his greedy face. He was a little skittish about the "bubblegum," a testament to the power of my oft-repeated "you must never swallow gum" speech. But, he was persuaded to try, as did I, and (with apologies to all humanity, all that is good and right in this world) it was actually kind of a delicious bite, at once overwhelmingly sweet and crunchy and warm and weird. I'm sorry.
Next, we headed to the Big Kahuna tent, in search of the storied "Donut Dog," which is a bacon-wrapped footlong hot dog served in a maple-glazed longjohn doughnut, a concept that seemed almost quaint after the Twinx and the bubblegum. Unfortunately, Big Kahuna rolls concepts in and out each year, and the doughnut had, crushingly, been discontinued. We settled for a pair of deep-fried chicken breast sandwiches, served on lightly charred glazed doughnuts ($7 each). One was garnished with bacon (which turned out to be Canadian bacon, on which I call "bullshit" now and forever) and ranch dressing, while the other had pickle slices and chipotle mayo. Given the general hype, the dead-eyed Kevin Spacey-esque vibe of our server, the vaguely threatening thunderbolt font used on Big Kahuna's signage, and the whole doughnut thing, we braced ourselves for some giant, obscene sloppy messes. But, these sandwiches were actually manageably well-proportioned, with the kind of evil, well-researched, fast-food, high-bliss-point flavor that we can all blame when more than 95 percent of Americans will be obese by 2034.
As we finished the sandwiches, I offered to take my son over to the midway for some well-earned rides, as promised. He was just jamming the last bits of doughnut into his mouth.
"I don't think that's a good idea," he said, wise beyond his years. "After everything we just ate, I think I'd probably vomit."
Read more Field Reports on Food Republic: