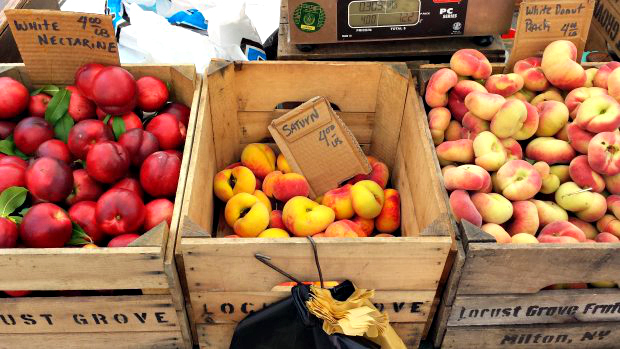 At this point, no matter where you live, the local farmers markets are buzzing with tons of tasty vegetables, fruits, fresh cheeses and local meats. So, it's not surprising you may be spinning from all the options. Now is a great time for snap beans, and you should start to see juicy stone fruit making an appearance at stands where apples once ruled.
For coastal areas, another thing to lookout for is sustainable seafood, which, depending on where you live, could be just about anything. "I think a lot of people think of seafood as a year-round thing, but it's definitely seasonal by region," says chef Andrew Gruel, founder of Slapfish, a national mini-chain of sustainable seafood restaurants. "You will see rock fish, various types of local snappers like crimson snapper on the West Coast. And, on the East Coast, you start seeing red drum and mahi mahi from the Atlantic Ocean, and different types of squid on both coasts."
The best way to pick local and seasonal seafood: ask the person hawking the fish what's good right now. But, to get you started, here's the skinny on West Coast white sea bass and a few choice vegetables and fruit to go with it:
Donut Peaches: Stone fruits are busting out right now, and while nectarines and regular old round peaches get all the glory, we are more interested in the less popular but better sounding donut peaches. You know, those slightly flat white, pink and yellowish disks hiding next to their succulent orb-shaped cousins? Also called Saturn peaches, these white-fleshed beauties tend to prove sweeter but lower in acidity than other varieties. And, the fruit has a thinner skin and less fuzz. So, for those of us who can't get past the peach stubble, it's perfect. Plus, donut peach trees tend to produce more fruit and grow in more places, so they are sustainable, too. Use them the same way you would a regular peach: in a pie, as jam, blended into a smoothie or just munch it raw with the juices dribbling down your fingers.
White Sea Bass: "Right now the best fish in California is white sea bass, which is unbelievable," says Gruel. "In my opinion, it's the best fish you could eat." The chef says you can find this rich, flaky white fish in farmers markets and on the catch-of-the-day menus across the West Coast. Because it has a high fat content, this slightly sweet, versatile fish is great on the grill and makes a mean ceviche. Fun fact: once, this over-fished creature was on the species watch list. But, through successful farm and release programs, it's as abundant as ever and easily replaces Chilean sea bass in most recipes, like the one for crispy tacos that Gruel shared with us (see below). So, if you are lucky enough to live near the Pacific Ocean, give this fish a go. 
Ginger Root: Ginger is one of those plants many people recognize immediately, but don't really notice, particularly when it's fresh and in raw form. To start experimenting with this spicy, healthy root, head to your farmers market right now and get some while it's ripe for the taking. Look for beige roots that are firm and slightly heavy with no gray or dark brown spots. Then, peel off the rough skin and dice up the flesh to add to marinades, stir fry, muddled into a cocktail or soaked in lemon and sugar to make a lemonade with a kick. Keep in mind, despite appearances, fresh ginger doesn't last much longer than three weeks, and even that is pushing it. To keep the root at its best, wrap it in a paper towels and store in a plastic bag in your refrigerator, or freezer where it will stay good for about two months.
Purple Snap Beans: Not to be confused with snap peas, snap beans are those long, finger like vegetables you usually find sauteed whole or cut up and mixed with cheese and cream in a green bean casserole. Also, peas never come in such a vibrant shade of aubergine like this purple variety does. They easily compare in taste and firmness to their green compadres, this varietal just happens to look more exotic. One catch: once you cook them, they lose that gorgeous hue. But, for those of you who want to eat or serve your beans raw and tossed into a salad, you can wow your dinner guests with the creative color palette on their plate.
Crispy White Sea Bass Tacos
Courtesy of chef Andrew Gruel of Slapfish
Serves 2
Ingredients:
For the tacos:
6 to 8 ounces of California White Sea Bass, cut into four 1 to 2 ounce pieces
4 six-inch corn tortillas
1 cup grapeseed oil
1 cup white cabbage
1 lemon, juice and zest
1 tablespoon chopped chives
For the sauce:
1 teaspoon Tabasco
½ cup mayonnaise
2 tablespoon Sriracha sauce
2 tablespoon lime juice
1 teaspoon sugar
Whisk all sauce ingredients together.
For the garnish:
Radish
Cilantro
Thinly sliced red onion
Directions:
1. Add the oil to a non-stick pan and heat over medium-high heat. Lightly crisp the taco shells in the oil, virtually deep-frying them. As they cook, fold them over until they hold. Pull and drain on a paper towel.
2. Grill the white sea bass in a pan until flaked, about three minutes.
3. While the fish is cooking, toss the cabbage in lemon juice, lemon zest, chives, salt and pepper.
4. To finish, pack the cabbage into the base of the taco. Top with the sea bass. Garnish with the radish, onion, and cilantro. Drizzle with sauce.
This post is brought to you by our friends at Pure Leaf
Read more Market Watch on Food Republic: