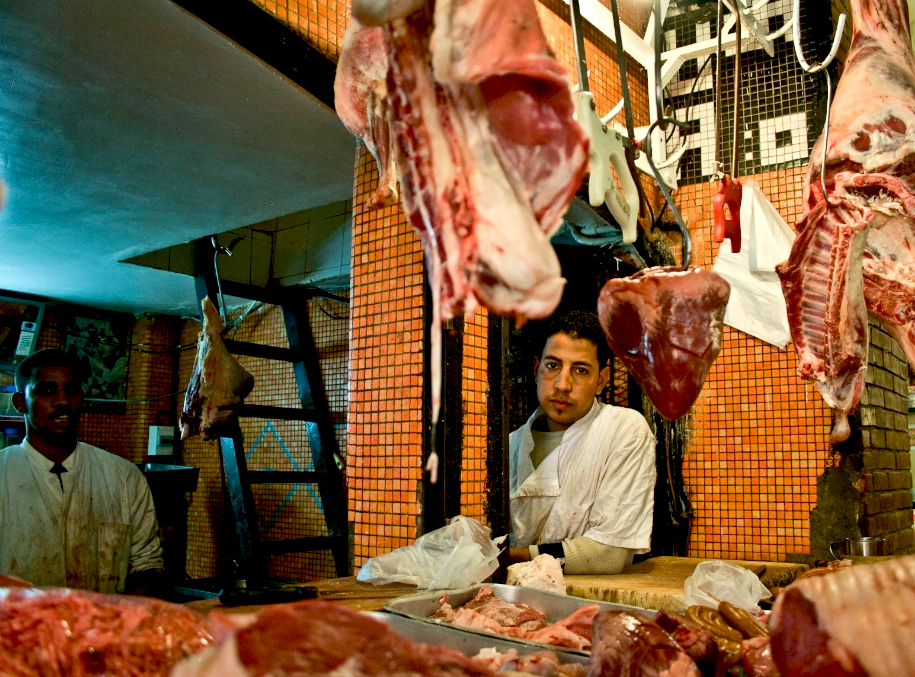 Greg Baker, chef-owner of The Refinery in Tampa, Florida, is a 20-year kitchen veteran, having worked in Portland, Oregon and Austin before opening his James Beard Award–nominated restaurant in 2010. As any kitchen professional at Baker's level will tell you, staffing is a crucial part of running a restaurant. And few relationships can be as important as those from whom you source ingredients. In an essay inspired by years of good (and some bad) experiences with vendors, Baker tells us the real deal behind stocking the kitchen.
There's a guy standing in front of me; unbuttoned guayabera shirt, chest hair almost more plentiful than the gold on his neck, telling me how he understands sustainable seafood – he has a "HAACP certification number to prove it," how no one can "provide transparency in commercial fishing" and that anyone who "claims they can is full of shit." What's more, if I don't serve his tuna and salmon, then I "won't keep my doors open for more than 2 months." I'm located on the Gulf coast of Florida – we don't get a whole lot of wild Gulf salmon around here. I had opened The Refinery 3 months prior to this moment. We were standing in my dining room. My response: "Get the fuck out of my restaurant."
Back when I was a young kid in culinary school, my first instructor — himself a burnt-out cruise line chef — kept referring to 'dinosaurs' in regards to a disappearing, old-school breed of chefs. Fast forward 25 years and the same reference could be made regarding food vendors and their cold-calling sales reps. These are the guys who are wildly confused by the idea that some chefs are cooking real food again and do not want or need five cases of jalapeño poppers. We (meaning chefs) have little to no use for the majority of their products and are perfectly able to function without them, for the most part.
I have a very small restaurant in an old bungalow with almost non-existent storage. Quite simply, I don't have room to store jack shit. We rely on "just in time" (JIT) inventory; or, as we know it, "if you don't need it, don't fucking buy it." It takes some creativity to be able to work around the existing system of huge minimums for delivery that these old-school, big distributors charge, but go ahead and feel free to stick it to the man while keeping the doors open. Here's how.
Number 1: Think outside the box.
Look for existing alternatives. I don't spend in a month what it takes for a truck from the broadliners to stop once, let alone have space to store it; however, artisanal toilet paper from Etsy is not in my budget either but we can't survive without paper goods. Just about every business out there has the same need; so why not look to where they're buying from? Outside of the restaurant industry. I found a small, local company that keeps me in recycled napkins, to-go bags and the like – they'll stop a truck once a week for 90% less than the big guys and the cost is only pennies more, but hey, I'm not buying 12 cases. I'm buying one and I'm not fighting for storage space.
Number 2: Get Out and Explore the World
I drove around my restaurant's neighborhood and lo and behold, found several locally owned outlets nearby that allow me to just pick up simple stock items like salt, vinegar and oil. I found a local spice retailer and asked if she'd be willing to sell at a reduced cost to me. She was more than happy to. Again, it's pennies higher but I'm not paying the multi-case price and I'm protecting my cash flow.
Number 3: Straight To the Source Is Always the Best Way
A little-known seafood company provides me with the local seafood AND the supply chain information that I need. See Rule #2 for how I found them. These guys will stop a truck with no minimum because they're only a couple of miles away. Through time, I was able to build relationships with some of the local commercial fisherman who now just show up from time to time with a cooler full of fish. Because of this, I started making all my fish dishes daily specials. Whatever came out of the water that morning is what I am making. It's fresh, I can guarantee its sustainable nature and again, no storage needed.
Rule #3: Do some research
When I first opened, I researched who in the state was using small farmers, I then called that chef and asked who he or she was buying from. We're chefs, we're a very fraternal group, they will tell you. Through these connections, I found two companies that provide logistics between local farms and restaurants for both produce and meat. After time, I hired a server to do about five hours a week of research on small, local farms that would allow me to supplement more produce and meats directly from them.
Rule #4: DIY
My pickup truck slowly but surely became property of the restaurant and for the first two years, I'd make a shopping list, hit the farms and farmers market, the spice shop and anywhere else that needed going to, then scramble to get back to cook. That got old, but it was a necessity until the day finally came, two years later, that I could afford to hire a part-time gopher willing to work a couple hours a day to make an extra $100 or so per week. Money well spent, and my blood pressure and demeanor are both in better shape. This person should have a clean driving record, reliable and intelligent. Glenn calls me when he sees something I may or may not like/want. My menu changes 3-4 times a week, so we can be pretty flexible. He drives out to the farmers that are in neighboring counties and lets them know how we are doing and what we're looking for.
Rule #5: Don't Give Up On the Dinosaurs
They do have a place, and not all of them use fear as a sales tactic. I did find a broadliner salesman who eventually wrapped his head around what I do and was willing to work with me on a will-call basis — Their distribution center is nearby. I place a pitiful $100 order with him once a week or so for coffee filters and dish machine chemicals, pick it up the next day and he never tries to push stuff on me that he now knows I will never, ever buy. It took quite a bit of time to work that relationship out, but the guy is sharp and adaptable to new ways of thinking. He even brought a VP in to ask how they could actually profit by fitting into this market. I'm not holding my breath for any kind of change, but entertaining the idea is a lot further than I've gotten with anyone else.
That ex-wise guy shitbag from the beginning of all of this? He came back a year later, scrounging for a buck. All I could say was, "I'm still here, still don't need you and you can still get the fuck out."
More Chef Talk on Food Republic: