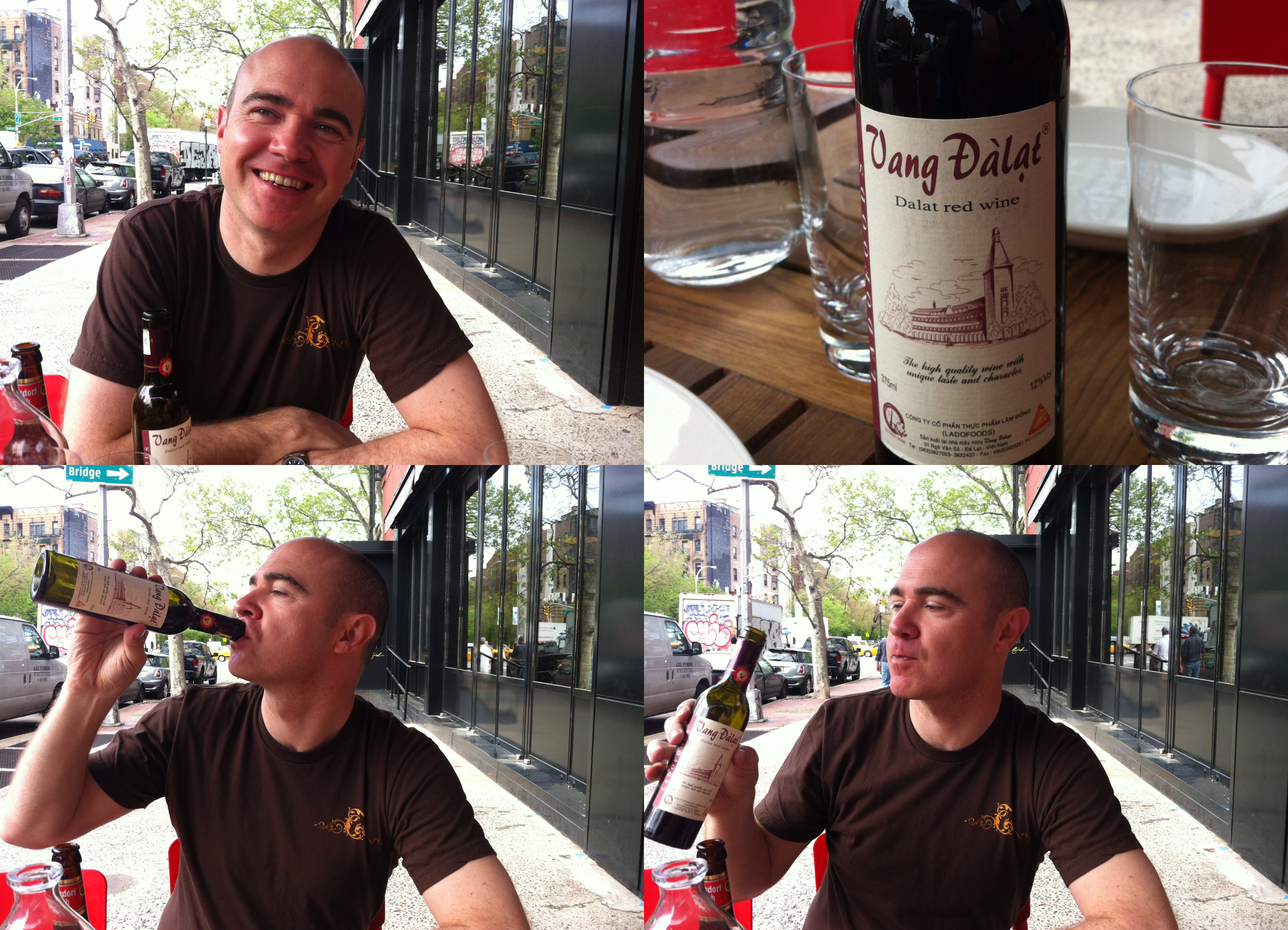 Earlier this year I spent two weeks in Hue, Vietnam — eating noodle soups and little rice flour pancakes and fried frogs and shrimp porridge and pork on a stick and clam rice, all washed down with ice-cold Huda beer. A man who lives in Hue, and works as an English-speaking tour guide, insisted that Huda is made using water from the Perfume River. I thought he was bullshitting, so I emailed Hue Brewery, which makes Huda, Festival and Carlsberg beers in Hue. A few days later, I got a response from Bao Pham Xuan, the brewery's export manager, who confirmed that the beer is made from 100% Perfume River water, though "of course under Danish technology." I can't wait until someone starts making beer from the East River.
I drank exactly one glass of wine in Vietnam: a French rosé, at the bar of La Residence, a French colonial-themed hotel in Hue. French wine dominates the import market in Vietnam, with Chile and Australia close behind. There are also about a dozen Vietnamese wine producers operating throughout the country, with Vang Dalat the best known. The French ex-pat host of a dinner party showed me a few bottles that he kept on hand as a kind of novelty, but he refused to serve them, saying he feared for his reputation.
Writing in AsiaLife magazine, Richard Sterling said of Vang Dalat, "Grapes are crushed, the juice is fermented, the wine is bottled. It has grown into perfectly serviceable, everyday, non-varietal wine in both red and white. If you're from California, think Two Buck Chuck for both quality and price." As it turns out, these were the kindest words I could find on record about Vang Dalat.
"I've tried the red and the white, but it's not for me," said La Thua An, a Hue native who is the executive chef of La Residence hotel. "I use it only for cooking."
I've always been intrigued by the underdog, so when I found a few half-bottles of Vang Dalat Strong red (grape wine cut with fermented mulberry juice, 16% alcohol) in the Co-Op Mart a few hours before leaving Hue, I didn't think twice about buying one, wrapping it in several plastic bags, and nestling it into my suitcase for the long flight home. And, because I am a sucker for a lost cause, I decided to taste it with Charlie Bird sommelier and wine consultant Robert Bohr.
"You called me because I'm considered a pretentious prick and I like to drink good shit, right?" asked Bohr when I proposed a Vang Dalat tasting. "I'm fine with that."
We met a few days later at Charlie Bird, where Robert had just finished tasting some Nebbiolos. He swiped a half-full bottle of Ar Pe Pe Valtellina Sasella Riserva Rocce Rosse 2001, to compare with the Vietnamese wine. I wanted to taste the wine with Hue-style food, but that's rather hard to come by in New York. So I ended up with a classic banh mi from Saigon Deli. Robert set a table on the sidewalk outside of the restaurant.
"Let me go on the record and say that I know absolutely nothing about any wines from Southeast Asia. In fact, I don't know much about wine outside of four countries. I'm perfectly ignorant, and a wonderful blank slate for this wine," said Bohr, cheerfully. We both took a sip of the Vang Dalat.
"When I first smelled it, there was a little bit of volatile aroma, which is not super uncommon," said Bohr. "It's always nice to let that get out. What I smell now is kind of oxidation on the nose. Looking at the color, there's a little degradation. It's not horrible, but it's there."
Though it felt like a complete charade, we decided to let the wine open up for a few minutes in the glass. We passed the time shooting the shit and watching humanity, mostly schoolchildren and their nannies, stream up Sixth Avenue. Then, another sip. Bohr looked troubled.
"There's that oxidation. I don't know if that's in the winery or in the bottle, but when you taste it, it's bitter — and also kind of tart. I wouldn't go as far as to say acrid, but its something. I'm going to try a bite of sandwich and see if it tastes better."
"Do you think it's like a step beyond cooked fruit? Like, dead fruit?" I asked.
"There are a lot of things that can make a wine this way. A lot of it is in production, where the wine must gets too hot, which creates those volatile compounds and leads to a more rapid degradation of color and oxidative compounds. So it could be that they aren't handling the peaks of their fermentation temperature well enough. I have to say, though, that the bite of sandwich made the wine less assaultive."
Bohr poured us each some of the Nebbiolo. "Ar Pe Pe wines have aromatic profiles that are so floral and pretty," he said. "They're captivating, with elegance on the palate, but also have some structure and intensity. They have a lot of aging potential." I felt a pang of sadness for the Vang Dalat. Bohr turned back to the Vietnamese wine.
"Wow, this wine's actually gotten worse now in the mouth," he said with a grimace, after making use of the spit bucket he'd presciently provided. Charlie Bird sous chef John Paidas joined us for a moment on the sidewalk. "Is that Vang Dalat?" he asked, looking spooked. "I once drank it on a 17-hour train ride in Vietnam. It's interesting but I…wouldn't recommend it."
"A lot of decision-making these days comes down to interesting versus delicious. There's a whole world of wine available to us in New York City. I get to choose 120 of them for the list. An 'interesting' wine from an unusual region just doesn't make the cut," said Bohr.
"Is there any circumstance under which you would drink this wine?" I asked.
"If I were at the president of Vietnam's house, and they were serving a state dinner, and I had become the cultural ambassador to the United States, with Obama seated on my right, I'd be polite about it, and have a glass," said Bohr.
I suggested a little game of either/or.
LW: "Sunny Delight or Vang Dalat?"
RB: "Well, there's alcohol in the wine, so I'd choose that."
LW: "What about a Sunny Delight screwdriver or Vang Dalat?"
RB: "Screwdriver."
LW: "Manischewitz or Vang Dalat?"
RB: "Ooh, I don't think I've had Manischewitz since my junior high best friend's bar mitzvah, so there's a sentimental factor there. I choose Manischewitz."
LW: "Original flavor, green bottle Bartles & Jaymes wine cooler from 1988, or Vang Dalat?"
RB: "Once again, for sentimental reasons, gotta go with Bartles & Jaymes."
LW: "Warm sangria at Señor Frog's in Cabo, at, like, closing time."
RB: "So, like, post-13 margaritas?"
LW "Yes. Or Vang Dalat."
RB: "It's basically the same thing, so therefore, Vang Dalat, because I don't want them to bar mat me with the sangria."
LW: "Rumpleminze shot?"
RB: "Depending on context, I'd probably go with the Vang Dalat."
So, there you have it. Better than Rumpleminze or straight Sunny D, worse than nearly everything else. Vietnam's wine industry is young, and I hope to find Vang Dalat improved when I return, but for now, stick to ice-cold local beer or Chilean Sauvignon Blanc.