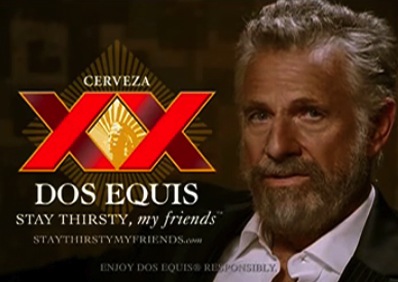 It started sometime in the early 1980s — at least that's where it started for me — with Billy Dee Williams and Colt 45.
Picture Billy Dee in a cable-knit sweater, lounging on a sofa in a softly lit room in what is clearly some kind of swank bachelor pad. He's got that look on his face. You know the one. The half-smirk of complete confidence, the same one he flashed Princess Leia in The Empire Strikes Back as he told her she belonged with him among the clouds. Pulled that shit right in front of Han Solo, too. It's the facial-expression equivalent to Samuel L. Jackson's wallet in Pulp Fiction. It's the one that says "bad motherfucker" on it.
And in Billy Dee's hand? A can of Colt 45.
"There are two rules to remember if you want to have a good time," he coos. "Rule #1: never run out of Colt 45. Rule #2: never forget rule… number… one."
Allow me to introduce Rule #3 – never underestimate the impact of a great boozy ad campaign. From the moment I saw that commercial, I never have.
Billy Dee made me want to experience the seductive power of Colt 45 for myself. The suaveness. The ladies. The Jheri-curl. Granted, I was white and in middle school at the time, but that's beside the point. Or maybe that's precisely the point. You can make a compelling argument that Lando…er, Billy Dee Williams…was the Joe Camel of my generation.
With the release this week of "Young Gun," the latest installment in the "Whatever's Comfortable" campaign, Southern Comfort and their ad agency, Wieden+Kennedy New York, have again raised the bar (that's a drinking pun for ya) in the ultra-competitive province of adult beverage marketing. But don't take my word for it, here, have a look…
Everything about that spot is badass, from the geek-chic behind-the-stick stylings of Stephen the Bartender to the inspired use of Jerry "The Phantom" Lott's frantic 1958 rockabilly classic Love Me. But for as bangin' as it is, I'm afraid the "Young Gun" is still too wet behind the ears to make the cut on the following list of The Five Most Badass Booze Commercials of All-Time.
5. Colt 45's "Totally Unique Experience"
There's no denying the magnetism of Billy Dee, but for sheer bizarro brilliance it's hard to top this Colt 45 spot featuring legendary funnyman and Sanford & Son star Redd Foxx…
So here you've got the African-American star of a popular 1970's sitcom practically killing himself to deliver a six-pack of malt liquor to a bunch of WASPs at a ski resort, and he does this in a pimped-out ride called Redd's Sledd to the musical accompaniment of what sounds a hell of a lot like the theme to The Newlywed Game. I mean, this happened. They actually put this on television. Talk about some serious time capsule shit. Eons from now, advanced civilizations will study this commercial and come to the conclusion that Redd Foxx was the most influential entertainer of the 20th century. For chrissakes, he could sell Colt 45 to white people!
4. Jim Beam's "The Perfect Girlfriend"
Now I know what some of you are thinking, but in the words of the great Nigel Tufnel of Spinal Tap, "What's wrong with being sexy?"
3. Miller Lite's "Bowling Tournament"
This is an enduring masterpiece of the genre that also qualifies for my list of The Five Most Depressing Booze Commercials of All-Time because, with the exception of Butkus and Madden, every guy who starred in it is no longer breathing. (I could be wrong on that count, and I invite any of the presumed dead who happen to be reading to let me know about it in the comments section below).
2. Schaefer Beer, circa 1972
And just when you're thinking, "Sweet Jesus, are we about to witness a prison-style gang rape in a beer commercial?" the guy who played the esoteric English neighbor on The Jeffersons suddenly appears and all is right in the world again…
While there was never a doubt as to which ad campaign should top this list, it was quite a struggle choosing just one from among the many iconic commercials. Frankly, they're all pretty amazing. After careful consideration and many many beers, I decided to go with the one that launched a cultural phenomenon. With that, I present to you the most badass booze commercial of all-time…
1. Dos Equis "The Most Interesting Man in the World"
Stay thirsty indeed, my friends. And if you'd like to tangle with me over this list, I'm happy to oblige in the comments section below. Be forewarned, when it comes to debating arbitrary lists, like Redd Foxx on the trail of a supermodel ski bunny, I don't give up easily.
Follow Dan on Twitter and Instagram @TheImbiber.
Read more The Imbiber columns on Food Republic: