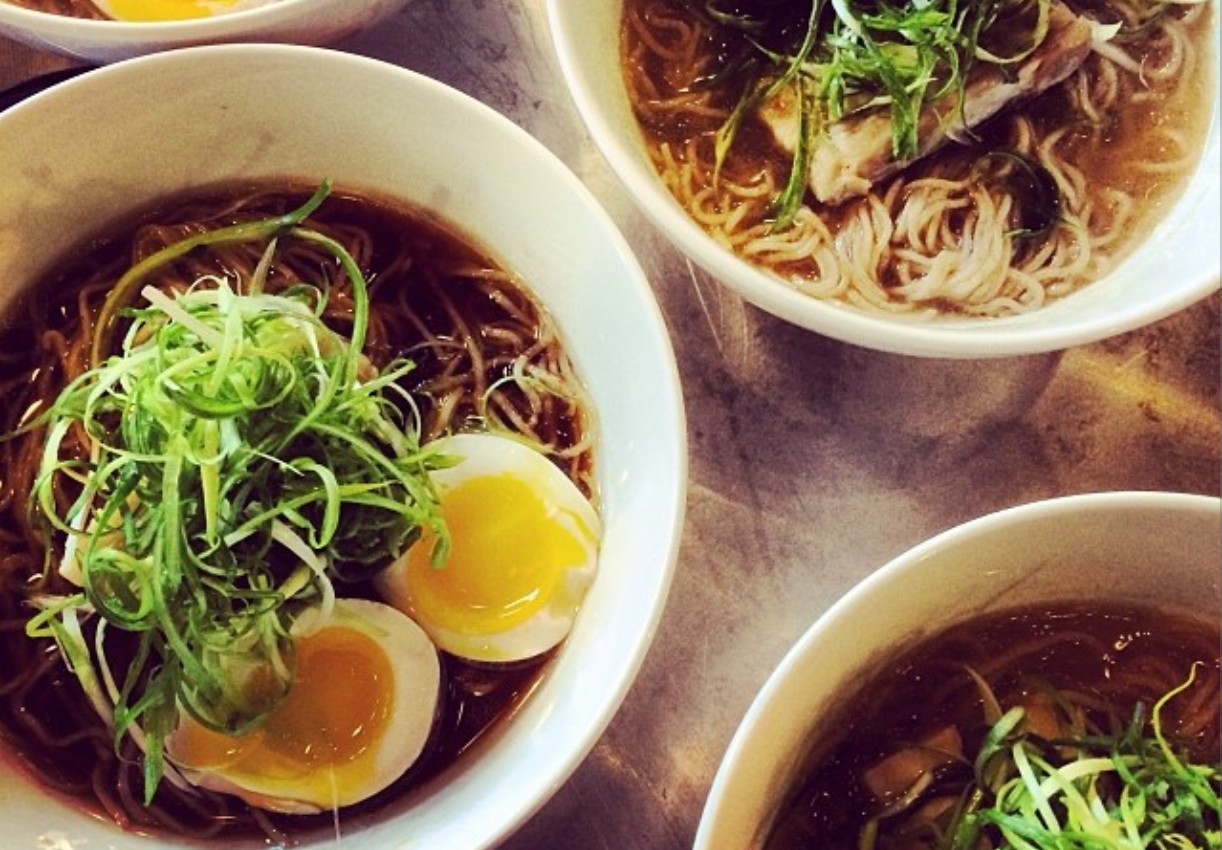 The wait is over. Ivan Orkin – the middle-aged Jewish dude from Long Island who wowed Japan with his unique bowls of ramen – has finally opened his first stand-alone restaurant in New York. Located at 25 Clinton Street on the city's Lower East Side, Ivan Ramen was mentioned in Food Republic's restaurant preview last fall. Our entire staff even hit up Gotham West Market – where Orkin runs a limited menu "slurp shop" – in preparation for the big day. Then came the delay that's become commonplace for restaurants opening in New York. Except this one dragged on. And on. And on…until last Friday at 5:30 p.m., when Orkin officially declared the 65-seat venue – which includes a 20-seat backyard – ready for business.
A 6:15 p.m. solo visit to the restaurant on Monday evening awarded no wait time and a seat at the colorful back bar. Note 1: Go early. The secret is this close to being out. There wasn't a table available at the time of my departure. Note 2: Dining solo is fucking awesome. There's a solid selection of draft beers to go along with a small wine and sake list. Sectioned into Cold, Hot, Crisp and Ramen, the menu showcases a mix of Japanese and American flavors.
Dried bonito flakes bring the umami to the party that is the 1,000-year old deviled egg, one of Orkin's early signature cold dishes. Though perhaps not suitable for everyone, the "JFC" (double dredged chicken hearts and livers) achieves an ideal level of crispiness and is accompanied by a sweet ponzu honey mustard dipping sauce. The Lancaster Okonomiyaki – a healthy portion of Pennsylvania scrapple, cooked in a waffle iron and topped with charred cabbage, pickled apple and maple Kewpie – takes the pancake for most original menu item and is, well, unlike pretty much anything you've eaten. Soaked in rich glazes and packed with a number of crunchy textures, you'd be forgiven for assuming it's a regular waffle and not one composed of pork scraps and trimmings.
It's easy to get blown away by dinner at Ivan Ramen…before even trying the trademark noodles. But you'd be remiss to call it a night without sampling a classic shio (salt-based), shoyu (soy sauce-based) or mazeman (brothless) creation from the master. It was the red chili ramen – fully loaded with a gooey egg, pork chasu and roast tomato – that did it for me, a tantalizingly spicy concoction that had satisfied beads of sweat trickling down my face mid-bowl. The thin rye noodles are a far cry from the clumped waxy variety found at many of the city's noodle dens, and their delicate, wheat-y aroma is somewhat akin to that of soba. Simply put, it's the best bowl of ramen I've ever tasted.
Related: How To Pair Craft Beer With 5 Ramen Styles
The wait staff is wise beyond its early days together, fully familiar with the space and quick to offer detailed dish descriptions and personal recommendations. They're all amicable and cheerful, mirroring the vibe of Ivan Ramen. Brief unrest arises when a fellow solitary diner inquires about the percentage of customers that snapped pictures of their meals during the shop's opening weekend. A couple of bartenders take turns mocking the much-beleaguered practice of Instagramming each and every tiny sliver of daikon. It's an especially inopportune moment for this mini rebellion, considering I have a hand in my pocket reaching for my phone, preparing to fill up Food Republic's feed with photos of piping hot ramen. But at the end of the day, they're right. These noodles are meant to be eaten, not photographed. And you better get there pretty damn soon if you want to have a chance to do just that.
Ivan Ramen
25 Clinton Street
New York, NY
646-678-3859
ivanramen.com
Check out these NYC restaurant field reports on Food Republic: