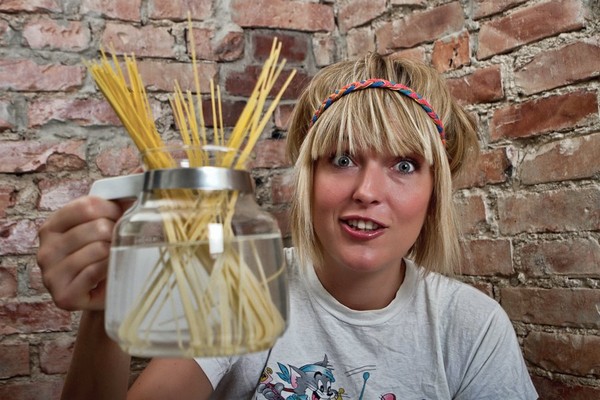 When it comes down to it, a coffeemaker is just little pot on a little stove. That's what Swedish blogger Katja Wulff figured when she launched Kaffekokarkokboken, or in English, Coffee Machine Cuisine. Their word sounds better, though, right Swedish Chef? Oh right, he's actually Norwegian.
All the recipes on her blog, now a book, can be made using your standard coffeemaker. The filter chamber performs tasks like dissolving boullion cubes before adding it to the pot. Frying bacon for cauliflower soup is as easy as removing the pot from the heating element and tossing it on the bare surface. What's it going to do, stick? It's bacon! (And coffeemakers are washable).
Although some of the dishes can take a while, after all, it's not even a true hot pot, this is the kind of thinking that gets you a blog-to-book. Plus, her cat is in it — Wulff actually tried to make the cat a coffee maker birthday cake, but "will never do it again because the smell was horrible and I almost threw up a couple of times."
In an interview with The Atlantic, Wulff says she's used the same basic model for five years, so don't worry about screwing yours up. Or the hotel's, if you get really bored on your next business trip.
More blogs we love on Food Republic: