TAO Group's Ralph Scamardella Visited Asia For Menu Inspiration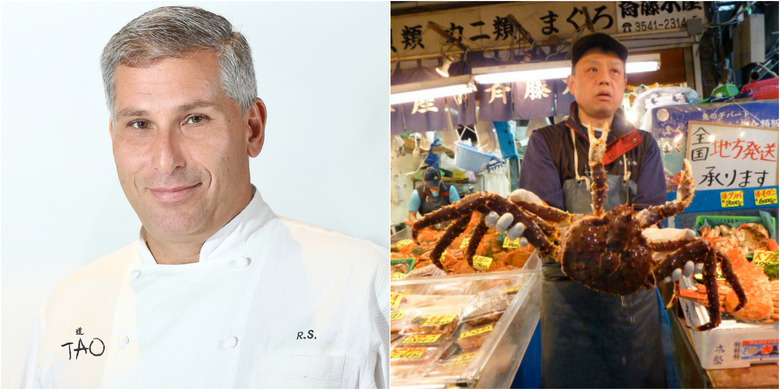 Chefs love to travel — for inspiration, to experience the cuisines of other cultures or just to get away from the heat of their own kitchens. When they return, we hit them with some questions — where'd they stay, what'd they do and WHAT DID THEY EAT?!
Ever wonder which U.S. restaurant is the most successful from a financial point of view? Look no further than TAO Las Vegas, which holds the distinction of being both the highest grossing and most profitable restaurant in the country, according to numerous reports. A few spots behind TAO on this list is Lavo Italian Restaurant. In addition to sharing a location on Las Vegas's famed strip, the two establishments also share the same corporate executive chef, Ralph Scamardella.
As Corporate Executive Chef and Partner of TAO Group, Scamardella oversees the kitchens at all of the company's restaurants in Las Vegas and New York. He's quite the busy man, especially considering the group's recent NYC openings of TAO Downtown, steakhouse Arlington Club and Mexican hotspot Bodega Negra. Though it would appear that Scamardella has mastered the art of success in the industry, he's constantly looking to make improvements to his impressive collection of restaurants. The chef checked in with us following a recent three-week research trip to Asia.
Where are you just back from?
I am just back from Tokyo, Shanghai, Hong Kong, Kuala Lumpur and Singapore.
Was it business or pleasure?
Business.
What was the highlight of your trip?
Singapore. The food and the people were amazing, and the city had so much variety – it was a seamless blend of different cultures.
Lowlight?
Waiting in all those airports!
Where'd you stay and what's your mini-review of the place?
I stayed at The Hilton in Shanghai – the hotel had an old-world feel but encompassed modern amenities and great food. In such a bustling city, it was an oasis.
What was your best meal on the trip?
I loved Tokyo. Some of my favorite places included Sushi SAWADA and Ginza. 

What from your trip, if anything, will you incorporate your restaurants?
We've incorporated lots of different dishes and techniques. One in particular is the Crispy Snapper in the Sand, which is something we saw during a great dinner in Hong Kong. We were having a great time and the dish came out, but the chef wouldn't budge on the recipe. Eventually, I bought the entire kitchen a beer and they finally let me videotape how the dish was made.
Another dish that is truly special to me are Shanghai dumplings. I learned the technique for making them during my trip as well. You seal the dumplings on one side and then add slurry to seal the bottom of them in the pan, forming a thin, crispy layer that attaches the gyoza. It's a fun dish to watch people eat because the crisp hides the dumplings underneath and you have to pull it apart to reveal the gyoza on the plate!
Where do you want to travel to next, and why?
I really want to go to Peru. The food scene is incredible – there is so much to see and taste.
Read more Just Back From columns on Food Republic: