How Gregory Marchand Got The French Bistro Out Of A Steak Au Poivre Rut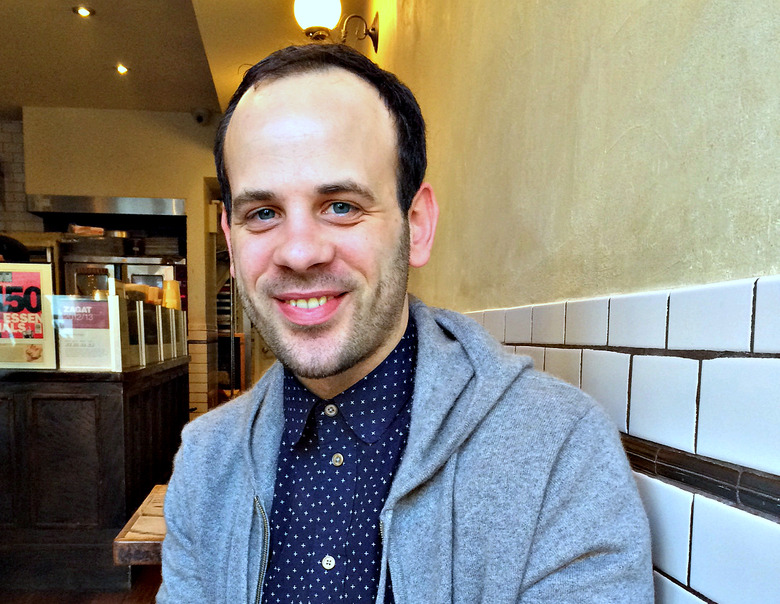 We may receive a commission on purchases made from links.
"We were doing some Pappy's," says French chef Gregory Marchand, laughing, as we settle in at a West Village café on a recent January morning. He's apologized profusely for being a half hour late, which was preceded by a broken alarm clock (preceded earlier by a night out with old NYC cooking friend Nick Anderer, the chef at Maialino). From Anderer's restaurant the crew hit NoMad and bourbon mecca Maysville for a bit of brown. We've met Marchand on the morning he's set to leave New York, where he is visiting for a few days to advance the cookbook/tribute his written for his insanely popular Paris bistro, Frenchie. He has to meet with his publisher then catch a plane in time to make weekend service. So the guy is making the most of his trip.
For the past five years, Frenchie has attracted Parisians to its tiny dining room in the old garment district, Sentier, with a market-driven tasting menu — of course, nothing new to Parisians — that struck a nerve with the city's legendarily testy diners. How? By weaving together international flavors with invention, irreverence and layers of flavors. Scanning an early April tasting menu there is lamb shoulder with feta and green mango (!!) and duck with orange-infused celeriac, star anise and candied kumquats — a very Southeast Asian take on duck à l'orange. As we noted when we tried it during a guest lunch at Gramery Tavern, it's duck à l'orange for the year 2014. Since opening Frenchie, Marchand has expanded with a wine bar (Bar à Vins) and Jewish-style deli (Frenchie to Go), modeled after the great pastrami slicers of New York City (where Marchand spent time working for Danny Meyer). As the cappuccino starts to work its magic, we talk a bit about his cooking philosophy and the best damn mustard nobody knows about.
In your book, Frenchie: New Bistro Cooking, you talk a lot about contrast. What does that mean, cooking with contrast in mind?
It's all about being exciting. You've got to have acidity, sweetness, smoothness, some crunch. When we do food at Frenchie, we keep all of this in mind.
When I read the recipes in the book, I also see layers. Vin jaune sauce working with walnut pesto and fried pollock. Smoked trout with avocado and pickled cucumbers. It's like Photoshop.
Exactly. Take the chutneys for example. It's something that I am really excited about. You have sweet and acidic, and you can add some pickled mustard seeds for a little crunch. We do a recipe with chutney and burata and black pudding. Black, white, creamy, acid, betel leaves. We use betal leaves in the steak salad too. Note: Also see his roasted carrot, orange and avocado salad recipe, which is pretty wonderful.
There's also lot Asian inspiration in the book as well, like incorporating lemongrass in a chicken stock. That is cool. Have you travelled much through Asia?
I was in London for a long time, eight years, and spent a lot of time in New York. But, there you go, these are two of the most cosmopolitan cities around. I saw the world here. It was a great inspiration. There is a recipe in the book, lamb with mint chutney, and I was inspired by this stage I was working with from India. Mint and lamb is a British classic.
In the book the cooking is described as "New Wave French Cuisine" — is this your term?
Yeah, because there is not a day the French chef doesn't travel. And this is of course in contrast to the time when everybody traveled to France to cook. But the culinary world is now globalized. The Frenchman goes to New York to learn how to cook Indian. So there you go.
The book is very vegetable-focused too. I'd even say this was almost a pescetarian book. Is that fair?
This is how we cook and how we eat. Less protein, and when you use protein use good protein. If you cooked every day with good meat, there wouldn't be enough to go around. I guess that reflects the way that I eat. There's always a quick salad, something that can take ten minutes to make. With the cooking at Frenchie, meat is used more as a layer.
You also run what you describe as a Jewish-style New York deli, with pastrami and homemade hot dogs. I must know, and this is a very serious question, how do the French negotiate the topic of mustard on a hot dog?
I use Savora. Do you know Savora?
I don't think so.
This is going to change your life. It's a sweet mustard with like 20 different spices.
So you are putting sweet mustard on your pastrami? You know New York has its style.
Try Savora. You should write an article about this.
Do you see yourself expanding Frenchie to the United States?
No, I don't think so. I had the opportunity to open all of my businesses on one street in Paris. It's 72 meters long in the old garment district. And since we opened five years ago the restaurants have become the sort of epicenter of the old neighborhood. So you can't really replicate that anywhere else.
Read more FR Interview on Food Republic: