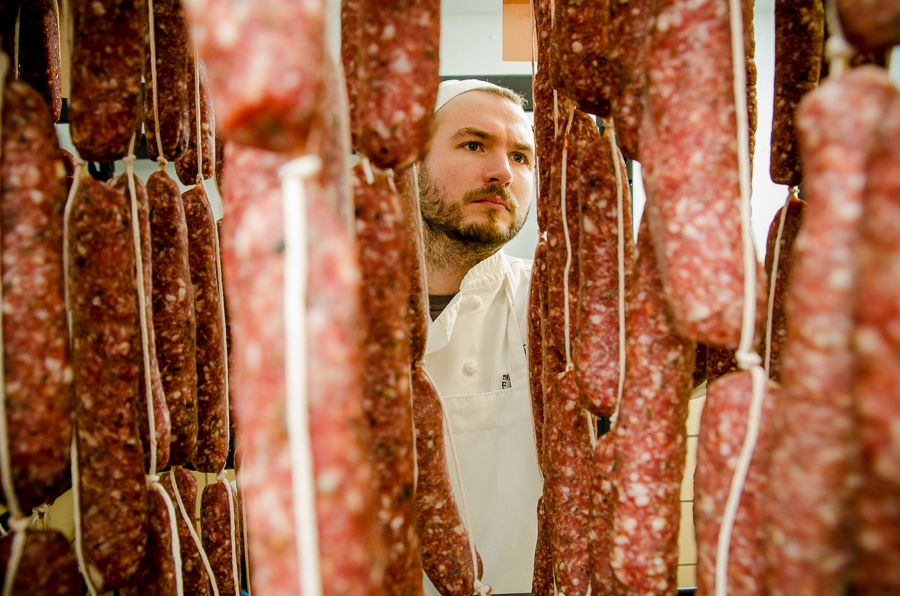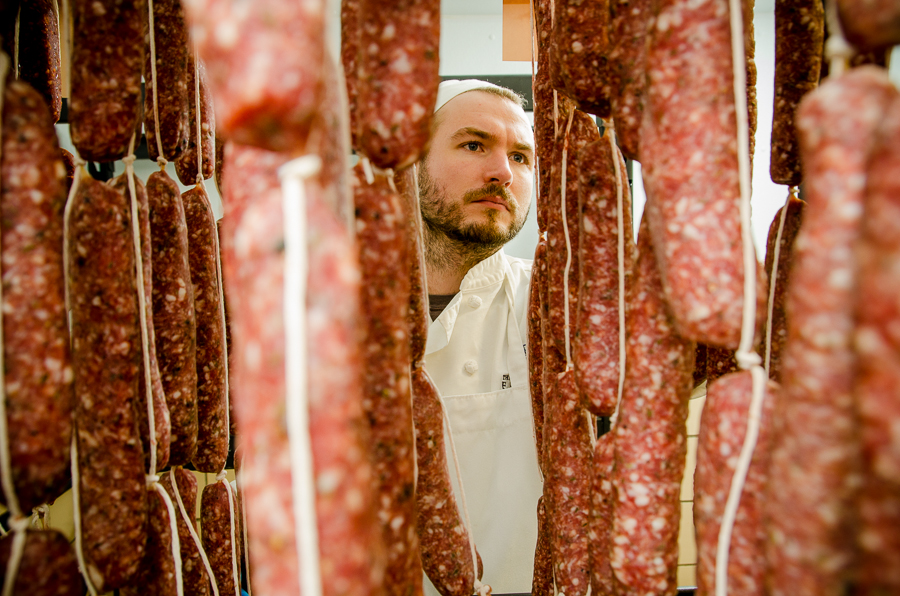 It's happened with cheese, beer, grass-fed beef, so why not charcuterie? Small, artisanal producers are popping up in pockets from coast to coast, creating locally made foods and drinks for an eager audience of evolved eaters and drinkers. Jack Peele, a former NYC culinary student, noticed that the nearby Hudson Valley, where his family just happens to have a farm, was lacking a homegrown charutier, so he stepped up and created Jacüterie.
On a recent cold winter's day, I drive to Peele's family's Herondale Farm in Ancramdale, New York, about two hours north of Manhattan, and meet with him in the modest facilities that now house Jacüterie. Sitting in a clinical-feeling room, with a sausage grinder and a few refrigerators around us, Peele tells me about the genesis of his ambitious new company, which already produces a variety of more than a dozen sausages, dried sausages and bacons.
"My wife and I were thinking about getting out of the city, getting involved with the farm," he says, referring to Herondale, which his parents started 10 years ago, and which produces beef, pork, chicken and lamb. "I'd just gotten interested in the curing of meats because we have a lot on the farm. I started thinking about preserving it and making shelf-stable meat products."
Like a growing number of city dwellers looking for a way out, Peele seized the opportunity, taught himself the art of charcuterie through books and with a quickie class at his former school the French Culinary Institute and moved to the country. "I just went for it," he says.
First, he launched a successful Indiegogo campaign, which gave him the funds needed to buy the equipment necessary to produce cured meats: a grinder, a mixer, a sausage stuffer. He created the name by accident, he says, and friends told him to run with it, but the artful labels on each package of Jacüterie project are by design. The different styles of charcuterie and sausage are represented with a pig logo based on a "really old painting of a pig that I thought was cool," he says. "I took the painting and made a woodblock stamp out of it."
Then, in a creative branding stroke, he filled the outline of each pig with a flag corresponding to the style of charcuterie or bacon — saucisson sec gets a French flag; chorizo gets Spain's. The inspiration was that he and his wife were both raised in international schools (Peele says his father was in finance before he took up a life of farming), and since he was working with Old World recipes at first, he wanted to peg each product to its country of origin. "It's locally made but it's all old style foods that have been around for hundreds or thousands of years in Europe, so I thought that was a way to bring it back in."
A catchy name and cool branding can actually get a small-batch, artisanal producer pretty far these days, but Peele's Jacüterie products are getting popular here in the early stages. He's been selling bacon, sausage and charcuterie products for about a year at Herondale's farm store and at farmer's markets in the Hudson Valley — I spotted some of the dried sausages this past weekend at a market in Hudson, New York. The response has merited him doubling production twice, and it's allowed him to experiment with new styles and spices.
The reasons why there aren't more small-batch charcuterie producers are all too clear to Peele, who has to answer to regulatory agencies at the county and state levels. Still, his growing operation has given him the confidence to go for USDA approval, meaning that Jacüterie could soon be available in all 50 states. (In the meantime, the company's website offers a Salami Club with pickup points in Brooklyn, including two CrossFit boxes.)
Peele notes that "there is some really good artisanal charcuterie happening everywhere in the country — Portland, Wisconsin, New York City. People are into it." Which is a trend he aims to continue.
"I would like it so that when people think of salami, that they think of real salami, or saucisson sec," he says. "I start thinking about it almost as an educational thing, where I want people to be aware of the roots of things and where they came from. My goal is for it to be available widely and take it from there."
More What's Your Story stories on Food Republic: