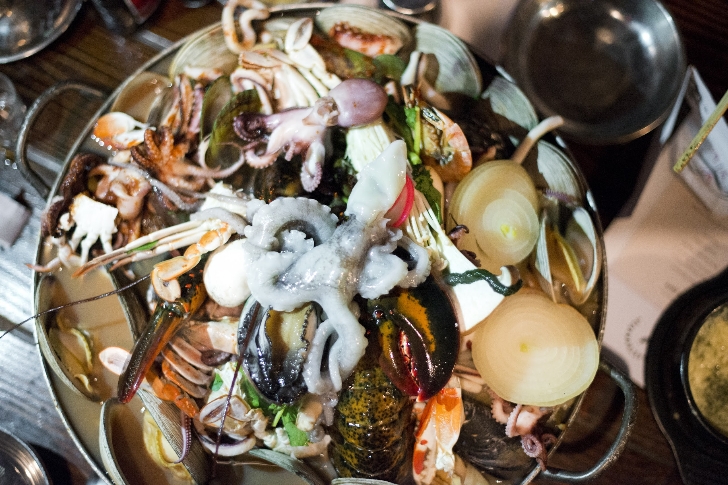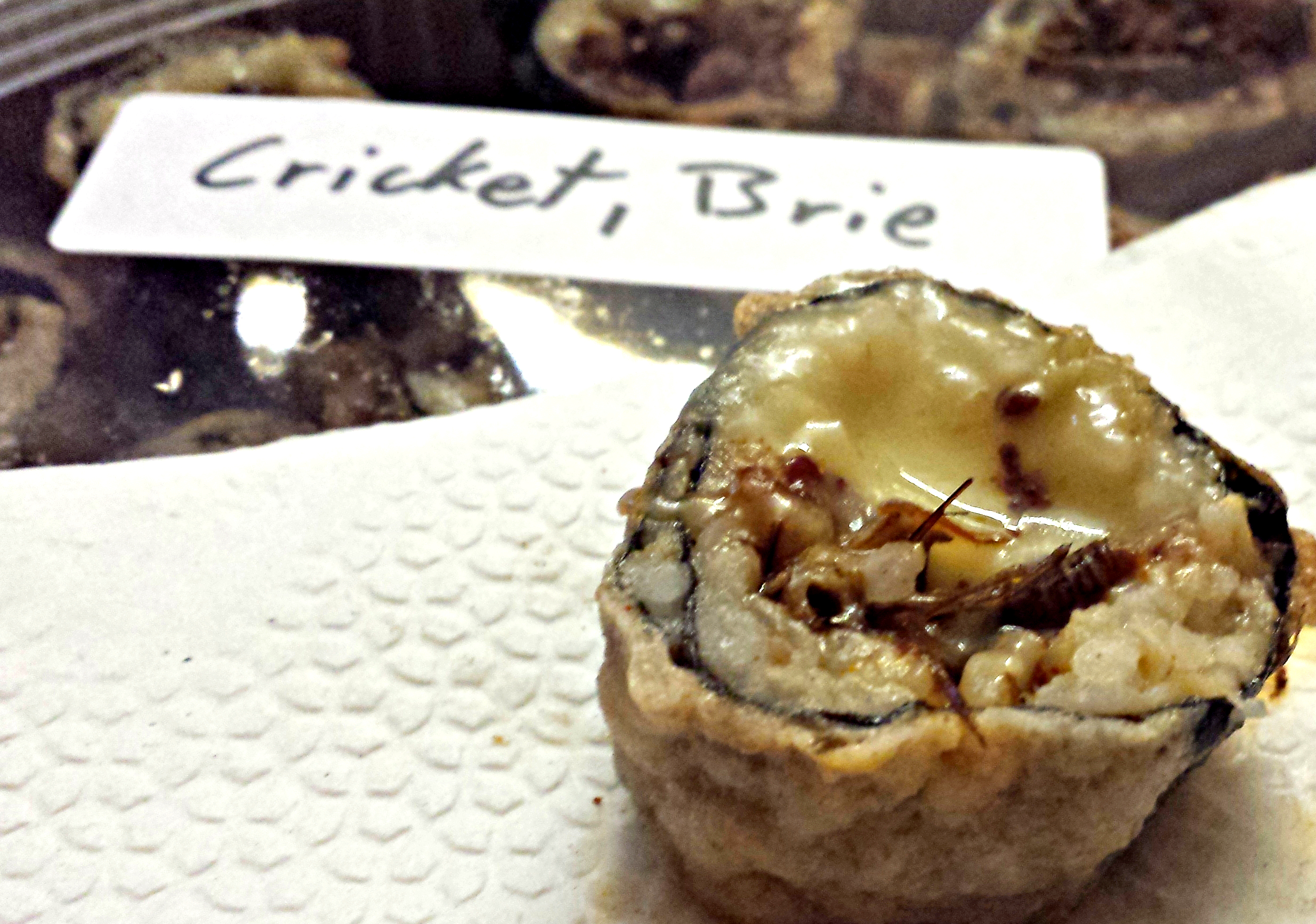 As someone who's eaten everything from guinea pig to grasshoppers, I like to think of myself as an adventurous eater. Last week, I had a chance to attend two events that even I would define as extreme.
The first was the eighth anniversary of The Gastronauts, a club for adventurous eaters started by Ben Pauker and Curtiss Calleo. I've been involved with the club whose Latin motto "Non ut vivam edo, sed ut edam vivo" (translation: "I do not eat to live but live to eat") for a few years. I have even curated two Chinese dinners for them, one a beef penis and lamb testicle extravaganza at Uncle Zhou's in Elmhurst, and the other a full-scale invasion of Flushing's Golden Shopping Mall. 
Last Tuesday's, dinner was held at Sik Gaek, a soju-fueled Korean pocha in Woodside specializing in san nakji — live octopus and massive caldrons of seafood noodle soup wherein lobster and octopus are cooked alive along with clams, shrimp and other seafood. It's the seafood equivalent of Korean barbecue.  
With the exception of the first time I tried san nakji it's always been just a novelty, with the slippery tentacles latching on to my lip momentarily. That first time was something else entirely, though. My tiger-tattoed Korean dry cleaner Paulie Sunshine and I had dispatched two platters worth of wriggling tentacles. We were each left with the head. Paulie picked up his, chewed twice and swallowed. "OK, now your turn," he said. I popped the slippery head into my mouth and chewed. No matter how much I chewed, my teeth couldn't gain a purchase. As I continued to masticate, the ink sacs began to pop and the not unpleasant oceanic taste of octopus ink flooded my mouth. After I had been chewing for what seemed like an eternity, Paulie looked at me and said, "OK Joseph, now you go spit it out."
I've since learned that octopus head is usually used in soup. And soup was what I was most looking forward to last Tuesday, specifically that massive pot of Korean bouillabaisse. I was hoping it would clear out a malingering cold. But first, live octopus. As we waited for the san nakji, the guy next to me said his potential issue with eating live octopus wasn't squeamishness, but rather the fact that the creature is so intelligent. I can't speak to its intelligence but I've always found the octopus at Sik Gaek not quite so lively, as if the water in the tank was spiked with soju.
Still, it was fun to turn my buddy Dave on to it, and I enjoyed combining the tentacles with fresh garlic and jalapeño. The soup, along with Sik Gaek's chicken feet, were my favorite two items at the Gastronauts birthday bash. On the way out, I briefly considered grabbing a balut— the gnarly-looking but delicious Filipino delicacy — from a vendor who sets outside Krystal's in nearby Little Manila.
A day or so later I received an invite to an even more extreme dinner: Baron Ambrosia's annual small game dinner. I always describe the Baron — née Justin Fornal — to people as a cross between a pimp and matador, but way more into food and culture. The first time I saw his over-the-top Bronxnet show, I wondered if he was for real and quite honestly whether he'd be an overweening prick in real life.
The Baron as I learned at last year's dinner is very, very much for real, and it turns out is a super nice guy in real life. I also learned that he and his fellow members of the Bronx Pipe Smoking Society take their festive garb quite seriously. So this year I decided to pay more heed to the note about dress code on the invite which read: "Dress code is FORMAL. The options are black tie, traditional or warrior. If you are part of a sect, society, crew or military branch, wear your colors, sashes, badges, head dresses, medals, beads, taxidermy, bones & mojo bags proudly." I threw on a suit and tie and slicked back my hair. I completed the ensemble with a fedora, cufflinks and a marrow bone and my lucky red chopsticks in place of a pocket square. "You look like you're in the mob," a pal said upon seeing me. Damn right, the weird food-eating mob. 
Like the Gastronauts, Baron Ambrosia's society has a Latin motto too, which translates to, "Less looking, more touching. Less talking, more tasting." That's pretty much where all similarities between the two groups end, too. If the Gastronauts monthly dinners are a chance for likeminded eaters to catch up and knock back a few beers while expanding gastronomic horizons, then the Baron's annual dinner is the Explorer's Club meets Eyes Wide Shut.   
I arrived at the stately Andrew Freedman Home somewhat early on Saturday night. After signing a legal waiver that relieved the Baron of any responsibility for "illness, injury, madness, nightmares, pregnancy, possession or stomach aches," I went to check out the bar. The gigantic mansion already evokes The Shining and I half expected to find Lloyd the bartender slinging drinks. Instead I found Bun Lai of Miya's Sushi, who'd prepared several kinds of tempura fried sushi rolls using insects as well as small game such as raccoon and mink. I liked the minimalist brie and cricket and also dug the raccoon with shrimp brie and apricots. Speaking of seafood, there were also wonderfully briny Fisher's Island oysters to be had, a welcome experience since the ones I had at Sik Gaek were lackluster.
Soon it was time for hors d'ouvres in the library, including some delicious Meow Meow sliders, not made with kitty but rather fisher cat, a weasel-like critter known for preying on house cats. There was also some lovely porcupine num tok — a Thai tartare — from Joe Boonchun of Siam Square.
Soon it was time for one of New York City's most outlandish buffets, but first there were a few words from the evening's host and ringleader. "The point of the matter is this is not bizarre food, this is not unusual food. This is food that people have been eating for thousands of years," said the Baron, who is taking a break from his television work to pen a cookbook based on the dinners. "You might not like mink, you might not like squirrel, you might not like porcupine, but we're just opening up the discussion in your mind that there are other protein sources other than beef, pork and chicken."
When I told my buddy Dave I was excited to eat coyote, he said, "It smells a thousand times worse than wet dog. Good luck." Prepared in a chipotle sauce with nopales, it was as good if not better than last year's version. New to the menu this year was sous vide style otter, which was tasty if a bit tough. "It all tastes like meat to me," my tablemate Melle Mel said as he dug in. Perhaps I'd eaten too much at the cocktail hour, but I agreed with the hip hop legend.
Whoopies Miniature Dessert Co. provided sweet treats based on geophagy — yes, eating dirt. The mud pie prepared with actual mud was quite good while the chunks of white clay looked and tasted like you would expect white clay to taste. When I saw someone going in for seconds, I asked him if he had pica as a child. I guess there's no accounting for taste.
Neither Korean live octopus and seafood stew nor an entire trapper's camp worth of small game have helped me to lick this flu-cold. Tonight I'm heading out to Roosevelt Avenue to grab a balut or two. I find the creamy boiled egg and the accompanying amniotic duck soup most invigorating.
Joe DiStefano is the Founder of Chopsticks and Marrow. He offers several food tours, including one of Flushing's Chinatown, through the blog.
Check out these Weird or Good stories on Food Republic: