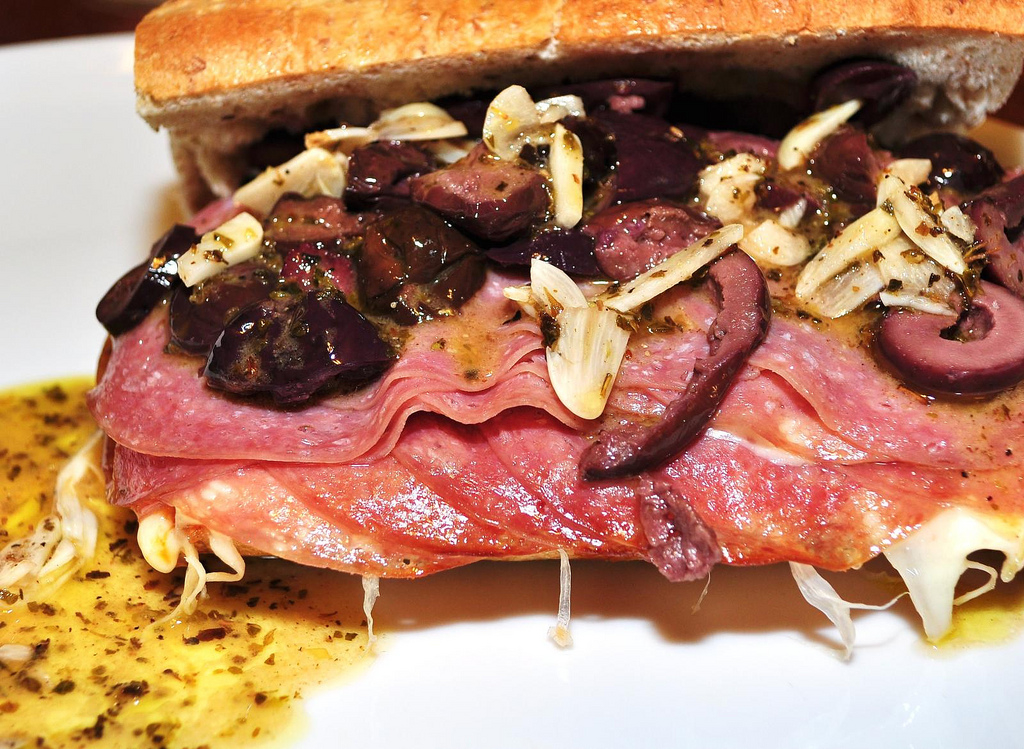 It breaks my heart to see bottles of vinaigrette in people's fridges. Note the lack of snarky quotation marks around vinaigrette. I have no snark for this topic. Vinaigrette is not that goopy, syrupy-sweet (yet tongue-curlingly) acidic sludge distributed over the spring mix on one side of your plate. That is fake-ass salad dressing. Vinaigrette is not there to make your spring mix palatable. It's the fairy godmother of the condiment world. It can grant whatever acidic wish any dish desires.
And now, a bunch of topics.
Brown butter vinaigrette
That's right, it doesn't have to be olive oil. Well, there's olive oil in this brown butter vinaigrette recipe too, but for heartier fare like a grilled cauliflower, carrot and potato salad where you might want butter anyway, now it's vinaigrette butter. If your lobster roll needs a little extra kick, this is the way to do it.
Meat vinaigrette
The fat in cured meats is just as good as butter as a vinaigrette extra. I rendered some fat from soppressata cubes, then whisked them into a dressing for a Brussels sprout salad that basically won Thanksgiving. Here's a good list of other ways to make, use it.
Fruit vinaigrette
Vinegar melts ripe fruit, this is a fact. When ripe fruit melts into vinegar, you get a condiment that's good on everything from roasted or grilled meat to fish back to more fruit. Simply mash whatever ratios of vinegar to fruit make you most comfortable with a fork, then strain and whisk with olive oil.
Jar of almost-empty whatever vinaigrette
Half a teaspoon of blackberry jam left in the drawer? Vinaigrette for spinach salad, boom. The last vestiges of mustard you couldn't scrape out with a spoon. Drizzle on boring chicken. Just pour a little vinegar and olive oil into the jar with whatever else (ground pepper and fresh herbs work nicely) shake vigorously and dispense.
Steak sauce
The whole point of steak sauce is that it's acidic — steak is rich and fatty and the tart sauce helps cut through to enhance the flavor. Consider a vinaigrette instead: peppercorn, chimichurri, red wine, Dijon mustard, fresh herb pesto…other meat.
Potato salad
You might not go back to mayo-slathered potato salad once you've tried it German-style. A light, anchovy-spiked lemon-scallion vinaigrette tossed with freshly boiled and chopped potatoes.
Noodle salad
Asian rice noodle salads take to vinaigrette like they were always meant to be together. Dipping hot or cold noodles into seasoned vinegar is a popular way to enjoy them, but rice noodles, unlike their wheat counterpart, take a while to absorb whatever they're floating or being seasoned in (provided they're not overcooked). Try making vinaigrettes with sesame oil and rice vinegar, toss in whatever else you like (peanuts, sriracha, cilantro, minced ginger and shallots are all classics) and invent your new favorite lunch recipe.
Sandwiches
One sandwich comes to mind if it's vinaigrette we're discussing: the Italian Combo. The oregano-infused red wine vinaigrette squirted liberally on the roll before loading on cold cuts provides the perfect tangy contrast to the rich cured meats and complements the lettuce, tomato and red onion. That said, experiment with variations, switching up the type of vinegar, fresh herb and "extras" until you find the sandwich vinaigrette for the finishing touch on a monster sub. That potato salad vinaigrette does a nice job, too, and depending on what kind of cheese you're using, enlist that mashed-up fruit vinaigrette for substantial flavor enhancement.
More condiments for lunch on Food Republic: