Sampling A Chocolate-Covered Onion In Philadelphia's Reading Terminal Market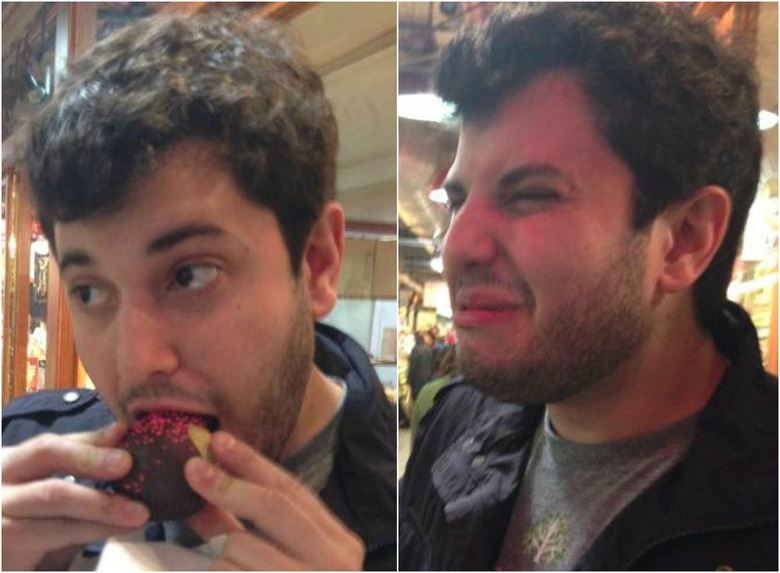 Photos: Jackson Lesser
Weekend trips to nearby cities have always been all about the food for me. There's nothing better than hopping in a car or aboard a train and finding yourself with a completely novel set of dining options in mere hours. Apart from the four pounds that these excursions routinely pack on, it's a continuously joyful weekend – one spent jumping from hot new restaurants to sampling local specialties to finding recommended holes-in-the-wall.
My travels recently took me down the turnpike to the City of Brotherly Love, for a cheesesteak tour (Sonny's > Jim's > Geno's > Campo's > Pat's, but hey, let's not go down that road right now) and a wickedly good piece of Nashville hot chicken – more to come soon on this. A planned afternoon trip to the famed Reading Terminal Market proved worthwhile, and I rewarded myself with a roast pork sandwich from DiNic's – christened "best sandwich in America" by Adam Richman – after a 45-minute wait in line. It was on that line that my attention diverted elsewhere.
While I take great pride in meticulously plotting each and every culinary stop along the way, there are always places I come across that pique my curiosity. You could say that the sign advertising chocolate-covered onions at the Chocolate by Mueller stall fell under this category. Sadly, this is not an April Fool's Day joke.
Tasting a food item without prior research eliminates the possibility for bias. Sure, I could have known that Mueller's website openly advertises the onion as "a cult favorite for tourists," and that it was originally invented as a novelty gift, with its creators quickly finding that people were "strangely willing to fork over a dollar [now $5] for the combo – even though it tasted terrible." But then I wouldn't have sampled it. In fact, I would have probably laughed at whichever poor soul decided to do so.
There's something equally innocent (from my perspective) and madly entertaining (from my friends' perspective) in watching a food writer bite a healthy chunk out of a dark chocolate-covered raw onion, thinking that the combination just might work for some odd reason. And something equally disgusting (from my perspective) and madly entertaining (from my friends' perspective) in watching my immediate reaction on video, over and over again. Let's just say that it tasted like, well, a raw onion covered in dark chocolate.
Read about what's going on in Philadelphia on Food Republic: