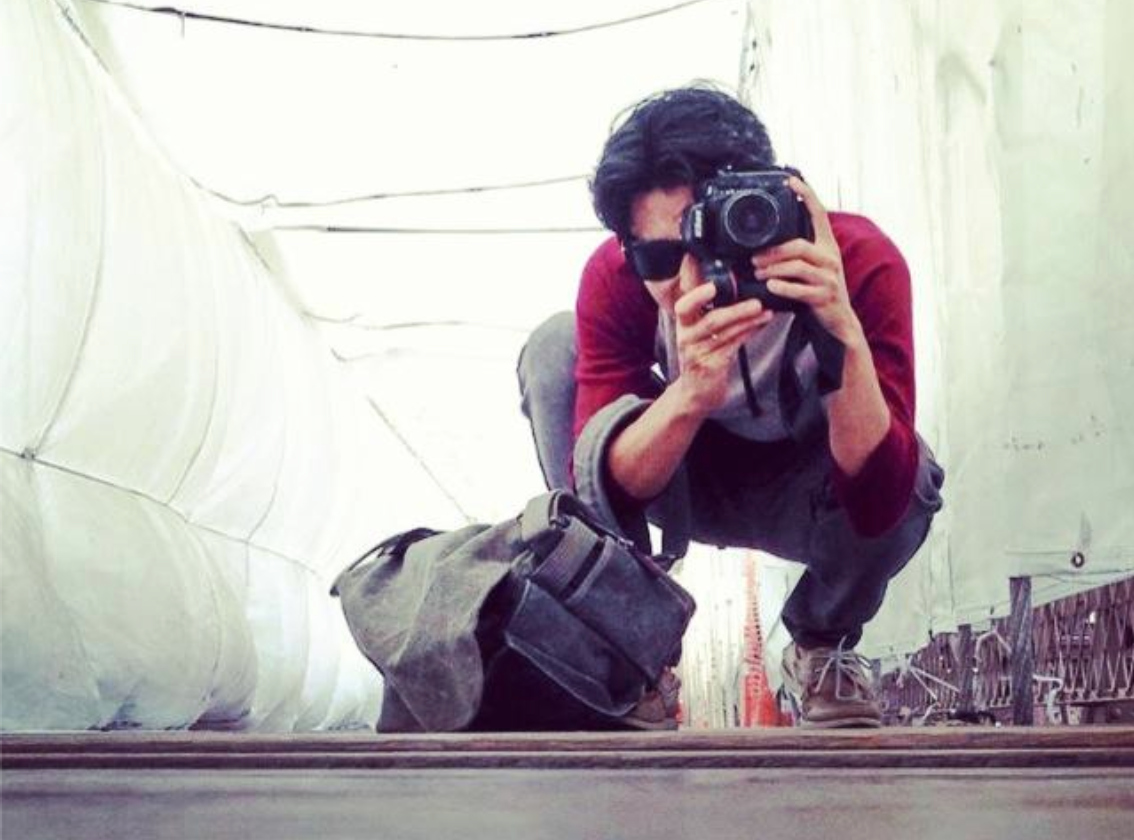 World traveling photographer and writer Bonjwing Lee doesn't consider himself a restaurant critic, as he told Eater in the interview that famously revealed his identity in 2011. But the big reveal did hit the food world as if one of the country's great critics had taken off the mustache and glasses. Lee, a seemingly normal Kansas City lawyer, shoots under the name Ulterior Epicure — which is more of a very active Flickr account backed by a modest WordPress page. But there is certainly nothing modest about the culinary circles he travels in: Kadeau, Casa Miridor, Coi, Au Cheval, Mugaritz, State Bird Provisions.
As editors, we often write down these restaruant names and less often get to enjoy the food, atmosphere and taste of wine at them. We have a desk in NYC that we have to show up to more often than not. But for Lee, he's been there. To 274 of the world's best restaurants (that's an estimate), meticulously documenting each tweezers plating, blast of the blow torch and Sound of the Sea courses at Fat Duck. Bonjwing clearly loves to travel for food, which is why we reached out for an interview during last week's tribute to fantasy food travel. Lee was, obviously, traveling. But he was cool enough to answer some of our questions.
You're in San Francisco right now, with limited time. Must be crazy difficult to prioritize. But you had to. Where did you end up eating?
That's right, I'm in San Francisco only for a short weekend before heading up to Napa to speak at the annual Professional Wine Writers Symposium at Meadowood Napa Valley. San Francisco offers a wide range of dining options, but I've found that, although San Francisco (and the greater Bay Area) offers some of the country's best restaurants at the very high end, and lots of very good ethnic restaurants at the lower end of the price spectrum, the middle tier is relatively monotonous. That's not to say that the restaurants in the middle are bad. Rather, it's a lot of the same thing — if it's not Californo-Italian, then the food at the middle tier in San Francisco is the sort of nondescript new American cookery that you can now find in most major cities.
I'm currently working on a cookbook with Joshua Skenes, chef of Saison, so I had dinner there. Call me biased, but I think Skenes is creating some of the most exciting food in the U.S. right now. There's really nothing else like it.
Bar Tartine in the city's Mission District is on my short list of go-to restaurants in San Francisco. I love chefs Cortney Burns's and Nicolaus Balla's hearty, flavorful style of cooking. And the bread here is fantastic. I had brunch here with a friend on this visit — the avocado toast with fluffy scrambled eggs was a highlight.
I spent the balance of my short trip in San Francisco exploring Asian restaurants. I had dinner at Hamano Sushi in the city's Noe Valley neighborhood. You'll want to sit at the counter and ask for chef Jiro. He served us octopus with jellyfish, and a wonderful bowl of natto (fermented soy beans) mixed with sashimi and okra. Chef Jiro's fish — sushi and sashimi — is also quite good here. I had dim sum with friends at City View in Chinatown (go early, the lines get long). Their dan ta (egg custard tartlets) were especially good. And, in the Tenderloin District, I went to Hai Ky Mi Gia, a Teochew noodle shop, for a steaming bowl of egg noodles (you can choose to add a variety of meats and seafood). The Vietnamese coffee here is dark and sweet, a perfect after-lunch pick-me-up.
In 2013, what were some of your travel highlights?
Last year, I traveled to about a half-dozen countries on three continents and over a dozen U.S. states. Chile, which I visited twice, was definitely a highlight. The country has every climate known to man except tropical rainforest. I visited a number of Chile's regions, including the arid and hot Elqui Valley of the Atacama Desert in the north, the lush wine valleys of the country's central region, and the untouched and dynamic landscape of Patagonia in the south. From top to bottom, Chile is unspeakably beautiful, and the economy there is booming. It's an exciting time to be in Chile.
I fell in love with Copenhagen all over again last year. I had visited as an adolescent, and really admired their Scandinavian sense of style, ergonomics and pragmatism. Two decades later, I still love that aspect of Danish culture. Now, Copenhagen is also home to an impressive roster of chefs and restaurants. The two days that I spent eating in Copenhagen last year included some of the best meals I had in 2013: Noma, Relae, Kadeau and Geranium.
I was invited to speak at the Devour! Food Film Festival in Nova Scotia in November of last year. I really enjoyed getting to spend some time on that peaceful island, visiting the beautiful wine country of the Gaspereau Valley, and exploring the quaint little town of Wolfville.
Also, I've had the great fortune of ending the last two years at Meadowood Napa Valley attending the Twelve Days of Christmas. This past year, I was hired by The Restaurant at Meadowood to photograph the entire dinner series. The Twelve Days of Christmas is a spectacular event that gathers some of the world's best chefs and Napa's greatest vintners in one of America's most beautiful and unique settings. How can spending the month of December in Napa not be a highlight?
Was there a city you visit that really surprised you in terms of the food?
Austin's culinary scene was surprisingly disappointing. I had heard so many positive things about the city's food scene. While I had a couple of good meals — Black' BBQ in nearby Lockhart, and Qui in Austin — the majority of what I had in Austin was mediocre, if not bad. Austin's restaurant scene is shockingly vibrant for a city of its size, but I found the overall quality of the cooking to be rather poor, focused more on trend.
In 2014, where do you plan to go?
In the next two months I will be in France, Belgium, Norway and Japan. I'm especially excited about Japan, which has been sitting atop my bucket list for far too long. I'll be there for two weeks, and I'm hoping to make it out of Tokyo for quick trips to Osaka and Kyoto for the sakura (cherry blossom). In the United States, I foresee quite a few trips to San Francisco and New York this year, as well as Chicago. I'm long overdue for a visit to both Portland, Oregon and Boston, which are the only major American cities that I haven't visited for eating (it's been a decade and a half since I've been to both cities). And there are only two U.S. states that I haven't visited — Alaska and Maine. I'd love to visit them both this year as well.
In your lifetime, where do you want to go? Yes, this is the bucket list question.
I just finished reading Robert K. Massie's biography of Catherine the Great. Massie's writing is terrific and his portrayal of the empress is riveting (he won the Pulitzer for his biography of Peter the Great, which I'm now reading). Catherine the Great's life was epic, so breathtaking in scope and circumstance that I was utterly devastated when the book ended. Now that Japan is getting crossed off my bucket list next month, Russia moves up to the top. I want to go to St. Petersburg and see the Hermitage and the vast collection of art it houses. I want to see the Peterhof, and the famous amber room at Catherine's favorite palace at Tsarskoye Selo. I want to see St. Basil's and the Kremlin in Moscow. I want to go to Russia. Following closely behind are Israel, New Zealand, Australia and Antarctica. I've never been to sub-Saharan Africa, and would love to climb Kilimanjaro, and see the Cape of Good Hope at that continent's southern tip. And in Asia, I'd want to visit Bhutan, Cambodia, Thailand, Korea, Mongolia and Vietnam.
List five essential items you pack when traveling to shoot.
I'm a pretty low-tech photographer. I only carry a camera (currently shooting with the Nikon D800) and two or three lenses and a couple of extra batteries (I don't even pack a flash). In addition to this basic photography equipment, I always pack:
1. My running shoes.
2. My swim trunks and goggles.
3. My e-reader (Currently, I'm reading Norwegian novelist Knut Hamsun's Hunger. Next week, I'm eating at Ylajali, a restaurant in Oslo named after the fictional character in Hamsun's Hunger, who allegedly lived at the restaurant's address.
4. A compact tripod.
5. Headphones (I have simple earbuds for running, and my beloved Bowers & Wilkins P5s for everything else.)
Why do you think people are traveling more than ever for food-related adventures these days?
This is an exciting time in our world's culinary history. We've finally arrived at a point and place where we, collectively as a human race, have the ability to understand and appreciate food as a cultural phenomenon, and not just as a commodity of sustenance. For ages, people have traveled the world to see the world's great wonders, both natural and man-made, great works of art, and other markers of cultural significance. Finally, food has attained that status. And it is wonderful. Food has become a universal language by which we can understand and appreciate other cultures and our collective past, present, and future. Up until a century ago, the vast majority of the world's population never got to experience foods outside of their own culture. I can't imagine that kind of limitation. That is why I, and I think an increasing amount of people today, take advantage of the ability to travel to eat.
Read more interviews on Food Republic: