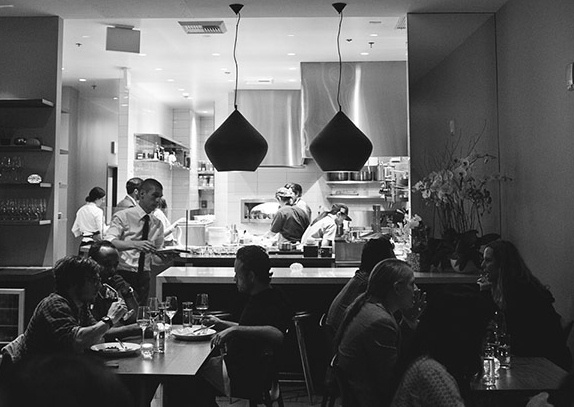 The last four months have been a boom time for the Los Angeles dining scene. The culinary wealth extends from LAX to downtown and hits appear at all price points, from  breakfast sandwiches to a "super omakase" at an exclusive chef's counter. We've done our homework. As in, eaten some serious meals. And with that here are 11 of the most promising openings from the past four months in L.A. County.
Orsa & Winston
Chef Josef Centeno, a well-known grinder who seems most comfortable in the kitchen, steps into the spotlight at Orsa & Winston, which features a refined combination of Italian and Japanese cuisines and a more open design that keeps the main man front and center. The menu changes daily and gets as ambitious as diners will allow, from a four-course family-style menu that costs $50 per person to seats to a "super omakase" meal at the chef's counter. The menu is highly seasonal, but you might catch dishes like koshihikari rice with uni and Pecorino cream or pork loin with chicken liver mousse and huckleberries. Centeno already captured the attention of Angelenos with Bäco Mercat and Bar Amá in the Old Bank District, and Orsa & Winston is likely to keep it. 122 West 4th Street, Downtown, 213-687-0300, orsandwinston.com
The Factory Kitchen
This concrete and steel showpiece in the downtown L.A. Arts District features flashes of color from reclaimed wood tables and fire red chairs. Matteo Ferdinandi is running the front of the house while longtime Valentino chef Angelo Auriana is at the stove at this Italian-to-the-core restaurant. House-made pastas have been early hits, including marjoram-speckled corzetti stampati with veal and tomato sauce. Really though, plenty of people would visit just for the focaccia calda di recco al formaggio, thin focaccia stuffed with crescenza cheese and dressed with arugula and Ligurian olive oil. 1300 Factory Place, Downtown, 213-996-6000, thefactorykitchen.com
Egg Slut
Chef Alvin Cailin and co-owner Jeff Vales generated plenty of interest by serving refined egg dishes from a truck. Now they're running an open-air counter in downtown's increasingly epic Grand Central Market. Sure, they're still serving breakfast options like coddled eggs with bacon-braised cannellini beans and crostini. Also, The Fairfax — a sandwich with scrambled eggs, onions, cheddar and Sriracha mayo on house-baked brioche. But the duo's also added steak and eggs served with crispy potato pave; egg salad tossed with honey mustard aioli and served with arugula on Texas toast. There's even talk of a burger with coffee bacon jam…of course topped with a fried egg. Wonder if Burger Coffee Bacon Slut is going too far? 317 Broadway, Downtown, eggslut.com
L.A. Chapter
Sadly, Ace Hotel founder Alex Calderwood didn't live to see the opening of L.A.'s Ace Hotel, which has inspired triumphant praise since reviving the United Artists building on the south end of downtown's historic Broadway Theater District. On the ground floor, chef Ken Addington and business partner Jud Mongell of Brooklyn's Five Leaves have opened L.A. Chapter, a two-tiered restaurant that features checkerboard tile floors, copper tables and serves three seasonal meals daily. Yes, they've imported the Five Leaves Burger, which hosts grilled pineapple, pickled betters, egg, harissa mayo and Lindy & Grundy beef. 929 South Broadway, 213-623-3233, acehotel.com/losangeles
LAX Tom Bradley International Terminal
A long LAX layover is no longer dreaded thanks to the influx of new dining options at the retooled Tom Bradley International Terminal. The multi-tiered deck in the Villaraigosa Pavilion food court, named for L.A.'s previous mayor, now houses chef-driven restaurants like Border Grill (modern Mexican from Mary Susan Milliken and Susan Feniger), Larder at Tavern (seasonal sandwiches and salads from Suzanne Goin and Caroline Styne), and ink.sack (Michael Voltaggio's reimagined sandwiches). Fast casual options include 800 Degrees (wood-fired pizza) and Umami Burger. Petrossian's caviar emporium adds a luxe touch, and Vanilla Bake Shop delivers a sweet finish. lawa.org
Din Tai Fung
Persuasive developer Rick Caruso convinced Frank Yang to expand his family's Taipei legacy at The Americana at Brand, a 15 1/2 acre mixed-used development in downtown Glendale. Din Tai Fung already dominates the doughy San Gabriel Valley arms race with weekend-only soup dumplings, pan-fried rice cakes, airy steamed buns and more. So it was good news when this location opened closer to downtown. In Glendale, Yang's upped Din Tai Fung's game with juicy pork dumplings studded with shaved Italian truffles, potstickers and a full bar. Poon Design has also cranked up the ambiance, including towering wooden doors, overhead wood slats, jumbo box chandeliers and an exhibition kitchen fronted by rings that resemble dumpling steamers. Thankfully, DTF kept playful touches like a cartoon dumpling character, which greets diners at the reception desk. 177 Caruso Avenue, Glendale, 818-551-5561, dintaifungusa.com
République
Classically trained powerhouse Walter Manzke and talented chef/wife Margarita joined forces with restaurateur Bill Chait to replace famed Campanile with a multi-faceted restaurant and bakery. The airy space features a counter up front, which hosts pastries by day and oysters by night. High-top tables and detailed tile work give way to an open kitchen, communal tables and high ceilings. In terms of the menu, the well-traveled couple's culinary offerings are by no means limited to France. République is already one of the best L.A. places to find morning pastries, seasonal salads, oak-cooked meats and inventive dishes like ramekins of escargots with puff pastry and garlic butter; or beignets with porcini mushrooms and Parmesan. Margarita Manzke's desserts include stupendous panna cottas, tarts and bombolini. A seasonal bar program from Erik Lund and a varied wine list from beverage director Taylor Parsons rounds it all out. 624 S. La Brea Avenue, Los Angeles, 310-362-6115, republiquela.com
Mud Hen Tavern
Susan Feniger of Top Chef Masters, Food Network and Border Grill fame, joined chef/partner Kajsa Alger in flipping STREET into an everyday neighborhood hangout. The space now features an inviting patio, a more welcoming bar with high-top tables, comfortable booths, craft beer and cocktails. The menu still embraces global influences, including multi-textured tuna ceviche, and Greek-inspired lamb meatballs anchored in tangy tzatziki, though Mud Hen does feature a Cheeseburger with Lindy & Grundy grass-fed beef. After all, the name evokes Feniger's childhood in Toledo, home of the Mud Hens minor league baseball team, so some things are all-American comfort. 742 North Highland Avenue, Hollywood, 323-203-0500, mudhentavern.com
Scopa Italian Roots
A culinary wave is washing over the Westside, starting with Venice, and now extending to Marina del Rey. One chef riding the crest is Antonia Lofaso, who teamed with Black Market partners Mario Guddemi and Salvatore Aurora and bartenders Steve Livigni and Pablo Moix on Scopa, who draw on the chef's Italian roots. The glass-fronted space features brick walls, communal wood tables, and a backlit bar. Of course the bar is clearly visible, since Livigni/Moix are one of the most accomplished bartending duos on the West Coast. Lofaso's sprawling menu can get pretty inspired at places, whether it's a stuffed shells flavor bombed with duck sausage, ricotta and tomato sauce. There's also rigatoni with oxtail and bitter dandelion greens, as well as a seared T-Bone served with salsa verde. For dessert, request Livigni's favorite Amaretto, which drinks like a liquid cookie. 2905 West Washington Boulevard, Marina del Rey, 310-821-1100, scopaitalianroots.com
East Borough
Chloe Tran & John Cao have opened an upgraded "Fraîche Vietnamese" restaurant in Culver City with restaurateur Paul Hibler and chef Jason Neroni, partners in the American Gonzo Food Corporation culinary incubator. This builds on the success of Tran and Cao's more casual and small Camp in Costa Mesa. Sandwiches and salads are featured at lunch, and more ambitious fare is available at dinner, including head-on blue shrimp with tart pomelo in a funky crab paste butter bath. Neroni, also the chef at Venice's Superba Snack Bar, has finally brought phocatini to Los Angeles, al dente pasta dotted with fresh herbs, oxtail, hoisin, sambal and onion. A large format pork shank slow cooked with Vietnamese spices and served with Sriracha, butter lettuce and sliced pickles for wrapping. For dessert, think bittersweet Vietnamese coffee…budino. Tran, a longtime designer, built the space with floral custom tile flooring and communal tables. 9810 Washington Boulevard, Culver City, 310-596-8266, east-borough.com
Warren's Blackboard
Until chef Warren Schwartz opens The Frontyard this spring in North Hollywood's Beverly Garland Hotel, the accomplished chef (Saddle Peak Lodge, Westside Tavern) is operating a sort of food & drink workshop complete with blackboard menu at night. Popular early selections include popovers, based on grandma's recipe, sliced open and layered with mushrooms, bacon and pencil-thin asparagus spears; a bone-in braised lamb shank with orange gremolata and house-made pappardelle. White Boy Fried Rice is stir-fried with Spam, broccoli, egg and sambal, just like Schwartz makes for family at home. 4222 Vineland Avenue, North Hollywood, 818-255-7290, warrensblackboard.com
Joshua Lurie is the L.A. based founder of Food GPS.
Check out these Los Angeles stories on Food Republic: