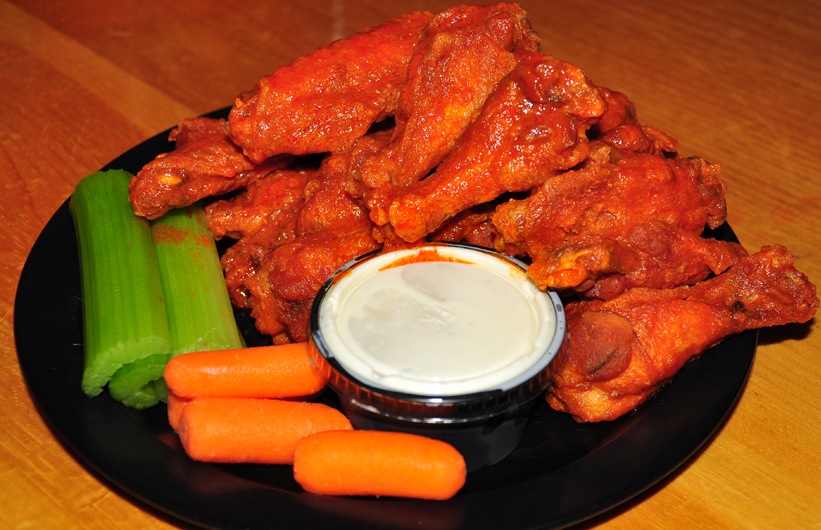 Would you rather go to a Super Bowl party thrown by a sorry, mediocre host or by THE BEST HOST IN THE LEAGUE?! (Obligatory Richard Sherman reference. Boom.) We all know that the food spread is second to none in terms of game day importance, right ahead of the commercials and betting on the coin toss and length of the national anthem. Meanwhile, the big game itself takes a back seat to it all. But where to watch, and what to eat?
Related: Super Bowl Party Food: 5 Ways To Mail-Order Yourself Some Bragging Rights
When it comes to mapping out your Super Bowl plans, the options are seemingly endless. Host friends at home? Head to a bar? Brave an outdoor tailgate party? That's where we come in. We've researched the best food options for this year's Super Bowl in New York City and divided them into three categories – hosting at home, watching at a bar or restaurant and splurging at events. Whether you want to kick back and eat an endless amount of wings on your couch, stuff your face at a local watering hole or rub elbows with big name chefs on Super Bowl Sunday, we've got you covered. Here are the best catering deals (available either for local pick-up or delivery), comprising Part I of our guide. Check back Wednesday for Part II, featuring NYC bar and restaurant viewing parties and star-studded events.
BACK FORTY
Chicken Bucket
18 pieces of chicken, one quart slaw, six biscuits. $60
House-Made Green Chili
Two quarts hatch green chili, sour cream, shredded onion, cabot clothbound cheddar, two park house loaves. $50
Available for pick-up, 190 Avenue B, 212-388-1990, backfortynyc.com
BLUE RIBBON FRIED CHICKEN
The Tailgater
24 wings, fries, coleslaw. $45
Available for pick-up, 28 East First Street, 212-228-0404, blueribbonfriedchicken.com
5 NAPKIN BURGER
"Touchdown" Platter (Serves 10)
Two mixed slider platters, two wings platters, one guacamole and chips. $199
Available for pick-up at all three NYC locations, 5napkinburger.com
FLETCHER'S BROOKLYN BARBECUE
10-Person Super Bowl Party Package
Smoked wings, St. Louis ribs, house-made queso dip, tortilla chips, chopped brisket, pit-smoked baked beans, house-made pickles. $280
Available for pick-up or delivery, 433 3rd Avenue, Brooklyn, 347-763-2680, fletchersbklyn.com
FOODYDIRECT
Memphis BBQ Tailgater (Serves 16-20)
Central BBQ loin back ribs, pulled pork, BBQ sauce, dry rub. $180
100-Count Duff's Famous Wings
Grade-A flats and drums, buffalo and BBQ sauce, celery, baby carrots, blue cheese dipping sauce. $150
Available for delivery, foodydirect.com
HILL COUNTRY BARBECUE
100-Count Chili Rub Wings
Smoked, sweet chili rub, served with ranch dressing. $90
The Pitmaster
1/4-pound lean brisket, one pork spare rib, one hot link, 1/4 chicken, two sides. $27
Available for pick-up or delivery, 30 West 26th Street, 212-255-4544, hillcountryny.com
MARTHA
8-10 Person Super Bowl Party Package
General Tso glazed fried chicken, ginger glazed Berkshire pork ribs, fried Brussels sprouts, steamed Chinese broccoli, sweet brioche buns, honey-miso custard pie, Narragansett tall boys six-pack. $350
Available for pick-up, 184 DeKalb Avenue, 718-596-4147, marthabrooklyn.com
MISS LILY'S
Special Super Bowl Menu
Jerk wings, pork ribs, mini patties, meat and veggie skewers. Prices vary
Available for pick-up, 132 West Houston Street, 646-588-5375, misslilysnyc.com
NUM PANG
Super Pang 3-Foot Sub (Feeds 10-12)
Choose sandwich flavor, served with Spicy Cambodian Slaw. $125
Available for pick-up, 1129 Broadway, 212-647-8889, numpangnyc.com
ROSA MEXICANO
"Super Bowl" Of Guacamole For 10
Made-to-order guacamole, fresh corn tortillas, homemade tortilla chips. $50
Available for delivery at all three NYC locations, rosamexicano.com
TAQUITORIA
Buffalo Chicken Taquitos 40-Count Box
Bloody Mary mix-braised chicken, house-made buffalo sauce, blue cheese and ranch dressing, pickled carrot and celery chips, house-made Pancho sauce. $80
Available for pick-up or delivery, 168 Ludlow Street, 212-780-0121
THE MEATBALL SHOP
Bucket O' Balls 25-Count Order
Meatballs including the buffalo chicken flavor with blue cheese dressing. $45
Available for pick-up at all five NYC locations, meatballshop.com
THE NUGGET SPOT
"Field Goal" Platter
100-count chicken nugget bucket, tray of fries, tray of mac & cheese, four 8-ounce sauces, sweet surprise. $125
Available for pick-up, 230 East 14th Street, 646-422-7346, thenuggetspot.com