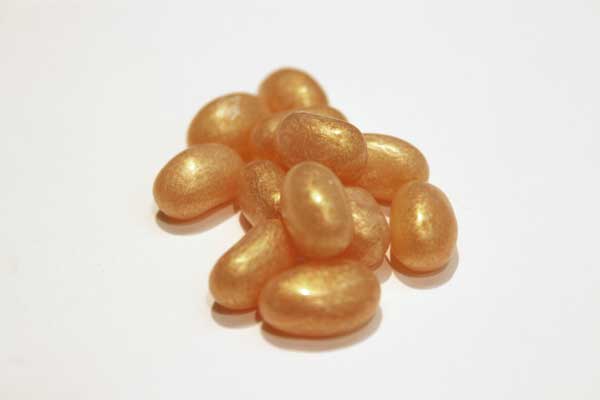 The Jelly Belly Candy Company has not been shy about tapping into the food zeitgeist when offering new flavors of their iconic jelly beans. At last week's Fancy Food Show in San Francisco, they announced a dark chocolate-covered Tabasco flavor, to go along with their straight-forward Tabasco flavor released in 2012. They join a roster of 50 classic flavors like coconut, buttered popcorn, sour cherry and cappuccino. Black licorice is still in mix, but we think it's aging out. Are we wrong?
Now we've received word via a hard-charging jelly bean beat reporter at the Los Angeles Times that they company has taken their sugar-coated beanery to a entirely new level. We've entered the age of the craft beer jelly bean, people. And we are not hating one bit.
According to the Times, the company released a flavor called Draft Beer last Saturday. It's shimmery gold and inspired by German Hefeweizen. It's also currently sold out until Friday. Writer Betty Hallock gives us some tasting notes:
It's true, they do taste like sweet beer, with "notes of wheat" even. But their aroma is more than "mildly bready." They smell like sour mash. The smell of fermentation might be off-putting enough to make you wonder whether it's one of Jelly Belly's "BeanBoozled" flavors (remember canned dog food and skunk spray?). Or maybe it's a selling point for beer-brewing aficionados.
The company is also planning a range of cocktail-inspired flavors like piña colada, mai tai and strawberry daiquiri. And in case you are wondering, the answer is no. As in, you cannot get drunk off these things. The product contains no alcohol.