Anthony Bourdain On The Influential Documentary Filmmaker Albert Maysles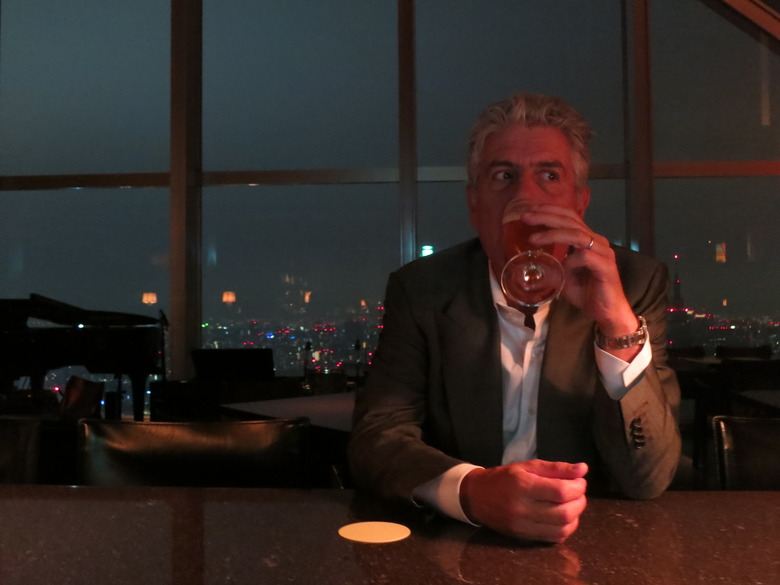 "The camera crew was pretty freaked out at the end of it," recalls Anthony Bourdain of the time he shot with a shibari rope bondage master in Japan. We're discussing a scene from the director's cut of his Tokyo episode for CNN's Parts Unknown, which he will be screening tomorrow evening as part of a discussion and master class with documentary filmmaker Albert Maysles — the vérité visionary behind classics Grey Gardens and Gimme Shelter and films about Orson Welles, Truman Capote and Marlon Brando.
The event at the New York Society for Ethical Culture begins at 7:30 p.m. Tickets are $125 (includes VIP reception), $65 and $20 for college students. The pair will discuss their approaches to filmmaking, while Maysles will screen highlights from his extensive body of work. "I saw Gimme Shelter the day it came out," says Bourdain of the influential 1970 film depicting the Rolling Stones' disastrous Altamont Free Concert.
How did this talk with Albert Maysles even happen?
It was an honor that he reached out to us. It means a lot to me, and anybody in the documentary, non-fiction filmmaking realm.
Describe the first time you watched Grey Gardens.
Listen, this was benchmark documentary filmmaking between the Welles film, Grey Gardens and of course Gimme Shelter. My father was a fan, so it was a big deal when there was a new Maysles, or Pennebaker, film out. We were a movie household. By the time I was 10, I had probably seen the entire Janus Film collection.
In some cases Maysles strives to get in the mind of his subjects, quite literally with his films centered around mental illness (Psychiatry In Russia and Grey Gardens). As a documentary filmmaker yourself, do you relate?
Honestly, I don't see myself as a documentary filmmaker. We come at each episode with a point of view and our process is much more manipulative than the fly-on-the-wall approach. We try to get the audience to a particular place. Our shows are very subjective, with no attempt of being fair. Even if it's something as innocuous seeming as b-roll on us floating down a river, if I feel oppressed or a particular mood, I want the audience to feel that way too by all means possible.
I mean, you really did that with your Sicily episode, which you openly admitted didn't go as planned.
That's what happened. I would have preferred that it didn't happen, but I wasn't going to lie about it. We are very aware how manipulative television is and how the cameras change the dynamic in the room and the extent for which you cannot ignore it. So you suddenly have this horrendous thing that I didn't want to be complicit in. It often makes a funny show, but there is great cost. It represents failure of sorts, particularly in a great place like Sicily. But what we do is driven by a certain affection for a look or feel or cinematography. We will go as far as picking locations so they will look like early Robert Rodriguez. We are film enthusiasts. We like highly stylized camera angles. We like music. There are times when that takes precedence over content, which I am sure are very far from the guiding principles of Maysles films.
At the talk you're debuting the director's cut of the recent Parts Unknown: Tokyo episode. What went down?
It's very rough. In the dominatrix scene, we find this woman whose day-to-day job is the business of torturing and humiliating men — possibly for money, but maybe for fun. I don't think I've shot with anybody as centered or, frankly, as intimidating. It was a very rough scene we shot with one of her clients.
Read more about Anthony Bourdain on Food Republic: