Loire Valley Wines: Matching Muscadet With Oysters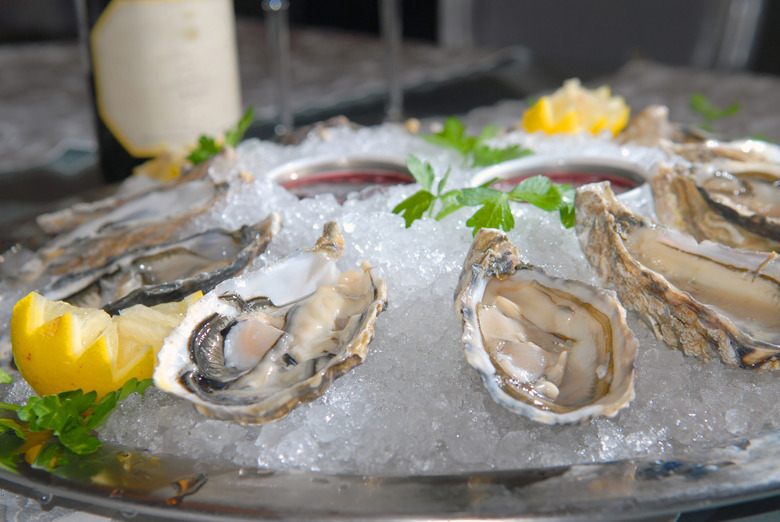 Sophisticated types are fond of matching Champagne and oysters, but in France another pairing is regarded as even more ideal: oysters and Muscadet. This white wine comes from the western Loire Valley, near the city of Nantes. It's next to the sea, where sublime oysters are produced.
This Atlantic climate influences Muscadet — the wines often have a saline, marine quality, tempered by citrus and floral notes. Not to be confused with the sweeter Moscato, Muscadet is made from the Melon de Bourgogne grape, which originated in Burgundy hundreds of years ago. These light-bodied wines make an excellent apéritif and also adroitly complement other seafood from the region, particularly fish in a signature Nantes beurre blanc.
Back to the oysters: the coast near Nantes produces some beauties. These oysters are plump, meaty and beatifically briny. The Rolls Royce of these is the Gillardeau — too large for one bite, its saltiness like a pleasant punch to the palate when eaten alongside a sip of Muscadet. If that seems intense, the Bouin is even moreso, and La Prat ar Coum tastes even more strongly of the sea; domestic U.S. oysters might start to seem insipid in comparison.
Muscadet is best served chilled but not too icy, as is the habit at the wonderful Le Cigale restaurant in Nantes. The 118-year-old institution has several high-ceilinged dining rooms that are jauntily decorated with painted ceramic tiles and potted plants like grand salons of yore. It's customary here to begin with a seafood plateau — make sure yours has some oysters on it, and indulge in a bottle of crisp, young Muscadet.
On a recent visit, I sampled Louis Metaireau's Grand Mouton 2012, a Muscadet-Sèvre et Maine (the largest of Muscadet's three sub-appellations — the other two are Muscadet-Coteaux de la Loire and Muscadet-Côtes de Grandlieu). It revealed fresh lemon and pear notes that nicely set off my oysters; an Amphibolite Nature, a naturally produced Muscadet-Sèvre et Maine, was extremely dry and also excellent with the bivalves. For a second course of pan-fried sea perch with perfect beurre blanc, I preferred an older Muscadet, a 2004 Domaine Michel Bergeon, whose time in the bottle had imbued it with vanilla and caramel qualities capable of standing up to all that butter.
If you're not planning a trip to Nantes anytime soon (though you should go, and eat at Le Cigale), Muscadets are easy to find Stateside and often are a remarkable bargain, with many ringing in under $15 a bottle and most below $20. Good neighborhood wine shops should stock some, or check out the selection at Astor Wines & Spirits, which carries bottles of Amphibolite Nature for $14.99. Another Muscadet to look for is Domaine de la Pépière (Astor carries several of its wines), a practicing organic producer whose crisp, mineral pours have achieved cult status among Muscadet lovers.
Earlier: Loire Valley Wines: The Art Of The Apéritif
This post is presented by the Loire Valley Wine Bureau, www.loirevalleywine.
com. Visit us online or on Facebook.