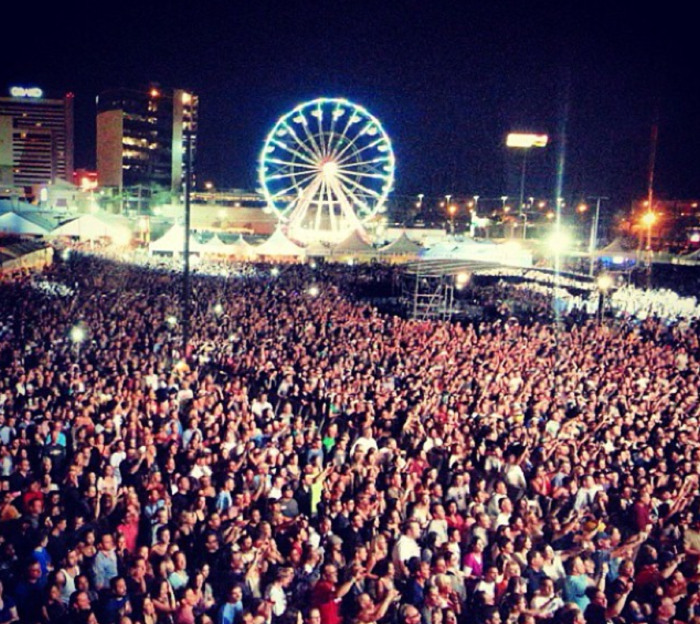 The days of suffering through bad food and cheap beer at music festivals are slowly but surely becoming a thing of the past. GoogaMooga in Brooklyn had a vision but a lot of bad luck and Nashville's Music City Eats delivered some top name chefs alongside some of the biggest bands in the world. Meanwhile, there was an impressive craft beer tent at this year's Austin City Limits and just last week approximately 60,000 food and music fans crammed into the streets of downtown Las Vegas for the inaugural Life is Beautiful event, a festival dedicated to music, food, art and learning.
I have to admit that I have always been skeptical when I see chefs on the same bill as world-famous bands that play to entire stadiums. "A music festival is no place for a celebrity chef, and chefs are not the new rock stars" would be the gist of my rant, which I would follow up with an Anthony Bourdain quote I once heard: "If I could play guitar like Jimi Hendrix, do you think I would work in a kitchen?" Despite these preconceived opinions, I decided to approach Life is Beautiful with an open mind and an empty belly.
Founded by Rehan Choudhry, Life is Beautiful is a festival backed by visionary entrepreneur Tony Hsieh in order to help revitalize downtown Las Vegas. Hometown heroes The Killers headlined the musical portion of the event alongside 80 other acts, including Vampire Weekend, Pretty Lights and The Kings of Leon. A Culinary Village featured over 50 restaurants from around the country, as well as demos from well-known chefs such as Jonathan Waxman, Susan Feniger, Rick Moonen, Jet Tila and Todd English. Then there was the Alchemy Gardens put on by Wirtz Beverage of Nevada, which was the reason I was there.
The Alchemy Gardens were the venue where discerning festival attendees could drink fine wines, craft beers and artisanal cocktails. I went down to Las Vegas with Dushan Zaric, co-founder of New York's Employees Only, who is now one of my business partners at 86. We set up a bar that served Fords Gin and Caña Brava Rum, and even taught spirits education classes to enthusiasts with a line-up of acclaimed mixologists including Drew Levinson, Tony Abou-Ganim, Bobby Gleason, Juyoung Kim and Mariena Mercer.
Life is Beautiful delivered great food, drinks and music – a true recipe for happiness! As Danny Wirtz put it when I was chatting to him in the Alchemy Gardens, "You've been to music festivals, right? When have you ever drank cocktails, wine and beer and eaten food as good as this at any of them?" He makes an excellent point. I think that my skepticism was my music loving side's snobbery, but now my hope is that every music festival I attend will have an area dedicated to fine food and craft drinks. It is, after all, so much better than paying $14 for a slice of pizza that tastes like cardboard, swished down with a chemical-tasting excuse for a beer.
Read more Drink Ford Tough columns on Food Republic: