"Instead of scattering a bunch of things across the plate and trying to make it very pretty, we try to keep the food here pretty simple," explains Fabian von Hauske at his newly opened NYC restaurant Contra. Unabashed as he is about his style of cooking, we don't think this young chef is giving himself enough credit.
Von Hauske and his partner chef Jeremiah Stone debuted Contra on the Lower East Side barely a month ago, where they've been serving up a nightly rotation of 5-course tasting menus offered from spare, three-word descriptions like "Monkfish, turnip, pea leaves," and "Beets hazelnut, yogurt." The ensuing plates convey that same stripped-down ideology, yet there's something almost inaccurate in designating them as "simple."
Take the beet dessert, for example, an assembly of hazelnut-chocolate cremeux and yogurt sorbet — paired with beet chips and a magenta-hued pool of sauce from the root vegetable. There's a rarefied elegance in how quintessentially uncomplicated the dish is, which von Hauske manages to capture in both flavor and presentation. Maybe it's a "pretty simple" task for the Mexican-born chef whose past kitchen experiences include stints at Noma, Faviken and Jean-Georges, but for the rest of us, let this be a lesson in the potential beauty born from restraint. Read on for von Hauske's dish breakdown.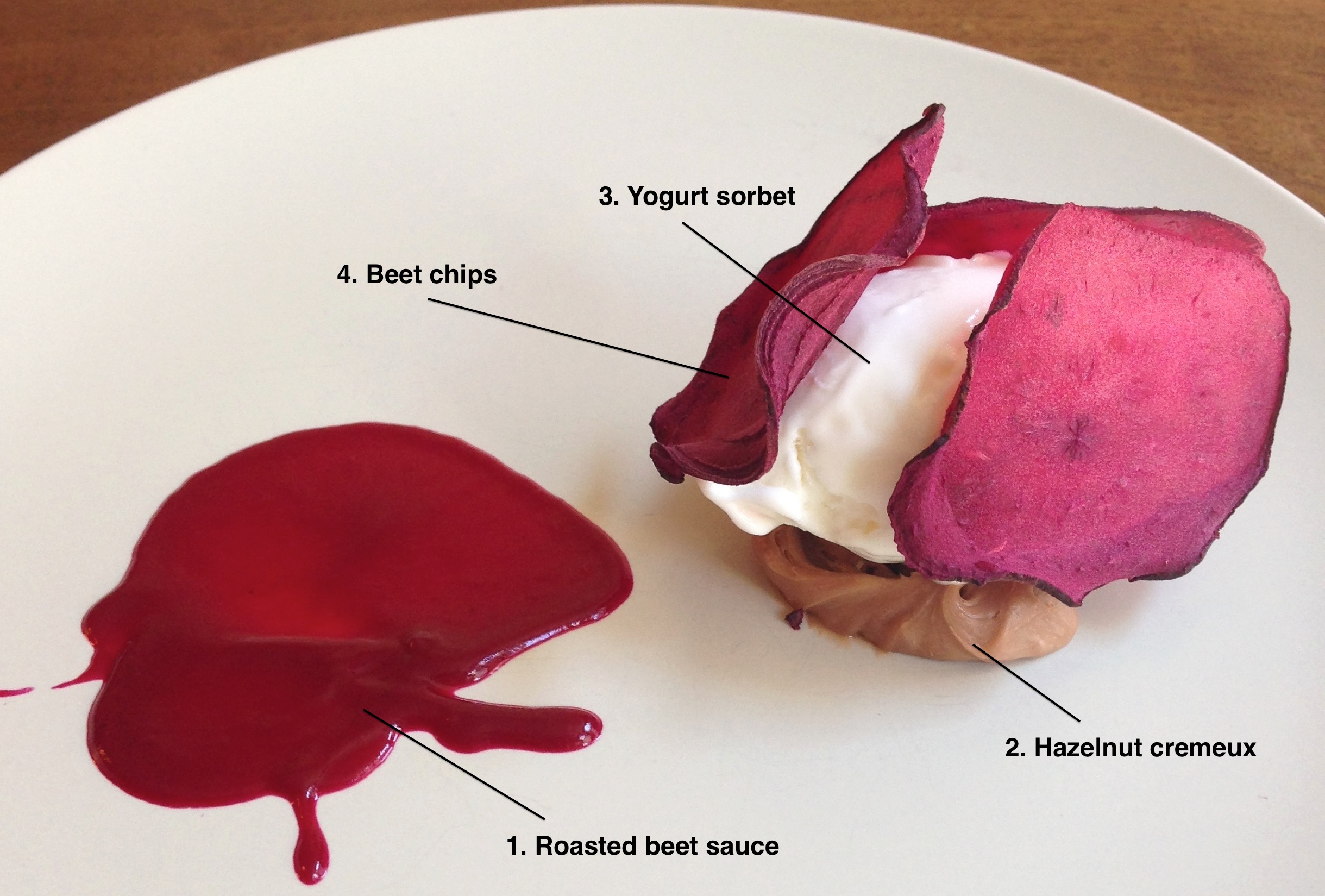 1. Roasted beet sauce | "We roast beets with their skins on. The outsides get very salty and the insides get very sweet. We puree it with some lemon juice."
2. Hazelnut crémeux | "It's hazelnut paste, some milk chocolate, and we set that with gelatin and butter so it's very chewy."
3. Yogurt sorbet | "The addition of water and lemon juice to the Greek-style yogurt results in a lighter frozen texture."
4. Beet chips | "Sliced thin and dried."
Contra
138 Orchard Street 10002
New York, NY
212-466-3633, contranyc.com